So… the opening WorldTour event of 2014, in our own backyard, no less, is done and dusted.

You may be asking yourself: How much can one draw, then extrapolate, from an early season race such as the Tour Down Under?

Plenty, in fact. In no particular order, here's some that come to mind – and feel free to add your five cents' worth below.

1. Gerro not only the smartest, but the strongest
Stage racing is all about consistency, and last week, Simon Gerrans showed that in spades, as he continued his winning form after securing a second national road title in Buninyong. No, he wasn't the best climber, or the best sprinter, but out of the GC contenders, he was the most consistent over the six days' racing – and backed by a team that thrives on close contests.

Will he go on to win Milan-San Remo again? What about the Ardennes Classics? The Worlds? Who knows… but when I asked him if he's still getting better, the 33 year-old baby-faced assassin from Mansfield told me he felt he was. I think the Ardennes race he's best suited to is Liège-Bastogne-Liège, though that said, if you told him he could have any one of three this year, I'm sure he'd take it…

After 815 kilometres, for he and Cadel Evans to be separated by a solitary second is a race organiser's dream. But remember, if need be, Orica-GreenEDGE sport director Matt White would have rallied the troops and brought back the break on the final day in Adelaide, so Gerrans could have picked up a few more seconds in the intermediate sprints – just as he did when he needed to throughout the week. After all, straight after the Willunga stage, I already heard White yell to his posse, 'We've won the Tour Down Under!'

You wouldn't have done that unless victory was absolutely assured. Or you were a fool.

2. Cadel and Richie: still work to be done before May
I've lost count the number of articles I've read which seem to think Cadel Evans is back to his 2011 best. Yes, he was in great touch, particularly on the stage that climbed Corkscrew – but what about that which happened two days later on Willunga? Would that have happened three or four years ago?

"In the end, I have to say Orica rode fantastic and they raced for every second here all week," Evans said after the decisive fifth stage. "When they put pressure on me after the king of the mountain sprint that first time up Willunga, it caught some of our team on the back foot. That cost me at the start (of the climb), where I had to make my moves to secure the overall."

I still think there's a few questions marks over Cadel's ability to win another Grand Tour, particularly in a year when he'll be up against Richie Porte and more than likely, and, perhaps more significantly, Nairo Quintana and Joaquim Rodríguez. I wonder if his powers of recovery are what they used to be. I wonder about the strength of the team BMC Racing will send to the Giro to support Evans, given they're likely to send their A-team to the Tour to support Tejay van Garderen's ambitions for the overall. I wonder if the multiple mountains will take its toll in the Giro's third week.

This may sound strange at first, but if I was going for the Giro and had the choice of taking Cadel or Richie's form with me to Europe, right now, I'd take the latter's. Why? Well, Porte finished the race stronger. Second, his stage win on Willunga, and its placement in the race, was indicative of a Grand Tour rider on an upward trajectory – did you see how lithely he pedalled that day? He could've kept going all the way to the moon, I tell you!

While BMC has overhauled its management and coaching structure, as Team Sky performance coach Tim Kerrison told The Australian last week, "We're the only team with a full coaching structure, with four-and-a-half coaches." (Just don't ask me what half a coach looks like.)

"We know how much value you can add to raw talent, so we invest quite a lot in our support structures to make sure we get the most out of our talent," Kerrison, a former state sports institute swimming and rowing coach, said. "That's the thing that other teams are starting to do but it hasn't been a part of traditional cycling."

Bottom line is this: both Evans and Porte still have much work to do if they're to make the podium, let alone win, the season's first Grand Tour. I'm not writing anyone off – I'm just saying they've got a lot of work to do yet.

3. Anglophone Authority
Seven Anglophones in the top ten on GC, twelve in the top twenty – and nine of them Australians. Pretty impressive, no?

If you needed affirmation that those from English speaking countries have arrived in numbers, or are concerned about life after Cadel, look no further than the Tour Down Under's final classification. Australian men's road cycling is in safe hands. And the future burns bright.

4. Kittel can be beaten. Sometimes.
Last July, Marcel Kittel appeared unbeatable. He was very much the Sprint King at the Tour de France, and things didn't look like changing for rivals Mark Cavendish, André Greipel, Peter Sagan and co.

Yet last week, Greipel found a way. Twice.

From what I observed, the most telling stage was that to Victor Harbor. Marcel doth not like crosswinds. Greipel, on the other hand, has ridden a few of the Spring Classics the past few seasons, rides for a Classics oriented team and is growing more comfortable in the echelons, and thus can save energy where others spend it. No doubt, I'm sure, Cavendish, who also doesn't falter when the wind blows, and his newly reunited lead out man, Mark Renshaw, who was at the TDU and finished second to Greipel on the final day, would've taken note.

"I still think Cav's the quickest," Renshaw told me, when asked how the Manx Missile will attempt to deal with the pair of German juggernauts come the Tour.

5. Did Drapac do enough?
Tell me this: Before the race began, what were you expecting from Drapac? Top five on GC? Maybe an outside chance at the podium? Perhaps a stage win, or at the very least, a podium finish on one of the six stages on offer?

Well, if you expected any of those things, you would've been disappointed.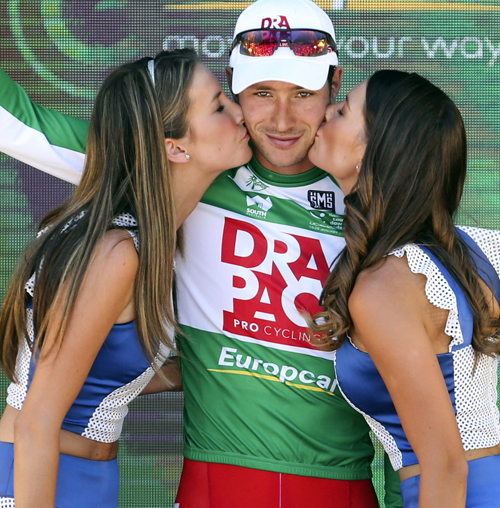 Drapac's Will Clarke was ever-present in breakaways throughout the Tour Down Under. (Getty Images)

For me, I was a little more lenient, or perhaps the correct word is pragmatic. Up against eighteen of the world's best teams, as well as a youthfully exuberant and preternaturally talented UniSA-Australia outfit, I thought a top five on a stage was realistic, and a top ten on GC would've been something to write home about.

But they didn't meet my expectations, either.

Their best GC result came from Robbie Hucker, who finished eighteenth overall, 2'15" behind Gerrans. After Hucker, it was the ever-consistent Darren Lapthorne in 28th place, 3'56 behind the overall winner. The guy they thought could pull off something special was Wesley Sulzberger, he who left Orica-GreenEDGE at the close of last year, but the Tasmanian finished 63rd, 21'25 off the pace.

Don't get me wrong, Drapac tried their utmost to nab a stage, and were often in the moves, particularly Will Clarke, who probably spent more time off the front than in the bunch, try as he did. But it wasn't till the final stage that they cracked the top ten, when Jonathan Cantwell finished fifth in the gallop. And let's be honest here: Greipel was a good two bike-lengths clear of second-placed Renshaw, who was supposed to be leading out teammate Andrew Fenn; behind Fenn was Koen de Kort, normally the lead-out man for Kittel or John Degenkolb, so really, Cantwell was a metaphorical mile behind André der Giant.

To their credit, Drapac did finish third in the teams' classification, but as we all know, that classification only becomes noteworthy when you've got no chance of winning anything else.

How many more WorldTour or HC events will they get to ride this year? Not even they know the answer to that (Langkawi's a no-go, as is Dubai, Qatar and Oman; California's a maybe), but I'm sure they'll be more competitive as the season progresses – particularly at next week's Jayco Herald Sun Tour.

Follow @anthony_tan