"N'golo was a Congolese word for force, for vital force. Equally could it be applied to ego, status, strength or libido. Indubitably did Ali feel deprived of his rightful share. For ten years, the press had been cheating Ali of n'golo. No matter if he had as much as anyone in America, he wanted more. It is not the n'golo you have, but the n'golo you are denied that excites the harshest hysterias of the soul."

So said the great writer Norman Mailer in his seminal boxing book, The Fight. (Yes, I know I've quoted from it before, but I really like it.)

Having analysed the opening stages at last week's Tour of Oman, I wonder if Leigh Howard has been denied n'golo by his Orica-GreenEDGE team.

After all, it was none other than Robbie McEwen, the greatest sprinter Australia has produced, who once said Howard, out of our current crop of fastmen, is the most underrated of all.

Last season, OGE's sprinters included Allan Davis, Matthew Goss, Leigh Howard, Aidis Kroupis, and Michael Matthews. Sometimes, lead-out men Daryl Impey and Brett Lancaster would also have a go. No other WorldTour team had so many sprinters in their line-up.

As for the Fantastic Four РMark Cavendish, Andr̩ Greipel, Marcel Kittel and Peter Sagan Рtheir teams consisted of just one marquee sprinter. Sure, Omega Pharma-Quick Step had (and still has) Tom Boonen but his focus is more the spring classics and has lain dormant until very recently, and in the case of Argos-Shimano (now Giant-Shimano), John Degenkolb complemented, rather than clashed, with Kittel.

Davis has now gone from GreenEDGE, gone from the peloton, in fact. The rest of the aforementioned remain – but guess what? Caleb Ewan will be arriving sometime after the Tour de France…

"It's so close between all the sprinters these days… they're (all) so fast. I think it depends on who can get to the end the freshest out of all of them – he's going to be the one that wins. If you lined them all up in a straight line and have them sprint for two hundred metres, I think it'd be really close," Ewan told me in an interview just the other week in Melbourne, at the launch of the 2014 Jayco-AIS World Tour Academy, where he is the undisputed leader on the road.

Take a good look at this picture from last Tuesday's first stage at Oman.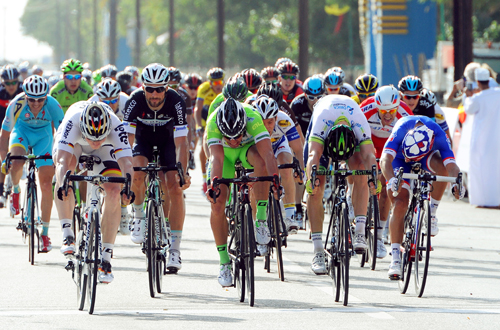 Image: Bruno Bade/ASO

Most likely, the first thing you'd say is that Greipel won. Perhaps the second is that it was very close between the top three – really close. Third? It's clear Sagan and Boonen, the latter a sprinter reborn as we saw last week in Qatar, lucked out (or, to use Tom's vernacular, 'f**ked up'). Fourth? Well, maybe if you've seen (or perhaps even done) a bit of track racing in your time, you'd probably say that Howard, who finished second that day, had the best bike throw.

"Unfortunately I was third wheel, which is normally a good position," Howard told Cyclingnews' Stephen Farrand post-stage. "But this time I would have preferred to lay off (Greipel) and take a run at it because I felt really good. I'm sure the video of the sprint will show that I was on a par with him on speed."

So let me put this to you: What if Ewan's right, that there is little discernable difference between the sprinters over two hundred metres; what if Howard had the Lotto-Belisol train that day and Greipel was riding for OGE?

What do you think would have happened?

"The main difference, I think, at the end of the race, (are) the guys who can really get there (at the finish) the freshest (and) have a good team around them," said Ewan. "So, going to GreenEDGE, I'm going to have a great team around me, because the past few years, they've been perfecting a lead-out for Gossy and Michael Matthews."

In a sense, Caleb, yes – but how perfect is their lead-out? Moreover, have they chosen the right leaders? And would they be better off with two (or three, maximum) than five or six?
______________

"Last season, Howard was still doing lead-outs for Goss. This sort of stuff shouldn't be going on. Can you imagine Kittel doing lead-outs for Koen de Kort, Greipel leading out Greg Henderson, or Sagan paving a path for Elia Viviani?"
______________

In a Q&A on Cycling Tips last February, Howard told his interviewer, Jonathan Lovelock:

"I guess the key to being a good sprinter, which I haven't got down pat yet, is learning to feed off that pressure. Cav's a perfect example of that now. He feeds off that pressure of the whole team working for him for two hundred kilometres and he feels like he has to finish it off. For me, it's pretty hard sometimes. They say the job of a sprinter is physically one of the easiest – 'You've only got to sprint for ten seconds'. But for anyone who's raced a bike, they know that's not true! The mental pressure is immense. You've got eight guys all sacrificing their entire race for you."

Given his world championship-winning track pedigree (Omnium 2009, Madison 2010-11), he also said road sprinting, which Howard is in his fifth year of said vocation, is "a completely different ball game; flicking around a two-hundred-metre track, compared with sprinting at seventy kilometres an hour in a bunch of two hundred".

In that interview, the 24 year old from Geelong also conceded that, while he "always knew I was going to be a sprinter on the road", it wasn't till midway through last year that he went "back to the basics". In a Biggest Loser moment in 2009 for example, before he turned pro for High Road the following year, Howard dropped five kilograms in three weeks. "I think I really lost a lot of that fast-twitch ability when I got so obsessed about weight and trying to climb hills well instead of focusing on my strength, which is to sprint fast," he said.

Courtesy of a consecutive second place, this time to Alexander Kristoff of Katusha, Howard took the race lead in Oman, albeit for one day, but just as a sprinter should speak, he told Cyclingnews: "If I could choose, I'd go for having a stage win instead of two second places. Winning is always more important for a sprinter."

If pressure is something he still has trouble dealing with and sangfroid something he lacks, or needs much more of, the only way to vanquish his demons is to take on more responsibility, more often. As far as I can see, that will only happen if Orica-GreenEDGE streamline their sprint squad, and ask a few others to eat a slice of humble pie – to become part of the lead-out, as opposed to being the lead-er. If I were OGE general manager Shayne Bannan, I'd make Howard and Matthews lead sprinters for the pure sprints, and use 'Bling' and Goss for the slightly harder sprint stages, or those with an uphill finish.

One other thing: last season, Howard was still doing lead-outs for Goss. This sort of stuff shouldn't be going on. Really, c'mon… Can you imagine Kittel doing lead-outs for Koen de Kort, Greipel leading out Greg Henderson, or Sagan paving the path for Elia Viviani? (I even felt silly just writing it, let alone imagining it...) If ever there was a case study of what not to do, it would be to swap sprint roles throughout the season; just ask Mark Renshaw, who, since reverting to a full-time lead-out role at Omega Pharma-Quick Step, told me at the Tour Down Under his training's "changed completely" in readiness to support Cavendish once again.

"It's all changed a lot. It's all back to the lead-out focus. So the training's changed completely, and the focus has also… I'll be leading out Cav all year. It's going to a big transition," Renshaw said in Adelaide.

With the once-indomitable pairing's first race back together the Dubai Tour, Renshaw was pragmatic about the road ahead: "Oh, I think it'll take a couple of weeks… maybe one or two tours. I'm sure things will go right, but I'm sure things will go wrong, also. Hopefully I can make that little bit of a difference this year. Last year (Cavendish) had a good season but this year he wants a better season. If I can make a little bit of a change I'll be happy, that's why the team has brought me on board."

What was Cavendish missing last year, I asked.

"I think the team was just missing a little bit of a leader on the road, just for the last two or three K. Hopefully, that's the role that I'll take. We've got plenty of horsepower, so it's just going to be more organising it, rather than putting the power down."

Is Kittel your greatest adversary?

"For sure, he's on the highest level at the moment. He made a big transition in that first year (full-time on the road, in 2011). He was a time triallist that turned into a sprinter. I think he's just strong – really strong. And now the team's got their lead-out down pat, so… he's hard to beat. Him and Greipel are the strongest, but I still think Cav's the fastest."

Greipel, who, out of the 'Big Four', has enjoyed the best start to the season with five stage wins, said this after the final stage of the Tour Down Under: "With the team I have here, I won't say it's easy to win, but it makes it easier for me to save myself for the sprint."

I then threw this to him: At last year's Tour de France, people were wondering how to beat Marcel Kittel. You've managed to beat him twice this week – how have you done it? "Like everybody could see, we have a strong team – we can survive climbs, we can read the race, we can make (critical) decisions."

Another question from me: Has this week given you confidence that Kittel is not just your equal, but is beatable?

The 'gorilla' glowered back. Suddenly, a noxious miasma had enveloped the press area. (If he had claws, I would have been maimed to death!) "We are not looking to other teams," he said. "We are doing the things we can do (to) the best (of our ability), and that's how we can set up the sprints."

Then, rather ominously: "When they (my team-mates) are going fast, it's hard for everyone else to stay on our wheels." But not more than a minute later, also a moment of humility: "I'm also just a human being, so sometimes you can make mistakes. Just small mistakes can be really bad for the sprint. For Gerrans, the stage in Angaston was perfect for him…"

As for Ewan – any advice?

"He's young, so he needs to learn a lot. But I think he will be a good professional rider… I mean, everyone that is professional now was also good in under-23 (ranks) and he was already good in under-23, so… everything will come when the time is right. I saw some under-23 races and Greg Henderson said a lot about him, so he will be someone to watch – (but) later on."

At least as far as their sprinters go I think it is time for some Red Foo Shufflin' at O-GE. Howard and Goss, in particular, need to get their n'golo back, and Bling could do with a little more.

What do you think Orica-GreenEDGE's sprint line-up should look like?

Follow @anthony_tan