There is division. There is ambivalence. There is passion. More than anything it's difficult not to, in some way, be conflicted. Here are five reasons why I believe at least some conflict to be unavoidable.

Talent

They would've been the best anyway...
This is the ultimate in hypotheticals because there's no way to know definitively, but at least some of the evidence would suggest that riders like Lance Armstrong, Jan Ullrich or Marco Pantani would have been at the pointy end of the sport with or without drugs in the peloton. Indeed the decision to dope, more often than not, came after riders left the amateur ranks and had already proved themselves to be formidable athletes. Were dreams or potential professional careers dashed by dopers? Probably. But the peloton that featured in the 80s, 90s, and 2000s would have been much the same with or without the scale of doping that there was.

They wouldn't have been the best anyway...
Former professional Bradley McGee in an op-ed for the SMH in 2012 wrote of how he felt cheated of his chance of Grand Tour success by those around him. The Australian was a multiple Olympian on the track before tracing a respectable career on the road. According to McGee, his form before the 2005 Tour de France was some of the best he'd had in his life and he felt he was in the position after years of slow and steady progression to vie for a high overall finish in Paris. That dream was blown out of the water on the race's first mountain stage by a juiced up Discovery Channel. McGee's experience at the '05 Tour is just one of many that's representative of riders being denied results by guys willing to take risks. Evans is another.

Perception

They were all on it...
Whether they were all on it, or just a substantial majority, probably sits uncomfortably with a lot of people, but it does make it easier to reconcile a lot of what happened. Indeed by most accounts the peloton that lined up at the 1998 Tour de France was more saturated with dope than any in the history of cycling. Festina revealed just how endemic things had become. It didn't start there, and it didn't end there. Things were bad. They were really bad. It took a long time for things to change (see Puerto, CERA etc). It took a long time for things to get they way they did (see Gewiss, Conconi, cortisone abuse etc).

They weren't all on it...
Things were bad, but riders did ride clean. Christophe Bassons is often held up as a poster boy for the anti-doping movement, a rider that rode clean even in the depths of the sport's problems. McGee another. David Moncoutie yet another. There aren't many that have been vocal, but it's apparent that riders did have untarnished careers even when the culture was at its worst. Those riders should be celebrated.

Choice

They didn't have a choice...
'Choice' is a funny concept, but one that people tend to understand in black and white terms. Around doping, it's generally an argument-ender, because it's very difficult to mount a compelling case against it. From the affidavits in USADA's Reasoned Decision, of tales of needle-phobes like Dave Zabriskie confronting, then embracing, albeit uncomfortably, drugs, however there is food for thought. Was there a choice in a culture that aggressively projected and encouraged tolerance to doping? Yes. There still was, but never judge a man until you've walked a mile in his shoes.. and all that.

They had a choice...
The hardliners will argue this ad infinitum. Nobody is forcing professional athletes to be professional athletes. That pretty much sums up the whole argument.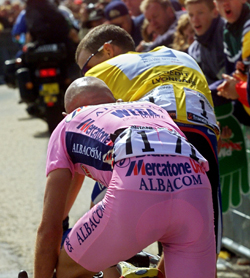 The Rules

The goal posts moved...
Forwarded by every doper and sundry is the idea that the ubiquity of doping was so severe, so endemic, that from team management to governing body there was a gentle nod of approval to the goings on of the time, however unsound. A comprehensive test for EPO was not developed and rolled out en masse until the late 90s, early 2000s, instead, hematocrit percentages were limited and monitored. This created a ceiling for acceptable doping, rather than an outright ban. The rules of the game changing to reflect what authorities could do, rather than what they wanted to do. Human Growth Hormone (HGH) was even harder to detect, with WADA first implementing its testing at the Athens Olympics, 2004. When the crime is invisible, does it even exist?

The goal posts didn't move...
Despite a cultural acceptance within the peloton, nay, inside the sport, it ended there. Few dopers would say deep down that even if the UCI was ineffective in the way it policed the sport that they believed they were doing the right thing. Fewer still would say they doped with no hesitation. Where there is hesitation, there is an understanding that an action is wrong. As much as one can rationalise the process or the decisions made, that's what it comes down to. If it was okay, why was it done in a clandestine way?

Legacy

You can't change history...
The past is the past. It's happened, and it can't be changed. We can't go back in time and right old wrongs, even as much as we might like to. The images of Armstrong, Indurain, Pantani, Ullrich winning, battling, toiling - there is still drama there, there is still emotion. There have been some great drug-fuelled tactical battles, and as contests they still live long in the memory. The idea that winners can be rewritten in retrospect, or that events stricken from the record books is… well… silly.

You can change history...
Perhaps you can't change what actually occurred, what roads were traveled, how fast and by whom - but by setting the example - of deleting the libraries of results, of re-assigning winners where possible and heralding new and modern ones in their place is a constructive, perhaps, THE way the sport heals itself. We can revise what we saw and think about it for what it was. There's no need to glorify the misdeeds of the past. Instead we can simply acknowledge them and move on.


***
So. Conflicted as I am?