Twenty-six year old Alexander Kristoff did indeed enter the pantheon of San Remo winners on Sunday, when, after a 290 kilometre odd slog through Italy's north punctuated by a couple of bumps, and boatloads of rain, he sprinted past Philippe Gilbert, then Sacha Modolo, and raised his arms in that all-too-familiar, 'hey, look at me, I'm amazing' salute.

Yes, Kristoff. You know. The Norwegian that won Stage 2 of the Tour of Oman? Perhaps not. Maybe you're a bigger fan of his Classics back-catalog. Best of the rest at Kuurne-Brussel-Kuurne. Bronze medallist at the London Olympic Games?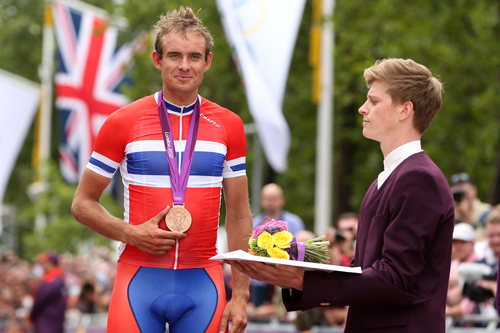 Remember? (Getty)

To be fair, despite being a dubbed a surprise winner, he isn't the bolt from the blue that Ciolek was last year. His eighth last year, while not springing off the results sheet, belies the fact he was the fastest finisher of the bunch, ahead of Mark Cavendish. He's been improving year-on-year, can handle the distance, and with Nordic conditions on offer, a mild six degrees celsius and no shortage of sleeting rain, the Norwegian's win makes sense.

Still, this year's Milan-San Remo was different. No Le Manie, an exodus of top-tier all-rounders, and a string of the world's fastest men on two wheels lining up, MSR promised a sprint. That prediction, of the many put forward by pundits ahead of La Classicissima at least proved true. With limited climbs for the riders to exploit, and few willing to co-operate, or speculate, the negativity over the Cipressa, and Poggio conspired to leave a large peloton together in San Remo for the finish. At that point, it was anyone's guess who would win. While Kristoff's chances were heightened by a superb lead-out by Luca Paolini that positioned him in pole, Fabian Cancellara's analysis of the race as a "lottery" is, in my opinion, fairly sound.

But what happened to the riders expected to feature?

John Degenkolb's undoing was two-fold. The first was the most untimely of untimely punctures on the approach to Poggio. The second was a lack of team-mates to bring him back in the fold thereafter. Degenkolb, on form, was the favourite to win. Despite a valiant chase, his race was over as soon as heard his tyre first hiss.

"I decided to sprint and my legs just stopped."
Mark Cavendish was whittled by the conditions. His form at Tirreno wasn't sublime and though he did managed a penultimate day win, it was his history, rather than his presence this season that made him a frontrunner for Milan-San Remo. When the normally imperious Brit's sprint faltered as he touched the front momentarily with 250m to go, it was a reflection of 20km in the saddle too many. A race, a week or maybe two, too soon for an otherwise indefatigable Cav.

Cancellara's fourth consecutive MSR podium continues an impeccably consistent Monument run for the Swiss that now stretches close to five years. Whether he was ever likely to win on this course, against faster sprinters and without the selection he so sorely desired was doubtful from the start. Not a bad for a pre-Flanders warm up but.


Andre Greipel has never performed when the odometer has passed 250km. Was it so surprising then that the gentle giant, who blitzed the months of January and February, then cramped at the finish and rolled over the line outside the top-20? Not so much. Greipel will bag stage wins for fun, but he's never been a classics rider. Sunday just another reflection of that.

"This is not the result I expected"
And Sagan? The stars didn't align. Peter was as flummoxed as anyone by the result, with 10th. Perhaps in the Slovak's case, the race lacked a crescendo, a moment where he could float off the front with a small group and finally snatch a San Remo title. That moment never arrived. For Sagan, the size of the group in the finale produced a chaotic sprint that saw the Slovak boxed, and out of contention.

But plaudits to Kristoff. This is a hard race to win and a very easy one to lose. Kristoff kept himself fresh for one single effort, positioned himself with aplomb and nailed the finish. A worthy champion.