Of Alberto Contador's 2013 Tour there is one moment that sticks out - Embrun.

The Spaniard had ridden out of his skin to post the day's fastest time in Chorges, an average speed of 37.14km/h on a course that included two Category 2 summits. It hadn't been his Tour, he wasn't the invincible, uber-confident Contador that we'd come to know but here was a display that reminded us he wasn't done, he still had something to give.

In the hot seat, surrounded by press, Contador waited, in earnest for the final rider of the day, one Chris Froome. 15 seconds. 10 seconds.. Surely Contador had done enough..? Then the time posted from the Brit. Momentary stoicism before a final sigh of resignation. Defeat, snatched from the jaws of victory. Froome again too good.

As much as Ventoux, or indeed, Ax-3-Domaines had been brutal on Contador, Embrun was the real hammer blow. To have come so close and be denied the smallest of consolations broke Contador's resolve.

After giving it as good as he had, the exasperated Spaniard proceeded to then slip from the podium, fading in the race finale to finish fourth overall. Remarkably, but testament to his past dominance, it was the first time since his 2007 Tour de France win that the 31 year old had failed to stand on a Grand Tour dais in a calendar year.

It was the latest in a string of more human performances from the Spaniard since his return from suspension in August, 2012. His winning aura dulled and that irresistible ability to blow races apart, dancing on the pedals, had gone missing. When he won the Vuelta in 2012, it was through a far more fragile three week ride. A single moment of brilliance complemented by 20 days of very conservative riding. This was Contador 2.0.

So came the obvious question as Contador licked his Tour wounds after being savaged by Team Sky; was this the end of an era? Had the Contador dynasty passed us by? Froome's ascendancy, and to a lesser extent, Colombian sensation Nairo Quintana's, had overshadowed the Spaniard in a big way. When he had been called upon, the Spaniard had had no answers. A pistol salute had given way to a bowed head. Glory had become struggle.

Rather than continue on to the Vuelta in vain hope of rescuing the ledger, Contador pulled the plug on his season. The decision earnt the ire of Tinkoff boss Oleg Tinkov and Vuelta organisers UniPublic, but it the was the right move. Contador was fatigued, and he was keen to start drafting his plan to overcome Froome in 2014.

Confronted in an interview in October of his future, and if indeed he could beat Froome, Contador admitted things had slipped, but was already charting changes to his 2014 game plan.

"It's true the results were not the same as in previous years," Contador said. "There were a lot of factors. The schedule wasn't right. I started racing too early. I never had a good base that I needed to race to win."

Fast forward to today and Contador's transformation has been marked. The Spaniard dispatched his rivals in Tirreno-Adriatico to take the overall win, and backed up in Catalunya, where he was beaten only by home favourite Joaquim Rodriguez.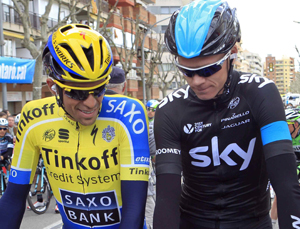 Contador won only once last season, in San Luis. This year he's fired off his signature pistol salute three times and doesn't look like slowing. His performance on Guardiagrele in Tirreno was immense. And now, something unfathomable only a few months ago, he comfortably leads the WorldTour Rankings.

The reason? A redesigned schedule, a new coach in Steven de Jongh, and making sure he did the hard yards over the European off-season.

"My preparation has been stress-free this winter," said Contador. "I have isolated myself a bit, I've turned down any commitments that could have taken time out from training. I've ridden many meters of climbing in training camps, and I've kept my mouth closed to keep my weight down.

"My weight is now good, but I still need to give my legs the tone they need for my big objectives (the Tour) later in the season."

While defending Tour champion Chris Froome wasn't himself at Catalunya, still regaining race fitness after a recent back injury, the signs are there that Contador is gaining ground on the Brit, the tables are turning. Contador's morale is up, and he's always had that killer instinct. The missing string in his bow for the past 18 months has been his uncertain form, but on recent results that too is changing. So will we see the Contador of old once more rattling his rivals on the Grand Tour stage?

"He's better than he was when he won the 2012 Vuelta a España," team boss Bjarne Riis told VeloNews last week. "He has the head, the legs, the heart. It's good to see him at this level again. He really worked hard for that."

Yep. Bert's back.

Follow @al_hinds