After the first three months of the year it's clear that Team Sky is not the force it was last year, or even the one before that.


The team looks unsettled both on the road and off it. More ad hoc than marginal gain. Sure, illness and injury have played their part, but something just feels different this time around.


So what's different? It's Alberto Contador, who has re-emerged as a serious contender for the Tour in July, and Sky now appears rattled by that.


"Bert" has looked nothing short of sensational so far this year. In fact, he looks as good as he ever was, and at 31 he's still very much in his prime.


Last year was a write-off for the Tinkoff-Saxo rider after spending a season on the sidelines. You all know why. Something, something, something, 50 picograms of Clenbuterol. Yada, yada, yada, court case. CAS. Then bada bing! Bada boom! A year at home in his underpants eating Cheezels and watching La Liga.


But despite a shocker of a season in 2013, he still managed to finish a fighting fourth at the Tour, behind Sky's Chris Froome, Movistar's Nairo Quintana and Joaquim Rodriguez of Katusha.


Sky hadn't expressed publicly any frustration or concern at the season to date previously, so we had to look elsewhere for signs, but pickings were slim.


Now normally I head straight to the Cyclingnews forums for all the latest in hearsay, defamation and fifth-hand news from a guy who knows a guy inside the Sky lair, but not this time.


C'mon down Michelle Cound and Danny Pate.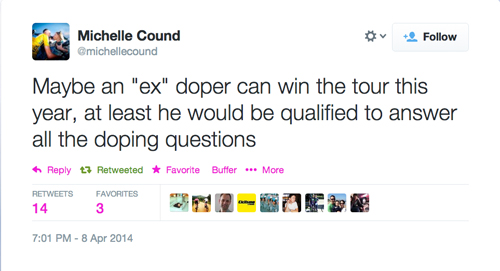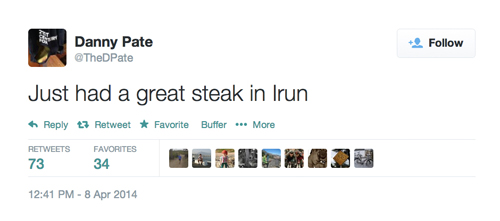 Cound is the partner of Froome. She's definitely not a WAG and has never been shy in coming forward, particularly in defence of the interests of the defending Tour champion, and Pate is a team mate of Froome's.


So, yeah, Twitter was interesting overnight. And by the way, a certain cohort of cycling fans are appalling people, judging by some of the replies to Cound. Check your insanity at the door, peeps.


As a result of the blowback Cound made her account private. Live by the sword, die by the sword.


Still, I think Cound and Pate's tweets are revealing of a mindset within the team. They are worried about the threat presented by Contador and Tinkoff-Saxo are not afraid to sling a bit of mud along the way.


I mean, how many other "ex-dopers" can win the Tour de France? So it's gotta be Bert they are referring to, right? Or maybe it's Alejandro Valverde. Yeah, nah.


And let's think for a moment about which team currently has two riders being investigated for bio passport issues. It ain't Tinkoff-Saxo. Glass houses anyone?


I'm sure Bert will let his legs do the talking instead of engaging.


Sky has had some wins this season, Froome at the Tour of Oman, Peter Kennaugh at Coppi e Bartali and Ian Stannard at Omloop Het Nieuwsblad.


Now most teams would happy with that after the first three months of the year, but Sky is not most teams.


It is good, we know that, and it likes to tell us it is, too. For a team that thinks very highly of itself, that ain't much to crow about.


Froome looked good in Oman but that was then. At the later Volta a Catalunya, where he would test his form against Contador, Rodriguez, Quintana and Tejay van Garderen (BMC) he looked troubled by the pace.


Then there is Sky's Australian star Richie Porte, who has seen more than his share of colour and movement so far this season, with his expected schedule now changed.


First Porte was set to lead Sky at the Giro d'Italia, and had the schedule to match. As of this week, he's on a rejigged schedule designed to prepare him for the rigours of the Tour, either as a reinforcement for Froome of a maybe a second card to play in expectation of a Contador assault.


Illness was blamed for running his preparations for the Italian race off the rails but I'd say his change of schedule is a direct response to Contador's obvious show of strength.


With Froome, Sky has a rider it thought would win a number of Tours on the trot and it was looking for a treble. Now with Contador back to his best, that idea looks less than certain.

Follow@Philip_Gomes



SBS will broadcast and livestream every stage of the 2014 Tour de France live!