There were a number of questions hovering over Wiggins prior to the race; could he mix it with the best pavé riders in the world?


Even cycling's king of the cobbles Fabian Cancellara seemed confused when asked about Sir Wiggo and cobbled classics, "Wiggins? Why?"


Wiggins had ticked off a few boxes after the Tour of Flanders where he finished 32nd at 1min 43 sec behind Cancellara, and there was a qualified sense of excitement surrounding his prospects for Roubaix.


Suddenly the conversation became, Wiggins? Maybe?


At the "Hell of the North" he left no questions unanswered on the road, finishing 9th with some of the biggest classics names around him.


"It was a real honour to be there in the final," said Wiggins. "Going past (Tom) Boonen on the Carrefour was something special. And then to come onto the Velodrome with the group of Cancellara and those guys, to be there was great.


"I've got the confidence now that I can do it now and match those guys. To go top 10 I think in hindsight is a good result.


"There's not many Tour de France winners that have gone top 10 in Roubaix. On a personal note it's a nice thing."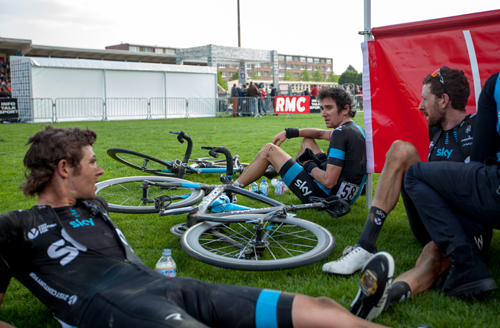 (Wiggins (R) with team mates Luke Rowe and Geraint Thomas - AAP)


He may be idiosyncratic but there has never been any question about Wiggins's heart, power or talent. His career palmarès speaks for itself, but the cobbles are not like any other kind of racing and he is comparatively light on experience.


He had raced Paris-Roubaix before, with Garmin-Slipstream (now Garmin-Sharp) and finished a creditable 25th in a year (2009) where he just missed out on his first Tour de France podium. (Wiggins was later given third after the disqualification of Lance Armstrong for doping.)


Before Roubaix even Wiggins made light of his chances, saying self deprecatingly, "I'd be lethal if I could ride positions."


And at Paris-Roubaix he did just that while lurking slightly off the leading pace, until the race fell into his favour.


"We had G (Geraint Thomas) up there all day pushing. I was aware of that and I was just fighting to get into those sectors in the front. I'm just pleased that I committed to it and I didn't bottle it. That's a big part of what it's all about.


"When the two groups came together with ten kilometres I attacked, after that we felt a bit out-numbered and it was going to be difficult."


As a rider considered a real outsider to even place in the top-ten, Wiggins, like many, wondered what might have been. Or even what could be.


"There's a tinge of disappointment because I really had the legs," said Wiggins. "Even in the final I felt strong. There was a part of it where I was pinching myself a bit, I don't mind admitting that."


So where to from here for Wiggins? He has pretty much won everything there is to win in cycling, and there is talk of him hanging up the wheels after the 2016 Rio Olympic Games, but could the classics be a new lease on cycling life for a rider who has seemed almost bored of late?


He's just 33-years-old and there is precedent for older riders winning at Roubaix. Gilbert Duclos-Lasalle won two in a row (92/93) at the ages of 37 and 38.


While Duclos-Lasalle was a classics specialist, there is no reason why Wiggins, with a change of program and some retooling, could not attempt or complete the same feat.


Wiggins? Yes.

Follow@Philip_Gomes