Sep Vanmarcke, Belkin, 4th
Belgium's new cobbled contender? Vanmarcke had one of the rides of the day, falling short only through a lack of allies and lack of road. The Belkin man was insatiable on Mons-en-Pevele, and the Carrefour de l'Arbre, stringing his rivals out on the toughest sections of road, with few able to follow. It was a display worthy of the promise he'd foreshadowed in 2013 but as the race regrouped again and again and the chunks of cobbled road petered out Vanmarcke was left with little to do but watch in frustration as the race turned procession in the final five kilometres, as Terpstra rode clear to the win. Still, a near faultless performance capping a brilliant spring. There's always next year.

Score 4.5/5

John Degenkolb, Giant-Shimano 2nd
Degenkolb rode the smartest of races let down only by a numerical disadvantage in the finale. Had he had one more Bert de Backer in the finale, Niki Terpstra's last gasp flyer may well not have stuck. The German is showing increasingly his kick maintains its deadly potency even in the most gruelling of races - to say nothing of the fact that he's not the easiest sprinter to shed. He was present and accounted for in the most dangerous quintet of the race with 15km to race. He rode with the favourites over the Carrefour. Young, tough, and fast-improving, Degenkolb's time is nigh.

Score 4.5/5

Fabian Cancellara, Trek, 3rd
At Flanders, Cancellara was exceptional. Greg Van Avermaet may have animated the race's finale, but the Swiss was always its key protagonist. There was, once he crested the Paterberg, never a sense he'd fall short in Oudenaarde, and indeed, dutifully he translated form and experience into a third Ronde title. That set all eyes on the 33 year old's classics sculpted frame to do much the same on Sunday, in Roubaix. Alas, if only it were so simple. The Swiss was there when it counted, on the Carrefour, in the front group, but he never made his mark felt. He followed Sep Vanmarcke's surges on the toughest secteurs but seemed unwilling to go on with it and force a smaller selection. Third continues an impressive run of consistency from the classics king, but it wasn't the result his reputation demands.

Score 4/5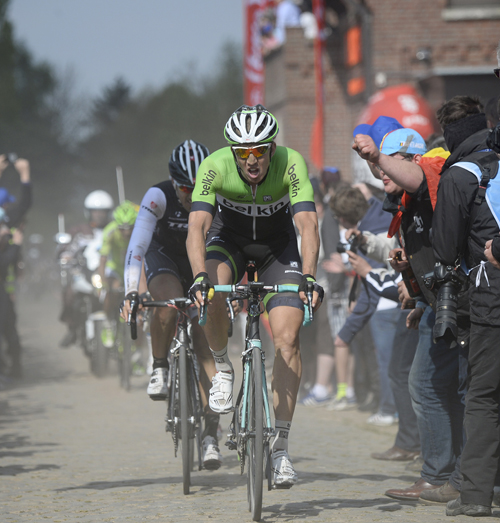 Cancellara follows Sep Vanmarcke at Paris Roubaix. (Getty/AFP)

Niki Terpstra, OPQS, 1st
Terpstra. Had he been anointed team leader from kilometre one at Flanders he might very well have won. At Roubaix, finally given the green light, he struck big. The Dutchman has been there or thereabouts for some time now, and to win a race like Roubaix is a reflection of his talent. For me, there was nothing innately special about Terpstra's ride. He benefited from a strong team, and picked his moment. It was utilitarian. It got the job done.

Score 4/5

Peter Sagan, Cannondale, 6th
Yes, Sagan walks away from San Remo, Flanders and Roubaix without the win many, myself included, felt he'd waltz to. These Monuments are elusive, for whatever reason for young Peter. An unexplained curiosity in his otherwise imperious career to date. Age may be the Slovak's key hindrance but I don't buy that. Age has been no barrier for many former Monument winners. Roubaix no different. No, extrapolate little from this spring. Sagan's misfiring in the classics is just another sign the Slovak is human. Which is reassuring.

Score 3.5/5

Tom Boonen, OPQS, 10th
For a rider chasing a record fifth Paris-Roubaix, 10th, on the face of it can not have been easy to swallow. But perhaps expectations are out of alignment with reality when it comes to old Tommeke. The Belgian's preparation has been far from ideal. The miscarriage of his partner, the missed kilometres from Milan-San Remo, an underwhelming Flanders. And yet, come Roubaix, Boonen was there to fight. And fight he did. Boonen's ride was integral to Terpstra's eventual win, attacking from afar he threw the pressure firmly on the shoulders of OPQS's rivals. A selfless performance from a many-time champion. But of what promised in January, February and March, Roubaix felt unfulfilled. Symptomatic of his spring.

Score 3/5

And...

Team Sky
It might come as some surprise, but with Bradley Wiggins, Bernard Eisel, Geraint Thomas and Edvald Boasson Hagen, Sky had four riders in the Paris-Roubaix's first 21 finishers. Seventh and ninth aren't outstanding, but considering the loss of Ian Stannard to injury, it was a strong showing from the British squad.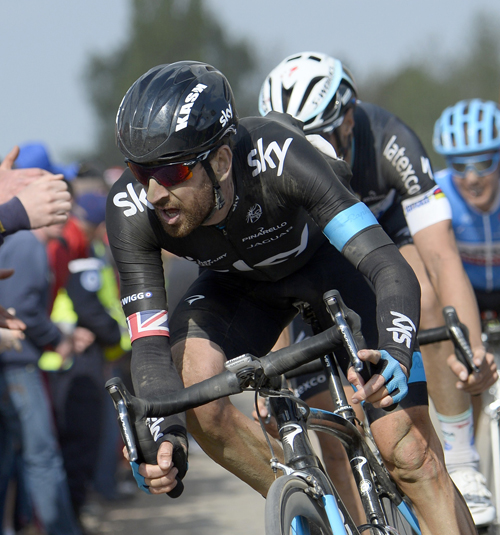 Who would've thought Bradley Wiggins would ride the Roubaix he did? (Getty/AFP)

OPQS
This team has been engineered for Classics success since its inception. Last week's Ronde result was an aberration, and it still took fourth with Stijn Vandenbergh. Roubaix marked a dominant return to form. Boonen and Terpstra the standouts from a far more complete team performance.

Trek Factory Racing
But for Hayden Roulston's crash off the lip of a gutter that very nearly brought down team captain Cancellara, Trek took up the responsibility where it needed. It lacked Stijn Devolder's extra horsepower, but as a unit it's worked well throughout the spring and Roubaix was no exception.

BMC
Fair to say the race spiralled cruelly out of BMC's control when Van Avermaet crashed inside the final 30km. That conspired to deny the team of a top-10 result, which ultimately is the final metric of good campaign, but it deserved far more. Hushovd, Schar and Van Avermaet all rode well, and the team is showing far more cohesion than it has in previous years. Hat tip Allan Peiper.

Belkin
With Vanmarcke Belkin had a real chance to win Roubaix, and it rode in a way to reflect it. Martin Wynants and Lars Boom played pivotal roles, while Vanmarcke anchored the team with an impressive showing.

On to the Ardennes!

Follow @al_hinds