Evans, now 37, will line up in Belfast, for this year's Grande Partenza, in what many pundits are saying is his best chance to take home the coveted Italian Grand Tour title in his 14-year road career. The Australian finished third last year, the first time an Australian had finished on the final podium, complementing his 2010 performance which saw him wear pink briefly, before fading to fifth overall.

But before Evans was known as a Tour de France champion, three years before even his first Tour appearance, a wide-eyed Evans, fresh out of mountain biking and making his Grand Tour debut, found himself, against the odds, in a winning position.

The story goes something like this. Evans, in pink, gets to the final climb of a 222 kilometres stage from Badia-Folgaria. It's deep into the Giro, a percoso no less brutal than ever, and with nine kilometres to go, seven hours in the saddle, Evans cracks, drifts out of contact with the leaders and sees the Giro slip from his grasp at the last hurdle. Had he been able to hang on for that final 20 minutes, had he not cracked so dramatically, he may very well have taken victory at a Grand Tour a decade ahead of his eventual Tour triumph, in 2011, or so the story goes.

This is that story, in its full context, entwined around a farcical and equally fascinating Giro. And it makes his 2002 story all the more worth savouring.


*****


Despite his novice status on the road, Evans was not an unknown quantity by the time he arrived in Groningnen, The Netherlands for the Grande Partenza of the 2002 Giro d'Italia. Racing for Italian super-team Mapei, he'd finished third overall at the Tour de Romandie a week after completing his first Ardennes campaign, and though his profile was nothing to write home about, he was well prepared for his first Grand Tour appearance when he lined up 11 May.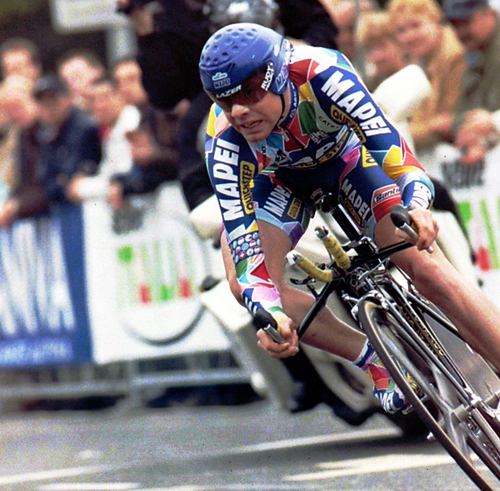 Evans in the prologue time trial, in The Netherlands. (All images by Sirotti)

There was little pressure on Evans from Mapei. This was his first Grand Tour, and in any case, Mapei boasted one of the pre-race favourites, Stefano Garzelli, on its roster. Garzelli, 28, was in his prime, and already had one Giro title to his name, the 2000 event. Things hadn't really clicked for Garzelli since he'd joined Mapei in 2001 though, and the 2002 event was a chance for the Italian to impress himself on the tifosi, and indeed the peloton.

It was Gilberto Simoni however who garnered the shortest odds ahead of the 2002 event. Simoni, a rider in his element in the high mountains of northern Italy, had dominated the previous year's event, taking home the title in emphatic fashion, finishing more than seven minutes clear of second overall, Abraham Olano, and returned to the Giro an obvious candidate to repeat victory.

And then there was Francesco Casagrande, the elder of the three favourites at 31, 'Cecco', had been denied the Giro win in 2000 only in the final time trial, but with a penchant for climbing, he was an obvious dangerman. A chequered past, including a positive test in 1998 that had seen him fired from Cofidis, Casagrande had been trying to rebuild a tattered reputation in the years since, with mixed success.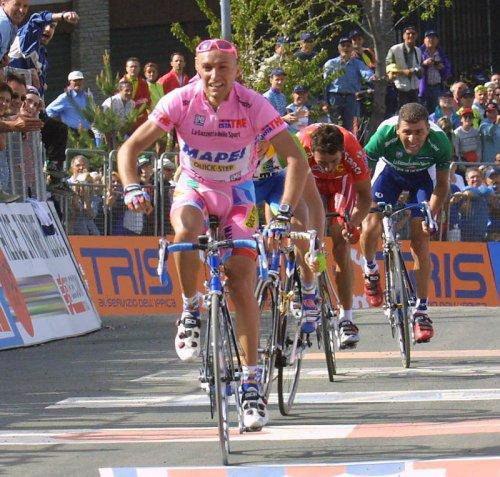 Garzelli was unbeatable early in the Giro.

The first week went perfectly for both Mapei, and Evans. Despite a slow start in the prologue time trial, Garzelli was clearly in good nick, snaring two stages, and stamping his authority in the maglia rosa. Only Casagrande had managed to stick with the Italian, but even he was 43 seconds in arrears, while Simoni completed the top-three. Evans meanwhile had been going about his work quietly, integral to both of Garzelli's wins, and had ridden on the coattails of the Italian to a top-10 GC position.

A triplicate of scandals, Evans thrown into leadership

But the Giro would change dramatically in the days that followed. Garzelli, who Evans had devoted his efforts to, was pinged for a banned diuretic, throwing the race into crisis. Garzelli was adamant he had done no wrong, and conspiracy theories were abound as to whether the Italian had been setup. Curious was the fact that he'd only registered a non-negative result on one stage, Stage 2, for a substance that should've stayed in his system longer. A skeptical or perhaps naive media were largely sympathetic, but even so, the Italian was by Stage 9 forced out of the race when his B-sample confirmed the result. Left rudderless, Evans became de facto leader of Mapei.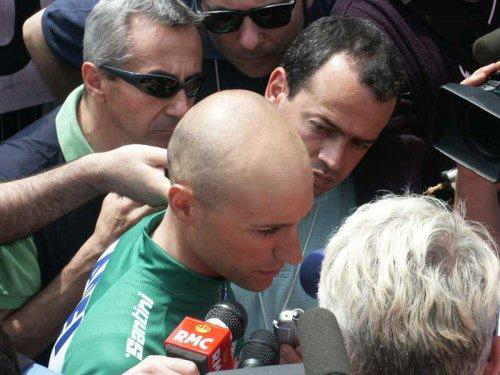 Garzelli surrounded by media after learning of his fate.

"I came to the Giro with two aims - one was to work for the team, and the other was to gain experience. But with the changes to our team, that's changed and now they can help work for my place on GC," said Evans before Stage 11 to Jeff Jones of Cyclingnews.

Still, there was little expectation on Evans. Casagrande and Simoni were the overwhelming favourites, while Paolo Salvodelli, a runner-up of the Giro in '99, had also found himself in the hunt. By the finish of Stage 11, which Simoni would win, Evans was back in the top-10 on GC, distanced only in the finale by Simoni, while Casagrande followed his compatriot for second.

Simoni's position as the new top-dog however would be short-lived. The Italian was also under the cloud of a non-negative result - his for cocaine - from a test at the Giro del Trentino earlier in the year. Simoni was adamant the case would blow over, but with the Giro already embarrassed by Garzelli, and amid intense pressure from other teams Simoni's team bowed, and pulled the Italian from the race.

"For me to stop now, after my win in Campitello Matese, will make everyone think I'm guilty (of doping)," a frustrated Simoni told Gazzetta Dello Sport, but so he went.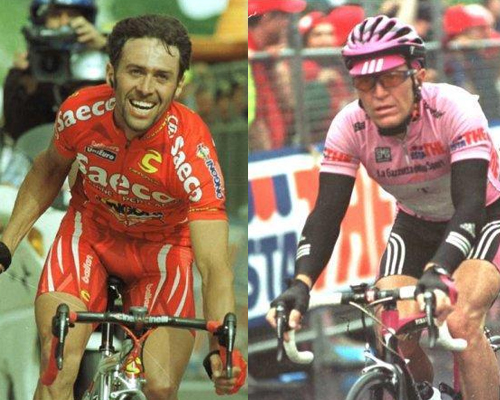 Gilberto Simoni winning Stage 11, and Jens Heppner after struggling to the finish on Stage 12.


Which left only Casagrande.

Meanwhile, the race was now entering its most difficult phase; Stage 13, a mountaintop finish in San Giacomo before an ITT in Numana, a rest day and then two brutal days in the Dolomites, Stages 16 and 17 likely to decide the race.

Evans, oddly for a Grand Tour first timer seemed to be improving the deeper the race went, and with Simoni and Garzelli out, was becoming an increasingly serious contender. On San Giacomo, a difficult 12km ascent, he climbed out of his skin to finish second, and rocket into the top-five overall. And in the race against the clock around Numana, preceding the second rest day, Evans was third fastest behind American Tyler Hamilton, and leapfrogged Casagrande into second overall.

Casagrande had reportedly been suffering bronchitis since Stage 12, hampering his efforts, but that would be of little concern for the Italian when the race resumed in Terme Euganee for Stage 15. A flat, otherwise innocuous run to Conegliano won by Mario Cipollini, was made entirely bizarre by Casagrande's disqualification for dangerous riding. The Italian had, in defending his lead in the King of the Mountains early in the stage, run Colombian Fredy Garcia into a barrier, and ended his race. Garcia's manager Gianni Savio protested profusely after the stage, and Casagrande, despite his appeals, was ejected from the Giro.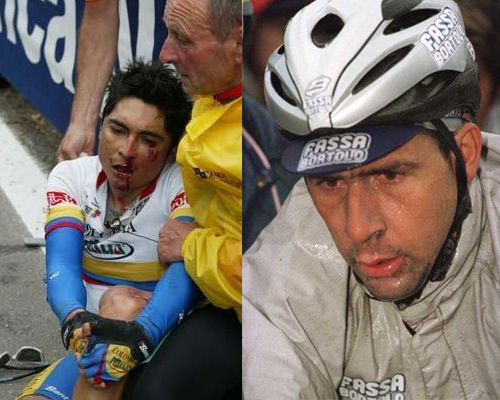 Garcia being attended to by the side of the road, and Casagrande at the finish.

Suddenly Evans was not only in a prime position on GC, in second, but with only a lame duck leader in German veteran Jen Heppner ahead of him (Heppner had taken the lead on Stage 6 after a long breakaway and had been leaking time ever since) and three of the key favourites out of the race, in a prime position to win.

Dreams do come true

On the penultimate mountain stage of the Giro, Julio Perez Cuapio flew away for the win, but it was the GC battle that was going ballistic behind the effortless Mexican that demanded the Giro's focus. Heppner was finally cracking, but Evans's ascendancy to the maglia rosa was far from assured. Italian Pietro Caucchioli was gambling it all, and was in the virtual lead with only the Passo Campolongo to conquer.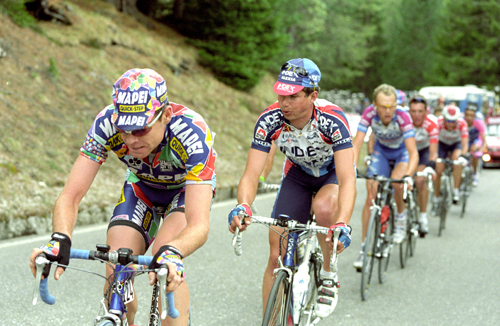 Evans however was stubbornly strong, and Caucchioli's efforts were taking a toll. Evans bombed down the final two descents to take back the jersey, and by the finish, a 32 second lead on Caucchioli. It was one of his strongest performances of the Giro, forced to do much of the chasing on his own, and foreshadowed a similar stage at the Tour de France in 2011, many years later.

"I can't express how happy I am," said an emotional Evans, still in disbelief. "This kind of thing has always been a dream for me. There were a few points where I was having problems but so was everyone else. So it turned out good in the end and I have the maglia rosa."

Less than a minute separated the top-six on GC with Evans, no longer in the shadows, in pink, and only the final mountain stage to Folgaria to come.

No fairytale ending

Despite a letter from then Prime Minister John Howard willing him on, Evans, first day in pink would also be his last. Perhaps it was the pressure, the length of the stage, 222km, perhaps it was just a bad day. More likely was that, after nearly three weeks of hard racing in a Grand Tour which he was supposed to be riding in support of his elder captain Garzelli, Evans had a moment of humanity. Supported brilliantly by lieutenant Dario Cioni, and a humble Andrea Noe, Evans got to the final climb up to Folgaria and simply had nothing left when the attacks came.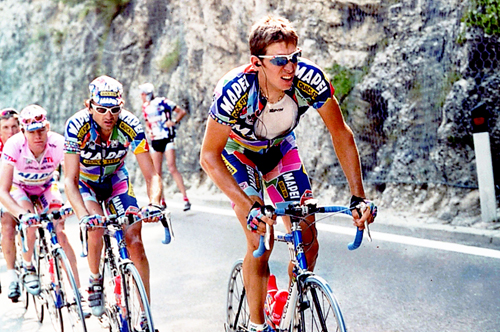 Evans follows the wheel of Andrea Noe and Dario Cioni on the final climb to Folgaria.

From the Cyclingnews race report:
With 9 km to go, on the final ascent of the stage, the Melbourne man was on the wheel of his Mapei team-mate Andrea Noe when he wavered and seem to lose concentration, letting a two metre gap open up. That was the beginning of the end for Cadel, as Hamilton and Savoldelli attacked and the 25 year old Australian literally seemed to go backwards. The last few kilometres of Cadel's journey were painful to watch as the gutsy Mapei man struggled uphill at walking pace in his sweat soaked Maglia Rosa, flanked by his team-mates Noe and Cioni.

Actually, none of that is quite so heartbreaking as Evans's comments the next day.

"The team is happy about what I've done and I am too," he said. "I spoke to my DS Roberto Damiani and Dr. Sassi and they have given me a lot of support. All things being normal, I'd finish with Savoldelli on the climb, but...c'est la vie. This morning, Giorgio (Squinzi, Mapei's owner) called me and told me 'Cadel, you don't have to start today if you don't want to - you've already done a lot more than we had hoped', but I want to finish the Giro."

There's no understating the disappointment Evans felt. He was shattered. Anyone would be, having come so close to a Grand Tour win and have your body implode at the last. But true to the man he grew to be, Evans fought on. He finished the Giro, 14th, a spectacular debut in itself and in retrospect, all the more gargantuan when you consider much of the race's top-10 have since served suspensions for doping, or been linked to major investigations. It was a performance we tend to forget among his Tour de France accomplishments, but one no less impressive.

SBS will broadcast every stage of the 2014 Giro d'Italia LIVE!

Follow @al_hinds