Like many I braved the wee hours of the night to watch Stage 16 of the Giro d'Italia, the snow-blighted, mountain-packed epic, that was always going to ensue when one includes storied climbs like the Stelvio, Gavia and Martello all at once. And what an epic it was! Quintana rode out of his skin to claim pink, the GC underwent an interesting reshuffle, and the snow, ahh the snow. I take my hat off to every rider that mounted their bike in such conditions, that was mental.

Still, the heroics of the stage have at least in some way been overshadowed by a retracted call from RCS two-thirds of the way up the Passo dello Stelvio that announced the descent would be neutralised.

That decision appeared to be consistent with the treacherous conditions on the top of the Stelvio; a meld of fog, sleet and snow, resulting in low visibility, low traction, and indeed questionable safety.

Officially, on race radio, teams were told "a motorcycle would be placed in front of each group after passing the Stelvio summit, and that riders should remain in their respective group without attacking, until the red flag is removed."

The race ticker used the word neutralised, as did a tweet, later deleted.

All of this was relayed to the riders.

No surprise then that many stopped at the summit of the Stelvio, donned jackets and warm clothes, and shed wet ones, before proceeding.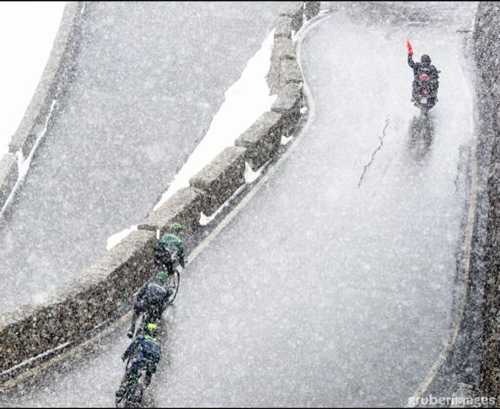 Quintana riding on the descent behind a motorbike with a red flag. It's unclear how long the flag remained up, but it was absent halfway down the Stelvio. (Picture: Jered Gruber)

But then Dario Cataldo appeared to be pressing on, with no signs of race motos, and then it emerged that Nairo Quintana was more than a minute clear of Rigoberto Uran despite hitting the summit together.

What?! I thought it was neutralised.
Oh right, wrong communication. Wait, let's examine the timing of that tweet a little closer.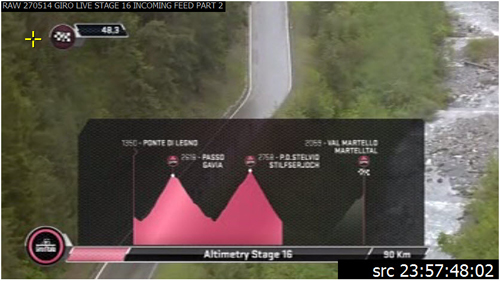 Yeah, they were off the descent by the time the Giro had recanted its initial instructions. But, by this time, Quintana, Ryder Hesjedal and Pierre Rolland had taken more than a minute, a gap that would be decisive in wrestling pink off Rigoberto Uran's shoulders. Uran now sits 1min 41sec behind Quintana ahead of Stage 17.

So was there a neutralisation or not?

This was the statement released by RCS and its director Mauro Vegni shortly after the conclusion of Stage 16:

"In consideration of audio recordings of instructions relayed to directeurs sportifs during today's stage, the directors of the Giro d'Italia would like to clarify that Race Radio provided an inaccurate interpretation of the indications stipulated by the Directors.

"As previously stated, the intention was to guarantee rider safety during the first section of the descent (the first six hairpins, approximately 1500m) of the Passo dello Stelvio, where visibility was restricted due to low cloud and fog.

"At no point did Race Radio or the Directors of the Giro make reference to the possible neutralisation of any part of the descent."

Always good to thrown your communications team under a bus. It was all their fault says Vegni, a miscommunication.

HA! I'm sorry, but no.

This:

At no point did Race Radio or the Directors of the Giro make reference
to the possible neutralisation of any part of the descent.

Is semantics.

A) There was a direct Twitter reference by Giro communications officials before the descent which in this day and age teams are following.

And B) while there was no direct reference to neutralisation by race radio, the comment "riders should remain in their respective group without attacking, until a red flag is removed" would for even the most legalese of DS's lead many, as it did, to the conclusion the race was neutralised.

When else are red flags used? Hmm? If it looks like a duck, quacks like a duck...

Per favore Signor Vegni!

For what it's worth I assign no fault to the riders. With such confused instruction from the race organisation there was bound to be a varied interpretation. Quintana said he didn't see motorbikes with flags (EDIT: doubtful, see above picture), Uran did. Both riders also disagree on instructions given.

I also have no problem with the race continuing; if it was deemed safe, so be it.

But for RCS to exacerbate the chaos on an already chaotic stage and then pretending to be oblivious is inexcusable.

As Jim Ochowicz surmised in a terse statement via his BMC team:

"We take no position against the three riders that rode together to the finish. However, the UCI and race organizer RCS have a responsibility to maintain fair racing conditions, which we believe did not take place."

Exactly.

The absence of clear instruction on an abysmal day in the saddle is a dereliction of duty from the race organisation. On this of all days, clear communication was paramount, and we didn't get it. Like the top of the Stelvio, it will remain a fog, on an otherwise thrilling stage.

Follow @al_hinds