Before the season's first Grand Tour becomes a distant memory, let's have a look at that final GC again...

1 Nairo Quintana (COL) Movistar Team 88hr 14min 32sec
2 Rigoberto Uran (COL) Omega Pharma-Quick-Step 0:02:58
3 Fabio Aru (ITA) Astana 0:04:04
4 Pierre Rolland (FRA) Europcar 0:05:46
5 Domenico Pozzovivo (ITA) AG2R 0:06:32
6 Rafal Majka (POL) Tinkoff-Saxo 0:07:04
7 Wilco Kelderman (NED) Belkin 0:11:00
8 Cadel Evans (AUS) BMC 0:11:51
9 Ryder Hesjedal (CAN) Garmin-Sharp 0:13:35
10 Robert Kiserlovski (CRO) Trek Factory Racing 0:15:49

I think we all can agree that Nairo Quintana, all of 24 years old, was the best. Even Rigoberto Urán, his compatriot and greatest nemesis, said as much when the race ended in Trieste last Sunday.

"Quintana is the rightful winner, and I congratulate him. I always think that whoever wins, wins, so even without (what happened on) the Gavia and the Stelvio, he would have won. It was a bit special, that day, and we lacked a bit of information, but I always thought it was going to end up the way it did. There's nothing more I can say."

For the record, however, this is what the Omega Pharma-Quick Step leader said just hours after that topsy-turvy sixteenth stage to Val Martello, via a team press release:

"On the Stelvio I heard from (my sport director) Davide Bramati that the downhill will be controlled by motos with a red flag for the safety of the riders, and that we could have maintained our position on the descent without attacking," Uran said.

"He told me to put on my rain jacket and pay attention in any case. At 300 or 400 metres (from the top of the Stelvio) I had my jacket from one of our masseurs. I managed to wear my jacket before the top so at that point I didn't stop at the top like a few of my colleagues did. I then started descending, but I didn't see any motorbike. During the descent riders came around me. I saw (Rafal) Majka and other guys but I didn't realize Quintana wasn't there. I only did a few kilometers when Bramati told me the gap was already significant. So, we then organized our chase. That is how it went. I think in normal circumstances the story of the race probably could have been different."

In normal circumstances the story of the race probably could have been different.

The question I'm still asking myself is: How different? Same podium positions but closer time gaps different, or different podium, different time gaps, different?

To reiterate what I said earlier, Quintana was the best. But with the help of some rudimentary mathematics I'll demonstrate that contrary to popular opinion, he wasn't head and shoulders above the rest - least not against the two who flanked him on the podium in Trieste.

You know what Urán said; this is what Quintana had to say after that day to Val Martello:

"We climbed the Stelvio together and at the descent, Europcar and (Ryder) Hesjedal started going strong and Izagirre and myself followed their wheels. When we got to the bottom of the descent, we saw the group was split. It wasn't an attack, by any means, nor did I hear anything about the race getting neutralized, neither from the organizers nor from the team radio. I don't see the reason why we have such polemics around. Besides, we entered the split, but the biggest gap was actually made into the final climb towards Val Martello. I don't see any grounds for controversy.

"My objective here was to win the maglia rosa. Now I'm wearing it, despite the fact that many people had written me off because of my problems. But you don't lose your class."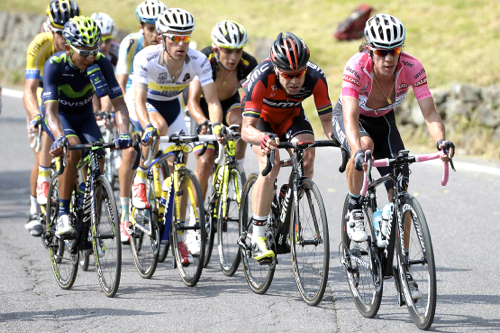 Uran: "I think in normal circumstances the story of the race probably could have been different." (RCS)

"You don't lose your class" is a great line, although that's not what caught my attention.

The biggest gap was actually made into the final climb towards Val Martello.

This is, I'll now admit, a correct statement, even if it ignores the substantial time gain before the final climb.

I've gone over the tape from Stage 16 more times than I care to admit, but I can tell you with 100 percent confidence that Quintana, his team-mate Gorka Izagirre, Ryder Hesjedal (Garmin-Sharp) and Europcar riders Pierre Rolland and Romain Sicard eked out a 1 minute 42 seconds advantage from the top of the Passo di Gavia (km 70.3) to the base of the final climb of Val Martello (km 116.6). We also know that Quintana won the 139km stage by a 4min 11sec margin over Urán, the maglia rosa of the day, meaning on the 22.35km climb of Val Martello, he prised another 2min 29sec, very close to the 2'40" deficit to Urán at the start of the day, but in itself, not quite enough to take the race lead.

For posterity, here's what the GC would have looked like after Stage 16 if the time gained by Quintana and his four escapees from the top of the Passo di Gavia to the base of Val Martello was annulled, yet preserving their gains on the latter climb.

1 (2) Rigoberto Uran (COL) Omega Pharma-Quick-Step
2 (1) Nairo Quintana (COL) Movistar 0:00:01
3 Cadel Evans (AUS) BMC 0:01:39
4 (5) Rafal Majka (POL) Tinkoff-Saxo 0:01:46
6 Fabio Aru (ITA) Astana 0:01:52
7 Domenico Pozzovivo (ITA) AG2R 0:02:07
8 Wilco Kelderman (NED) Belkin 0:02:24
8 (4) Pierre Rolland (FRA) Europcar 0:03:26
9 Ryder Hesjedal (CAN) Garmin-Sharp 0:04:16
10 Robert Kiserlovski (CRO) Trek Factory Racing 0:06:20
* Number in brackets indicates actual recorded, if different from hypothetical, placing.

Urán would have still been in the lead, albeit by one second. Would that have changed how the GC favourites raced Stage 18 to the Rifugio Panarotta, the day before the Cima Grappa mountain time trial, where Quintana spanked everyone bar Aru?

Probably not. Which means the final GC may have looked like so:

Final general classification (minus Stelvio descent, Stage 16)
1 Nairo Quintana (COL) Movistar Team
2 Rigoberto Uran (COL) Omega Pharma-Quick-Step 0:01:16
3 Fabio Aru (ITA) Astana 0:02:22
4 (5) Domenico Pozzovivo (ITA) AG2R 0:04:50
5 (6) Rafal Majka (POL) Tinkoff-Saxo 0:05:22
6 (4) Pierre Rolland (FRA) Europcar 0:05:46
7 Wilco Kelderman (NED) Belkin 0:09:18
8 Cadel Evans (AUS) BMC 0:10:09
9 Ryder Hesjedal (CAN) Garmin-Sharp 0:13:35
10 Robert Kiserlovski (CRO) Trek Factory Racing 0:14:07
* Number in brackets indicates actual recorded, if different from hypothetical, placing.

Quintana still wins. No surprise there. Podium unchanged. Status quo preserved.

But what if Stage 16 was cancelled altogether? Meaning that, going into Stage 17, the times after Stage 15 stood still, like so:

1 Rigoberto Uran Uran (COL) Omega Pharma - Quick-Step 63hr 26min 39sec
2 Cadel Evans (AUS) BMC 00:01:03
3 Rafal Majka (POL) Tinkoff-Saxo 00:01:50
4 Fabio Aru (ITA) Astana 00:02:24
5 Nairo Quintana (COL) Movistar 00:02:40
6 Domenico Pozzovivo (ITA) Ag2r 00:02:42
7 Wilco Kelderman (NED) Belkin 00:03:04
8 Pierre Rolland (FRA) Europcar 00:04:47
9 Robert Kiserlovksi (CRO) 00:05:44
10 Wout Poels (NED) Omega Pharma - Quick-Step 00:06:32

Urán's advantage, with the stage cancellation, may well have changed how his adversaries raced Stage 18 - which would then have affected their performances in the Cima Grappa TT, not to mention the following day to Monte Zoncolan, which, for the GC favourites, turned out to be somewhat anti-climatic.

How those potential scenarios may have played out we will never know, and quite frankly there's too many ifs and buts. However for argument's sake, let's see how the final GC shapes up sans Stage 16 but all else being equal:

Final general classification (minus Stage 16)
1 (2) Rigoberto Uran (COL) Omega Pharma-Quick-Step 83hr 30min 44sec
2 (1) Nairo Quintana (COL) Movistar Team 0:01:13
3 Fabio Aru (ITA) Astana 0:01:37
4 (5) Domenico Pozzovivo (ITA) AG2R 0:04:08
5 (6) Rafal Majka (POL) Tinkoff-Saxo 0:04:09
6 (4) Pierre Rolland (FRA) Europcar 0:05:46
7 (8) Cadel Evans (AUS) BMC 0:07:03
8 (7) Wilco Kelderman (NED) Belkin 0:08:16
9 (10) Robert Kiserlovski (CRO) Trek Factory Racing 0:12:14
10 (9) Ryder Hesjedal (CAN) Garmin-Sharp 0:12:56
* Number in brackets indicates actual recorded, if different from hypothetical, placing.

Eliminating any time lost to Quintana from Stage 16 and all else being equal, Urán would have won the Giro!

In normal circumstances the story of the race probably could have been different.

Aru would have still finished third, but only by 1'37" (instead of 4'04"), and just 34 seconds off Quintana's second place.

Don't forget race director Mauro Vegni admitted he toyed with the possibility of cancelling Stage 16, and certainly discussed neutralising the descent of the Stelvio, which, depending on who you ask, did in fact happen, albeit delivered in shambolic fashion.

In other words, both hypothetical GCs could have happened. And if Stage 16 was cancelled, we may well have crowned a different champion.

My point is not to question the veracity of Quintana's victory - he won the race fair and square, and there are surely many more to come. (As the man himself said, "I was a question mark before this race; now, I'm a confirmation.")

The point, then, is to show how close this race in fact was, and how decisions made - or not made - by race organisers can effect the final outcome, and indeed the eventual winner.

It's also a clarion call to organisers RCS: they must never, ever, let something like 'Stelvio-gate' happen again.

Either way, I reckon Rigoberto Urán already has his eyes on next year's prize.

Follow@anthony_tan