As enthralling as the 66th edition of the Critérium du Dauphiné was, I was still floored how Tinkoff-Saxo let that last stage to Courchevel happen the way it did.

How do you let four of the top ten on GC get away on what was always going to be a decisive day of racing? And have no-one from the team represented in the break?

Alberto Contador, of course, was there in southeast France, close to Tour-winning form, as demonstrated the previous day to Finaut-Émosson, when he snatched the race lead from Chris Froome. At least three of his teammates who will ride this year's Tour de France with him were also there. And Bjarne Riis, other than Austin Powers, that international man of mystery, was there, too, albeit in the team car.

After reading a recent interview in issue #64 of RIDE Cycling Review, I got it.

They were without a suitably qualified road captain. More precisely, they were missing Michael Rogers.

The same Michael Rogers who has been living in Europe since he was 16 years old, plying the only trade he knows, the only one he loves. He's now 34, in his fourteenth year as a professional.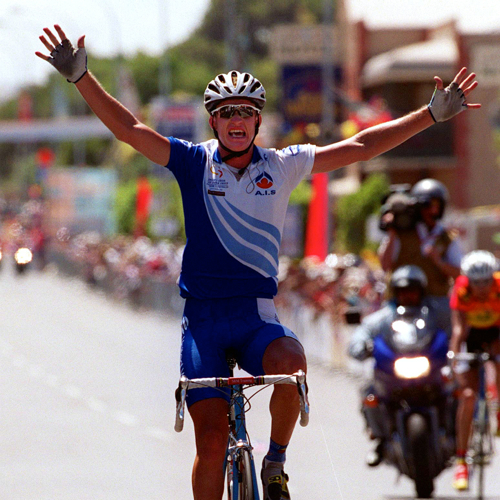 Blast from the past… Riding for United Water, winning the second stage of the 2000 Tour Down Under. (Getty)

The same Michael Rogers who made the world time trial championship his own from 2003 to 2005.

The same Michael Rogers who came agonisingly close to the taking the maillot jaune at the 2007 Tour de France, but instead crashed descending the Cormet de Roseland and broke his collarbone.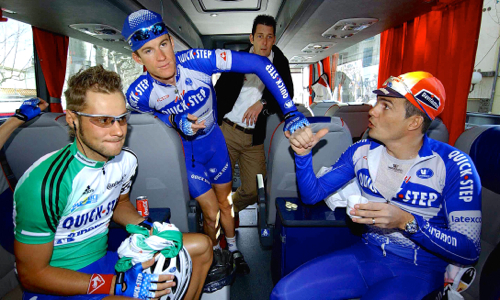 Once did the Quick Step… with Tom Boonen and Richard Virenque at the 2004 Paris-Nice. (Getty)

The same Michael Rogers that has twice suffered the debilitating effects of mononucleosis, or glandular fever, but each time, has managed, through nothing other than sheer willpower, to come back stronger than before.

The same Michael Rogers who, after a decade thinking he could be not just a Grand Tour rider but a Grand Tour winner, had to face the awful truth: top-ten, yes, but podium, no. Fact was, he was better off helping someone who could win, rather than someone who thought he could win.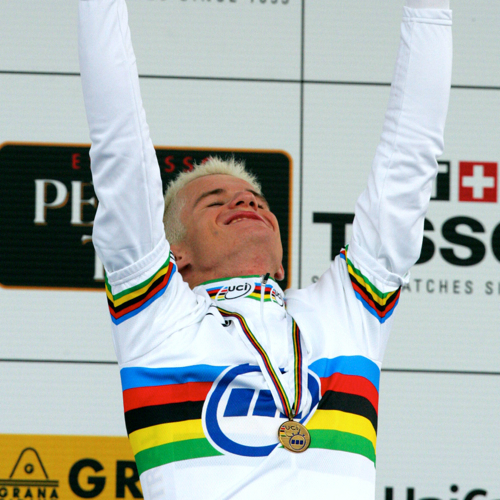 In his TT pomp… Savouring his victory at the 2004 world time trial championships in Bardolino, Italy. (Getty)

The same Michael Rogers who, riding in the service of Bradley Wiggins at the 2012 Critérium du Dauphiné, was so strong, he still finished second.

The same Michael Rogers that reprised his captaincy role three weeks later at the Tour de France, and helped keep Wiggins' fragile head in check, despite the internecine rivalry between he and Froome. In the final press conference, without any prompting, the Tour winner made mention of just how valuable an ally Rogers was, particularly when it came to setting the metronomic yet devastatingly effective tempo riding they're now revered for, and the wattage required to quash rivals' attacks, or even the thought of one.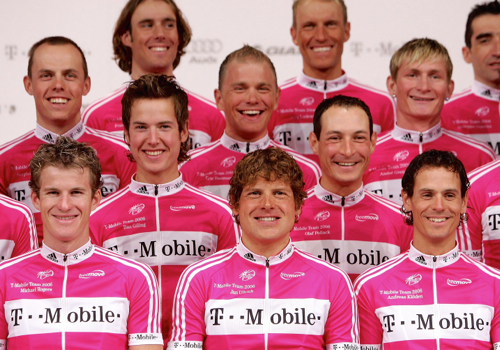 Class of 2006… Michael Rogers rode for T-Mobile from 2006-07, which later became Columbia-High Road, Columbia-HTC, and HTC-High Road. (Getty)

The same Michael Rogers who has, in the short space of time since leaving Team Sky at the close of the 2012 season, become Contador's right-hand man, and arguably Tinkoff-Saxo's greatest coup.

Stage 13 of the 2013 Tour, when, in the last 30 kilometres to Saint-Amand-Montrond, Contador pulled back a minute on Froome and caught Sky unawares? That was Rogers.

This year, for the first time, Contador decided to go with the flow and train at altitude. "Everyone always tries to optimise their results. Until now I did not need to go to altitude because I got good results and won some big tours. I always said that when I saw that I could not, then it's time to change. This year I took that step and things have worked well."

Was that Rogers, too?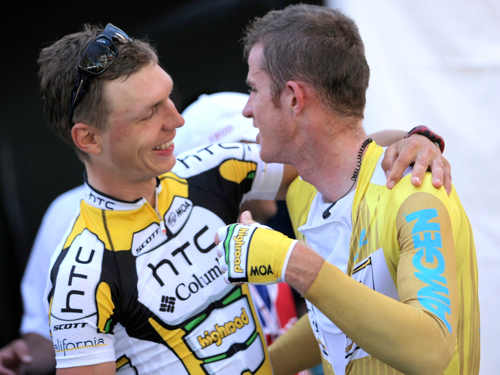 From one TT world champ to another… Former HTC-High Road team-mates Tony Martin and Michael Rogers have six world time trial championship victories between them. (Getty)

After all, he's been doing so for years, ever since he was an amateur. In fact, in 1999, when I was doing some altitude training myself in the Italian Alpine ski town of Livigno, its location on the Swiss border and 1,816 metres high, I remember spotting him there, as part of the Australian Institute of Sport national team. (Didn't do me much good, mind you; I guess you've got to be good to begin with...)

During an enforced break that robbed him of four months' racing this year, a result of his inadvertent dalliance with clenbuterol at last year's Tour of Beijing (all 80 picograms of the stuff; for what it's worth, Contador was done for 50), Rogers, along with a handful of team-mates, went to Sicily to train prior to the Giro d'Italia, sleeping high atop Mount Etna and training low.

"And then," he tells RIDE, "in the last week once we've become acclimated to the altitude, we started doing more work above the 1,000-metre mark to really simulate racing.

"In the last couple of years I've really seen the benefit of doing those high-intensity efforts above 1,000-1,500 metres."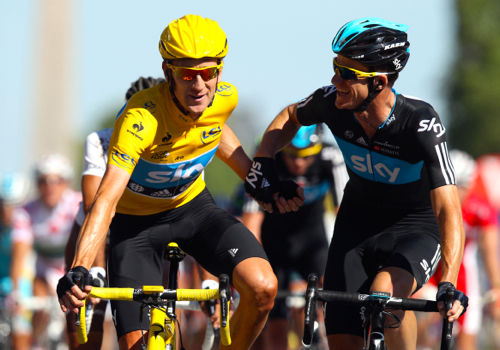 Willing Wiggo to a win… Michael Rogers was a key part of Bradley Wiggins' victory at the 2012 Tour de France. (Getty)

Is Saxo-Tinkoff going to win the Tour?

"We have a very good chance, actually. Alberto is in really good shape. He's angry. He's hungry. Last year he was angry too but didn't have control."

During his layoff Rogers was angry, too. "I really was," he says.

"There was a lot of anger there and I suppose, after around a week, I quickly realised that being angry wasn't going to change anything - actually, it was just going to make it worse."

So, instead of doing something silly, Rogers did what he has done since he was 16, and, apart from not racing, not a thing different. "I didn't do anything other than train as much as I could and live the normal diet that I'd live in a racing season."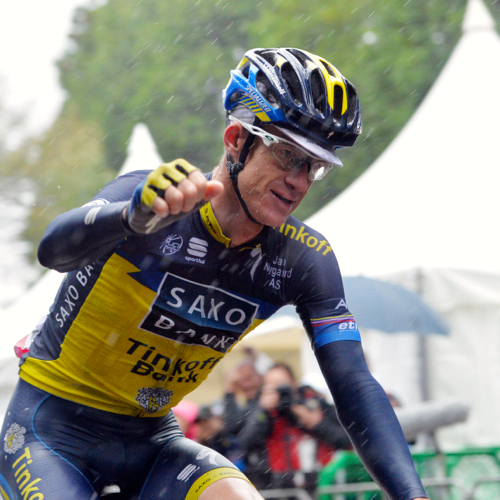 The one that got away… Michael Rogers' victory at last year's Japan Cup was far more bitter than sweet, after a drug test found traces of clenbuterol in his system. He was later disqualified and suspended from competition, but in April this year he was exonerated of any wrongdoing, and was free to race. (Getty)

At Liège-Bastogne-Liège - Rogers' first race back from suspension; judged by most pro's to be the hardest one-day race on the calendar - he was leading the pack with 50 kilometres to go for his team leader, Roman Kreuziger.

A few weeks later at the Giro d'Italia, on the back of a last-minute call-up, he helped Rafal Majka finish sixth overall and, in the process, won arguably the two most important races of his career: the first, on Stage 11, a solo breakaway to Savona, a confirmation he was back where he belonged; the second - atop Monte Zoncolan, no less - an affirmation of his abilities.

"My bike is my best friend," he told RIDE's publishing editor, Rob Arnold. "Around the lake, up the mountains, on the home trainer - I'm riding."

Who with?

"No one. Usually no one. Me. It's my time. I'm free and it gives me a chance to think."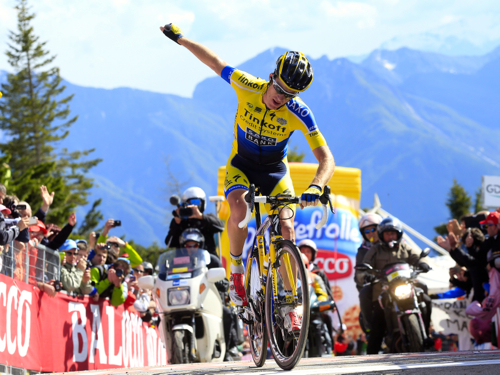 Affirmation… Michael Rogers wins his second Grand Tour stage in as many weeks, this time atop Monte Zoncolan at the 2014 Giro d'Italia. (Getty)

Now, with his place all but assured for the 101st Tour de France, he can now think about how to win with Alberto Contador; after a period in the wilderness, also back to his best.

"Even if the Tour was on the same course every year and we did the same climbs each time, there are still so many variables… That's why a lot of people find it hard to get a general understanding of cycling: it is a black art," says Rogers.

"No one fully understands it, no matter how many years of professional cycling you've done, you are still a student of cycling. You will never understand everything."

Will any of us fully understand what happened to him or Contador?

Possibly not. Probably, not.

But after all his years, all he's seen and all he's been through, Michael Rogers understands cycling better than most. And that may just help his Tinkoff-Saxo team win the 2014 Tour de France.

Follow@anthony_tan