Over the next week, the final team selections for the 101st Tour de France will be coming thick and fast. Blink and you may miss one of the 22 invited teams announcing their final nine to roll out of Leeds on 5 July.

After closely watching last week's Tour de Suisse, and with the above in mind, a thought bubble hovered over my noggin Tuesday evening.

Will the Schlecks be part of Trek Factory Racing's nonet? Or, phrased another way, do they deserve to be part of TFR's nonet?

Let's face it, 34-year-old Fränk hasn't been the same man since his positive test for Xipamide at the 2012 Tour, pinged for the diuretic on Stage 13 and told to pack his Samsonite four-wheeler on the second rest day.

The Luxembourg Anti-Doping Agency said he ingested the drug unintentionally and thus reduced the standard two-year suspension to half that. But on 4 July last year, 10 days before he was clear to race again, his RadioShack-Leopard team said they didn't want him anymore... Thankfully Trek Bicycles, who purchased the WorldTour licence from them, did, and duly signed him up for the 2014 season.

Which brings us to now.

So far this year, Fränk has raced exactly 114.85km short of 6,000km in 37 race days.

31st overall at the Tour Down Under. 19th overall at Oman, including 28th place on the stage to Green Mountain. 34th at Paris-Nice, including sixth on the final stage, which he came close to winning. Sixth at the Critérium International, including a fourth place on the final day's hilltop finish to the Col de l'Ospedale. DNF at the Vuelta Ciclista al Pais Vasco, where he was lying 72nd overall before deciding not to start the final day's ITT. (You know how much the Schlecks enjoy TTs...) 24th at Amstel, 56th at Flèche, and 19th at Liège. 9th at the Tour de Luxembourg, an event he's finished on the podium four times previously and won in 2009. And a DNF at Suisse, where he crashed out on Stage 3... descending. (Another Schleck speciality.)

2012 wasn't a vintage year for the Schleckies.

His lil' bro Andy, five years younger (can you believe he's still only 29?), hasn't been the same since he fractured his sacrum on Stage 4 of that year's Critérium du Dauphiné - an individual time trial. (See what I mean about Schlecks and TTs?)

The Delightfully Angry Andy of 2010 and 2011 has been replaced by Raggedy Andy.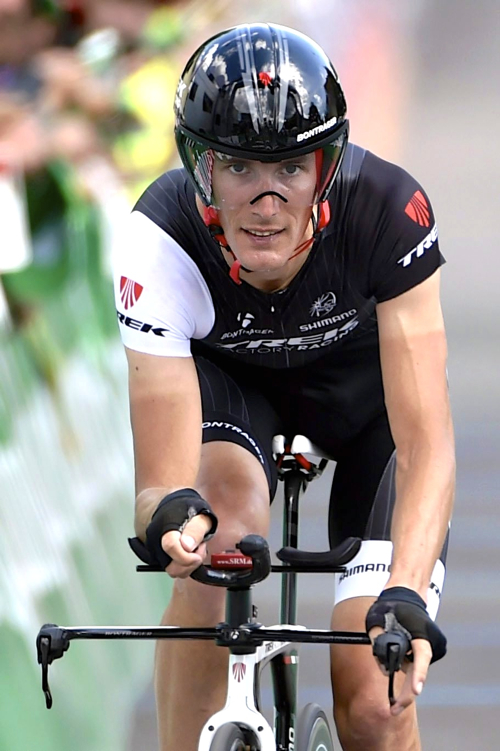 Time trials are not the Schleck brothers' strong point... (AAP)

So far this year, he has raced exactly 137.15 kilometres short of 6,000km in 40 race days.

72nd overall at the Tour of Oman, including 34th place on the Green Mountain stage. 66th in Paris-Nice. DNF at the Critérium International. 66th at the Vuelta Ciclista al Pais Vasco. DNFs at Amstel, Flèche and Liège! (At least he was consistent in the Ardennes...) 50th at the Tour de Luxembourg. DNF at the GP du canton d'Argovie. And 29th at Suisse.

There in Switzerland, on the final and ultimately decisive day that featured a quartet of climbs including a mountain-top finish to the HC-rated Saas-Fee, Schleck the younger and BMC's Steve Morabito bridged across to the early break that formed on the first ascent of the Cat. 1 Veysonnaz. Both the escape and Schleck looked promising, but when eventual winner Rui Costa, Mathias Frank and Bauke Mollema placed overnight leader Tony Martin in jeopardy and bridged across on the penultimate climb, no sooner had Andy ran to the rear exit, or rather, the back door ran to him.

He would eventually finish nine-and-a-half minutes down on Costa, the stage and race victor.

Why Trek kept either of the Schlecks and refused to match Vuelta champion Chris Horner's asking price is beyond me. Look at the value they've got out of ol' Jens Voigt. He'll be 43 in a few months.

Luca Guercilena, the team's general manager, has said ad infinitum that each and every member selected for the 2014 Tour needs to earn their place, and regardless of past performances, no favouritism will be granted to the brothers Schleck.

"We will have a conference call Tuesday morning with all the directors and there we will try and determine the nine riders for the Tour, and the official four for reserve," Guercilena said Sunday last, on the final day of Suisse. "Each director has followed five or six riders all year, so they will be able to give specific input. We will also discuss our goals for the Tour and then determine which riders best fit this."

As far as I'm concerned, if their goals involve winning stages or a high place on GC, the Schlecks don't fit the mould. If they do get selected, the only climbing they'll be doing will involve climbing off... their bikes.

We'll know soon enough, but do you think they deserve to be in Leeds?

Follow@anthony_tan