I don't mean to patronise the Cycling Central audience, which I can only assume is full of Tour aficionados, by telling you things you already know. But, perhaps you're about to attempt to persuade an unsuspecting loved one to join you on the couch this July, and catch 'the bug'. To make that task that little bit easier, here's a flash guide to the greatest race on earth, the Tour de France.

Here are some very Frequently Asked Questions, in no particular order...

1. Huh, what do you mean the Tour de France isn't just raced in France?
This, understandably is hard to fathom, but it surprises even the casual viewer. It's not even that extraordinary. The Tour has been raced entirely in France on several occasions, but more often than not it will include forays into other countries along its periphery. Italy, Spain, Belgium, Switzerland are all common inclusions in the Tour route, and while Great Britain isn't an obvious candidate to host a Tour stage, this isn't the first time, nor, one can imagine, will it be the last. The Tour includes three stages in Britain to start things off, but will also pass through Belgium and Spain in the 2014 route.

2. Okay, but why is Yorkshire hosting the race start, surely that should be in France?
Race organisers, at their discretion, can put to tender the opportunity to host the race start, the 'Grand Depart' to cities and towns outside France. The tender process is assessed on sporting, geographic, and financial grounds. Yorkshire put forward the most compelling bid for this year's race. 2015 is slated for Utrecht, The Netherlands.

3. 21 Stages?
While it would be intriguing to see riders take on the whole race in some sort of sleepless, go till you drop marathon, OHS and logistical concerns dictate the race split into 21 segmented stages raced over 23 days. There are two rest days, in Besançon and Carcassonne, allowing the slightest of recuperation and recovery, but other than that it's eat, drink, race, sleep for three weeks straight. Each stage is approximately equivalent to five hours racing, depending on the length, and difficulty of the stage. And just in case you were wondering, stages do not necessarily restart the same place they finished. They can, but they do not have to. The race has in the past been longer, and shorter than 21 stages, but the modern Tour de France has pretty much settled on 21 as the 'right' length. The three week long epic, you might also find interesting to know has counterparts in Italy (the Giro, in May), and Spain (the Vuelta, in August).

4. How do I win?
Boiled down, spend the least time in the saddle over the full three weeks. The Tour is won on accumulated time, not on 'stage wins', the results from individual days. This can be a point of confusion as riders like Mark Cavendish may sometimes win five or six stages but then not win the whole Tour de France. Stage wins can be important to winning the Tour de France, but are not essential. Time is the only absolute metric.

5. What's the deal with the yellow jersey?
The yellow jersey, or 'maillot jaune' is awarded to the rider leading the race at the end of every stage. That lead rider will then wear the jersey in the following day's stage. It's a great honour to wear the jersey for even a single stage, but the greatest honour is reserved for the rider who wears yellow after the final stage in Paris, the overall winner. The yellow jersey is easy to spot from afar and is the yardstick for other riders vying to win the Tour de France.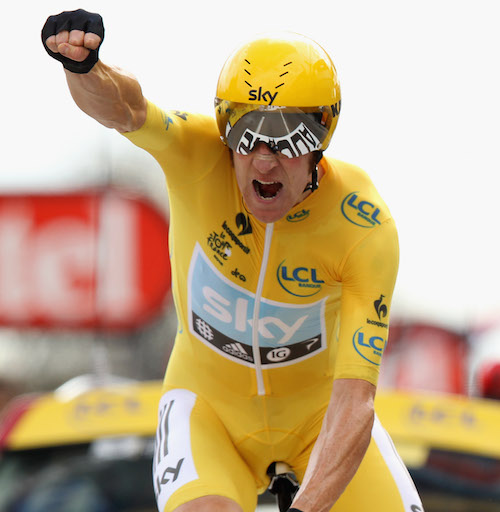 Bradley Wiggins in yellow at the 2012 Tour de France. (Getty/AFP)

6. Why do they ride in a bunch?
Riding in bunches is an important part of cycling for two key reasons. Number one: it's far more efficient and thus allows riders to conserve energy. The Tour de France is often characterised as a marathon and thus it's all important to remain as fresh as possible as long as possible. But you'll often note riders finishing stages in groups as well. This is less to do with energy conservation, and more to do with the race rulebook. Riders in a group or bunch that finish together will all be awarded the same time as the first rider of the group or bunch. This is commonly denominated in the results at the end of the stage as 's.t.' or same time. To register a time loss, or to gain time on a rival, there must be a one second gap or more between the back wheel of the first rider, and the front wheel of the chaser. If there is no gap between consecutive riders in the bunch, large bunches can finish together with no time loss from first rider to last, despite it taking 10-15 seconds for the group to completely cross the finish line.

7. Why isn't Cadel Evans riding, I thought he was da bomb?
Cadel Evans is da bomb, but he's no longer the rider he once was. Cadel rode the Giro d'Italia instead of the Tour de France this year (it's like the Tour, but in Italy). His team, BMC has sent a young American to ride the Tour de France as its leader in his place; Tejay van Garderen.

8. So I guess Simon Gerrans will win instead, right? He seems pretty good!
In theory, Simon Gerrans could win the Tour de France, in practice, it's very unlikely. Gerrans is an incredibly versatile rider but it takes a very specialised type of rider to win a Tour de France. Gerrans may take the lead, and even wear the yellow jersey, but he won't win the Tour de France.

9. Omega Pharma what? Katusha rockets? What's with the team names?
Teams, as in Formula 1 motor racing are named after headline sponsors. Garmin-Sharp, for example is financially supported by Garmin, the GPS, computer brand, and Sharp Electronics. Because cycling has no ability to take in gate receipts - it's the largest free spectator event in the world, sponsors are the only thing keeping riders employed. Some teams, like BMC, Australia's Orica-GreenEDGE, Katusha, and Astana are also beneficiaries of philanthropy or government grants to keep themselves going.

10. Why are they all listening to the radio?
Because they have to deal with five hours of monotonous bike racing, and they need to pass the time. No, that's a lie. Those earpieces many of them are wearing are for communication to their team directors, the coach if you like, who can pass on important tactical and safety instruction to them without hassle.

And my personal favourite...

11. Are they peeing?
Presumably if you've just asked this question the camera has lingered, if ever so slightly, as a rider has dismounted in the middle of a bike race to take a slash. Fear not, it's pretty normal. When you're drinking as much fluid as cyclists do in a race at least one pee-break is unavoidable. It's general etiquette to have one stop 'en-masse' during a race where the race is temporarily, and unofficially, neutralised.

The rest, I'm afraid, you'll have to pick up along the way. But good luck, and enjoy. Once you get a sense of this sport, you won't want to miss a beat.

Post any other questions you have in the comments below.

Follow @al_hinds

SBS Will broadcast and stream online all stages of the Tour de France LIVE. Click here to add the schedule times to your calendar.