While it wouldn't be a bike event without a solid set of rules, the rules for L'Eroica sit somewhere along the road between the UCI manual and a hipsters wet dream.

The original L'Eroica festival takes place yearly in Tuscany, Italy to celebrate the "heroic" bikes and riders of the bygone age or more specifically, pre – 1987. L'eroica Brittania is the first international offshoot from the original and from what I saw, wandering the many stalls, the finish chute and of course the beer tent, L'Eroica Brittania is a very British take on the original. It was much like walking on to the set of an English 70's film, country fair scene mixed with genteel cycling event. All very civilised and awfully, indeed terribly and unashamedly British!

From UK-made bikes and accessories (some wonderfully musical bike bells for a start!), to heritage food and beer, stalls and stalls full of retro and reproduction vintage bike wear it was heaven for those who dream of a simpler time, when bikes had just 10 gears, racing heros were celebrated without asterisks or allegations, and steel was the carbon of the day.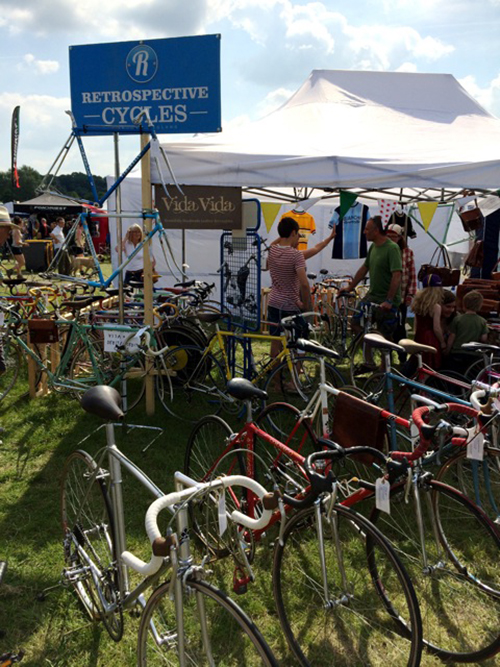 Now while this would seem to be a gleaming light globe to the moths of cycling hipsterism, by placing it in Yorkshire's neighbouring county of Derbyshire, it seems to have to isolated it far enough to keep the fixie and beard brigade back in London.

Instead it hosted a wide range of punters, though the alpha animal at this mass feeding of two wheeled nostalgia would be described as the WOG (Wool Outfitted Gentleman). While I own a great many items of clothing made from the humble fleece of the herd, I'm very thankful to modern technologies that wool clothing has been vastly improved over the decades from the sagging, sweaty, itchy and indeed horrific examples on display. My only tip, should you be inclined to go to an event like L'Eroica is to get modern reproduction clothing rather than wait for that 70's Moltini jersey (that you MUST HAVE because it just might contain Merckx sweat!) to come up on Ebay. You'll pay too much and it will look awful.

So while there's ample reasons to not like events such as L'Eroica, such as the false idolisation of "heroes" who are undoubtedly as flawed as racers from the now infamous 90's and beyond, worshipping bikes and technologies that are quite frankly terrible as compared to modern machines and the numerous clothing atrocities, I did come away feeling extremely good about cycling and cycling people.

While I'm sure there were a few there wanting to "race" out of the 2000 odd riders in the 30, 60 or 100 mile Grand Fondo style event, the overwhelming feeling was that of people celebrating the pure and simple act of cycling. Despite the over-stretched wool cycling attire, it all felt very "normal", riding a bike (apart from the distance attempted) was almost "unremarkable" as indeed, it should be. Not really heroic, more just a good thing or #handsome as their hashtag de jour suggested.

With 30,000 visitors in it's first outing there can be no doubt that L'Eroica Britannica hit the right note for a great many people, not just cyclists and as much as I tried to dislike what I wrongly assumed to be a temporary temple to hipsterism, I really couldn't. The mix of nostalgia, slightly over the top "Britishness", really nice things to look at and fondle along with rides, music, beer and whole bunch of people really enjoying cycling is well.. very handsome indeed.