My last diary entry came just as we were leaving London. We were packed up, making a mad dash to St Pancras Station to make the 730 Eurostar to Lille. Then, chatter around the compound just as we were leaving that the Eurostar was delayed. Then cancelled. Electrical fault. Bugger.

We were going to be stuck in London, but at the very least Tomo and Mark, our Editor, needed to be in France to record the links for Stage 4.

So we split our forces. The ferry to Calais was overbooked but Tomo and Mark were able to smuggle themselves on our broadcast truck with our French technical team. We were booked on the morning Eurostar.

After a rocky journey, Tomo got in to Lille at 4AM, the lift was broken, and he had to climb a six flights of stairs to make to his room. He wasn't happy. But he made it.

Meanwhile we, Dave, Cath, Dom, Ryan and myself, were still in London. We were on a 630 train, so up after bed at midnight, up at 5.

Half the Tour de France media was there with us waiting for the first train of the day. Again, more delays, first at the station, then just before the channel tunnel. When we made it to Lille, finally, an hour late, we then left a bag in the panicked rush to get about 30 items off the train in a few minutes.

Bugger* number two. (*May not have actually said bugger)

Then duties for the stage, some key post-race grabs to set up the Stage 5 broadcast, Haussler, Hayman, Rogers and a failed attempt to get Richie Porte who had already retreated inside the bus, recording links for the highlights and evening news, with me acting make-shift lighting assistant, before packing up and hitting the road.

But not to our hotel for the night in Kortrijk. Dom and I jumped in the car for Brussels to find our lost bag. Normally, it wouldn't have been quite so critical, but it had a heap of equipment that we needed and we really couldn't wait. Three hour return trip went by quicker than you'd think, (Brussels by the way really not worth loitering in from the brief glimpse we got in the twilight), and we did, thankfully find the missing bag in the lost property office of Brussels Gare-Midi.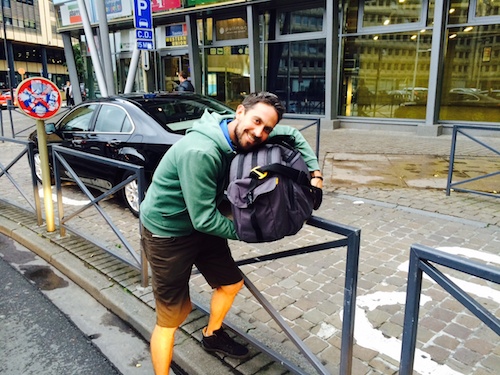 Dom reunited with our lost bag.

Chips and a cheeky beer in the car our only fuel, we got back at 11, had to cut, and send out one final clip, then in bed at midnight. A really long 24 hours.

Spirits were lifted on Stage 5. A day that we saw little of the racing, but did get the unique experience of being roadside for the latter half of the stage. It was raining, it was cold, but there really wasn't a better place to be. You really don't get a sense of just how brutal the pavé of northern France is without walking over it. These aren't well-laid stones, but jagged, prehistoric bits of rock, plonked haphazardly, almost forgotten on the edges of tiny little out of the way towns.

It was raining, it was muddy, and it was fairly cold, particularly considering it was July, but the secteur we were at was still packed - hours before the race had even begun. If you watched the Stage 6 broadcast you would've seen the product of our toil out there, and me looking like a drowned rat (you should've seen Dom), but it was all very much worth it.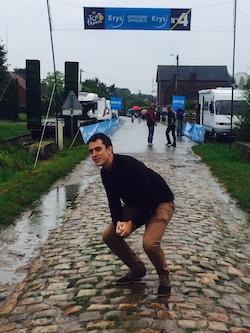 All in all, an unforgettable few days, for different reasons, and that's without even discussing the race.

Plat du Jour

And in an important development in our Tour de France journey, Mark and I have decided to create a creme brûlée classification.

Criteria: crack of the burnt caramel, sweetness of the custard, warm or cold.

So far Douai leads. I'll keep you updated.

Follow @al_hinds