"For a GC rider, and for myself, it's a stage that I'm looking forward to getting behind me, and without any big issues. It's definitely not somewhere where the Tour will be won, but it can definitely be lost."

On Wednesday's fifth stage, when he crashed for the first time with more than 120 kilometres left to ride, well before the first secteur pavé at the Carrefour de l'Arbre, and was waiting by the left side of the road for a new bike, Chris Froome glanced down, as is his wont, for a second or two.

I'm pretty sure the normally polite Froome muttered a one-word, four-letter expletive to himself that rhymes with 'duck'.

For a moment, did he think then he might have lost the Tour?

It took some time, though before too long, four of his team-mates dropped behind to pace him back on, although the team car did most of that.

However, one of those was not his lieutenant loyal, Richie Porte.

His team-mate, his roomie, his friend, Porte must've sensed well before Wednesday, when Froome suffered his first crash on Stage 4, that things were less than rosy for the defending champion.

Froome put on a brave face, together with a brave tweet, but his nervousness at the start in Ypres was palpable.

He was shitting himself. And so was his team.

Reluctant to talk about it, or even imagine Le Tour sans Froome, Porte, along with the rest of Team Sky, would've known that, as the team's second-best rider, he was Plan B, if they needed him.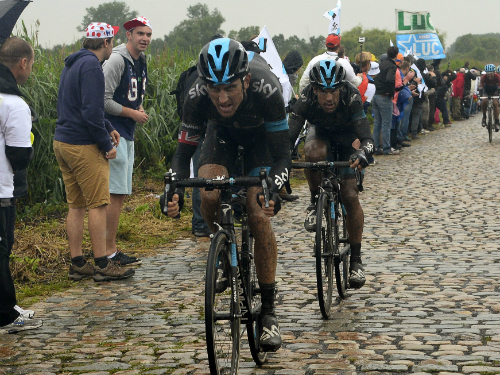 Protected... Geraint Thomas leads Porte on the pavé on Stage 5. (AAP)

In hindsight, Plan B should have been Plan B(rad), but Wiggins wasn't invited to the party.

How they must rue that decision now - but who's to say the Kid from Kilburn wouldn't have crashed out, too?

Yes, he rode tremendously this year in Paris-Roubaix, but have you forgotten last year's Giro d'Italia?

On the rain-soaked seventh leg from San Salvo to Pescara, a rolling Wiggo gathered much more than moss, sliding out on the descent five kilometres from the finish, before remounting and tip-toeing his way across the line, two-and-a-half minutes behind stage winner Adam Hansen.

Plummeting from sixth to 23rd overall, Team Sky principal Dave Brailsford described it as "a setback rather than a disaster", but also said: "It's all about how much balls Brad has now, let's face it."

Added Brailsford: "You have to keep fighting right until the end and that's what we'll aim to do. There's a long way to go."

Five stages later, Wiggins quit the race, sick as a dog.

By the way, the guy who won? Vincenzo Nibali.

His margin? 4'43 over Rigoberto Uran, 5'52 on Cadel Evans. The Shark of Messina took the race lead after eight stages and it was never relinquished.

Anyway, back to Team Sky.

They've often had a Plan B; problem is, though, they're often too reluctant, or too slow to use it.

At the 2011 Vuelta a España, Sky should have anointed Froome leader a good week earlier than they did when he took the race lead after 10 stages. Instead, they waited for Wiggins to crack on the Anglirú before showing a skerrick of faith in him, then waited for Wiggo to crack again on Stage 17 to Peña Cabarga, when they had no choice but to appoint Froome leader.

2012 Tour de France: Same shit, different race. You know the story - La Planche des Belles Filles, La Toussuire, Peyragudes, and all that jazz...

2013 Giro: Uran becomes de facto leader after Wiggins fails then bails, finishes second to Nibali, then, without further ado, leaves the team, bound for Omega Pharma-Quick Step.

2013 Tour de France: Had Team Sky not got cocky and gone 1-2 on the stage to Ax 3 Domaines, they may well have gone 1-2 again in Paris, this time with Froome and Porte. Lucky for them, Froome was at his indomitable best.

This year, however, the Froome-dog - though more like a cat on a hot tin roof - was at his queasy, twitchy, sketchy, fearful, antsy worst.

So, just like the Vuelta of 2011 or the Tours of 2012 and '13 they have a Plan B - but unlike those Grand Tours previous, they weren't forced to use it.

They have been now. The good news is, Richie is ready.

"Richie's ability to train and do massive workload was far bigger than any athlete that I've coached - by a long way," Andrew Christie-Johnston, his former coach and manager at Praties (later Genesys, now Avanti), told me in an interview last year.

"A big week is a thousand K week, but he'd go and do twelve-hundred (kilometres) and handle that sort of thing very well. When you know you've got a guy that can do that - and back up a lot - you've got an athlete that's very special.

"So, I think, knowing that a Grand Tour rider needs to be someone that can actually do that workload and keep backing up every day, yeah, I do really think he could go to that highest level. But, I s'pose I was hesitant only in the way pro cycling was at the time (Porte turned professional, in 2010), as a lot of Australian amateurs would be asking (themselves), 'Are you good enough to compete with the tainted past of some of these riders?'

"As soon as we realised around the time Richie was getting involved that things were cleaning up, you could see he was adapting very quickly, (and that) was very pleasing because then, I really did think he could go to the highest level."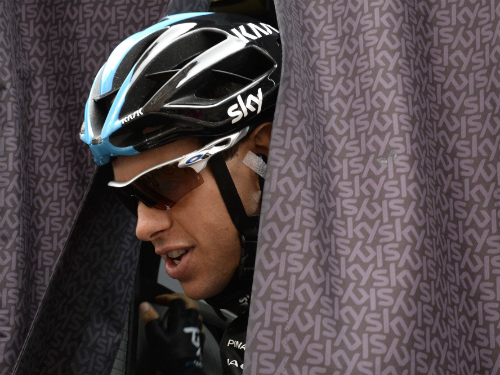 Peekaboo! Look who's leading... (AAP)

When Porte was slated to ride as leader at this year's Giro d'Italia, before falling ill and deciding to not to start, I asked Christie-Johnston if he thought Porte was ready.

"Oh, I think he's ready. I think he's got the maturity to do it. But, have one bad day in a Grand Tour and you're tour's over... If he's decided that he wants to do, then he'll be up there, for sure.

"I think he's got all the tools to do it, it's more about having a good enough team behind him. And I think that may be a challenge, because obviously their focus will be massively on the Tour. I don't think he needs to improve on anything, really. He needs luck, and you need to be on your game; you have to ride position - but he's proven he can do that."

In a little over four years, the 2014 Tour de France marks Porte's seventh Grand Tour.

From his previous six (and yes, he finished all of them), half those occasions he rode for the race winner (if you count Alberto Contador's now-rescinded victory at the 2011 Giro). And in his first, the 2010 Giro d'Italia, he led the race for three days, ran seventh overall, and was best young rider.

He has the experience. He has the skills. He has the talent. He has the balls. He has the team.

Team Sky's focus, as Christie-Johnston rightly says, is on the Tour. Sky's focus, therefore, is on him.

He just needs a little luck. I wish him well.

SBS will broadcast and stream online all stages of the Tour de France LIVE. Click here to add the schedule times to your calendar.

Follow@anthony_tan