The Tour's been great, rah-rah Richie, yada, yada... anyway. To important matters!

It pains me to say that after the first nine stages of the Tour de
France, I'm trailing our internal tipping competition, hanging on by the
skin of teeth to the back markers as our lead editor powers away. The
gap is not insurmountable, but it will require some clever picking in the
Tour's latter half.

I am, unashamedly, the hyper competitive type. The idiot that runs like a maniac in a social game of football, leaping in for tackles studs up on your best mate's five and half foot, 55 kilogram girlfriend, explaining made-up rules to your kid brother to one up him in a game of cards, carrying on like a complete (insert expletive) when you win, moping when you lose.

Understandably then, my predicament irks me no end. And if may mope for a second, I'd like to explain how I sit seventh out of seven as we hit the turn for home. My opening tip, Mark Cavendish, went suicidal in the opener to Harrogate, Alexander Kristoff crashed, and was left behind on the cobbled madness to Arenberg, and Marcel Kittel, after making the rest of the peloton look second rate with three convincing wins, got caught out by the cross winds on the stage to Reims.

So, like Andrew Talansky, I'm left licking my wounds, down, but not out.

Meanwhile the Tour de France has changed gears as we hit the first mountains of the 2014 race. The Vosges, with narrow roads, and small towns, inevitably means bigger traffic jams as the Tour's bulging caravan snakes its way into places it's really not meant for. But it's also meant arguably the most picturesque surrounds yet. Gerardmer, is like a miniature Annecy, a beautiful snow melt lake splits the ski-town in two, and we were fortunate enough to stay right on its banks. A nice change after a series of indistinguishable roadstop motels.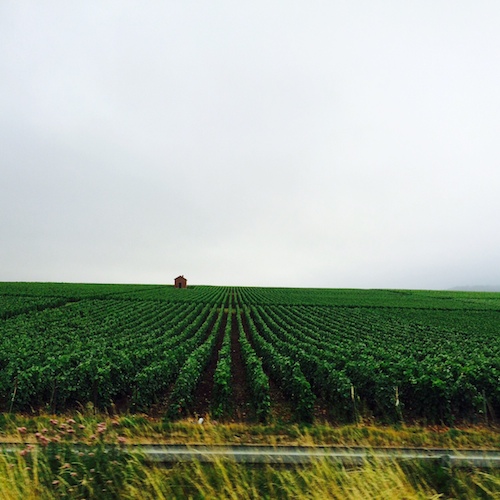 The view out the car window on our drive out of Epernay. The vineyards of Champagne.

Not to be forgotten, Nancy was a revelation. I was completely oblivious to it other than as a point on the map before I arrived, but was blown away by its wealth, particularly the exquisite Place Stanislas - get there if you can. It was also the sight of a that rather melodramatic confrontation between Andrew Talansky and Simon Gerrans. We, Dom and I, were right beside the Orica-GreenEDGE bus as the American let off a broadside at Julian Dean and the bus itself. Was quite a sight, a random burst of excitement on a stage we'd pencilled in as a quieter one. Ha, but this is the Tour.

Speaking of Dom, my driving companion for the better part of the last two weeks was under the weather after Gerardmer stage and there was a fierce ethical debate over dinner as to whether we should allow the use of pharmaceuticals to aid his recovery. We were left divided with some arguing the case for Dom's humanity, and others insisting on a clean Tour. His overnight recovery helped defer any decision to a later date.

Plat du Jour

As the Tour rolls on there's one thing I miss more than anything (apologies in advance to family, friends, and my own bed), good coffee. The French, bless them, have a way of murdering even the simplest of brews, let alone attempts at more complex derivations. A minor complaint that I'll have to swallow. Until next time, Adieu!

Follow @al_hinds