More than likely, he will take back the maillot jaune after La Planche des Belles Filles, or at the very most, the Alps. Yet so concerned is Vincenzo about Alberto, he felt that for his team, who has been obliged to ride on the front since Day 3, to be relieved of the responsibility, even for just a day, might mean the difference between winning and losing.

Contrary to popular opinion, I think Alberto Contador is in the perfect position. No, not literally, as in the ideal position on the bike (even though he does look pretty good on his steed), but in the perfect position to win.

Until the end of Stage 9, when he ceded the jersey to Tony Gallopin of Lotto-Belisol, Vincenzo Nibali had been in yellow for already one week. If he is to win this race and become the first Italian to win La Grande Boucle since Marco Pantani in 1998, assuming he takes the lead after today, Astana will need to ride on the front for another 11 stages more. If he reassumes the lead after Chamrousse on Stage 13, it will be another eight stages.

That's a lot of time on the front. A lot of responsibility. A lot of stress. A lot of press conferences. A lot more wasted energy.

A lot of everything, really.

Do not forget: The man who will win this Tour will be he holding the greatest energy reserves going into the third set of mountains. "The Pyrenees will mark the Tour this year," Contador said on May 6 after he went to recon the hat-trick of stages there, which the peloton will encounter a week from today. "The three Pyrenean stages will be crucial, because if the leader has a bad day, he can lose everything."

It's also worth recalling some recent Grand Tour history concerning señor Contador.

2009 Tour de France. Contador and Lance Armstrong were on the same team at Astana, now the team of Nibali. They didn't like each other much, if at all. Prior to the Big Loop of France they had ridden just one race together that season. And both wanted to win the Tour.

Contador was the designated leader but team manager Johan Bruyneel's affinity and affection for Armstrong was obvious. Behind closed doors, he told his favourite Texan he could also be the leader, if he could find himself in the right situation...

Armstrong constantly looked for opportunities, at one stage coming within one second of taking the maillot jaune. Concurrently, he scouted for spots to place Contador on the back foot, to intimidate and/or isolate him - be it taking advantage of a change in wind direction, then driving the break he was in and Contador was not, excluding the Spaniard from conversations at the dinner table, or forgetting to take him to stage start before the final time trial in Annecy.

Through all the muck thrown at him by Lance - from a man who turned intimidation, deception, bribery and drug-taking into an art form and thus destroyed the lives of many including, ultimately, his own - Contador proved unflappable. He also proved to not just be a better bike rider than Armstrong, but the best in that year's race, even defeating four-time world time trial champ Fabian Cancellara in Annecy to take the stage and cement himself as winner of the 2009 Tour.

After that, I said to myself, 'If Contador can survive that, he can survive anything' - which has indeed proven to be true.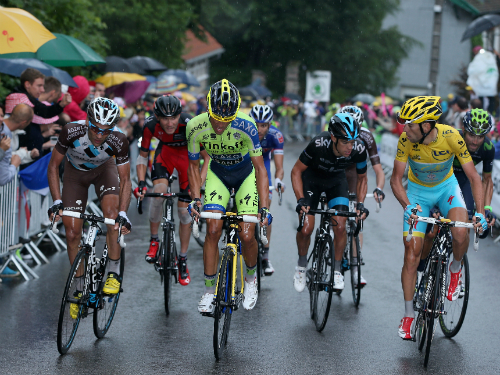 Expect to see a lot more of this... (Getty)


2012 Vuelta a España. Stage 17. The day after the second and final rest day. Five stages from the finish in Madrid, Contador was trailing race leader Joaquim Rodríguez by 28 seconds, who had held the lead for the past 13 days. Following three summit finishes, and with a savage final weekend ahead, the day was supposed to be one for a breakaway; with a pair of lower category climbs and a final ascent to Fuente Dé that averaged a mere three percent, the contenders were supposed to kick back.

Supposed to, but didn't have to.

Thing is, Contador doth not obey the normal rules of bike racing.

For on this seemingly innocuous stage, he, together with team-mate Sérgio Paulinho (who also happens to be riding with him in this year's Tour) and 11 others launched an unexpected offensive, catching Rodríguez, Alejandro Valverde and Chris Froome, among others, to the surprise of everyone except himself.

One by one, he rode his fellow escapees off his wheel till only he remained. And, by day's end, he became the new leader of the Vuelta by 1'52 from Valverde, 2'28 over a flummoxed and despondent Rodríguez, and a massive 9'40 over Froome, who 10 months later would win the Tour de France. By Madrid, Contador would win by 1'16, 1'37 and 10'16 over the aforementioned names, respectively.

In other words, if he hadn't risked everything on the stage to Fuente Dé, almost certainly, he would not have won the Vuelta.

Yes, Bertie, who when he was 21 almost died from a brain tumour, is a survivor.

He is also one of the most cunning riders in the peloton, if not the most. Together with Tinkoff-Saxo manager Bjarne Riis who team-mate Michael Rogers described as 'a genius' to Cycling Central at the end of Stage 8 in Nancy, they are a combination not to be underestimated.

"I'm still afraid of Contador," Nibali said in Nancy.

You should be, Vincenzo. Very afraid.

Because in my mind, Contador and Tinkoff-Saxo are riding the perfect Tour de France. It's only a matter of time before 'El Pistolero' starts shooting.

"I'll have to try to reduce the differences to the riders ahead (of me on GC) because they are very strong, and although it seems as if there is still a long way to go," said Contador last Sunday, "we can't afford to wait and see."

SBS will broadcast and stream online all stages of the Tour de France LIVE. Click here to add the schedule times to your calendar.

Follow@anthony_tan