"In a swerve with 3k or 3.5k to go, (Thibaut) Pinot accidentally touched my gear (rear derailleur) with his front wheel. It didn't work well, it was jumping from one ring to another and I had to climb on a big gear, I was super stuck."

I'm going to call Alejandro Valverde out on this.

Why does he not, and quite simply, say he underestimated riders like Tejay van Garderen, Thibaut Pinot and Romain Bardet, and overestimated his own strength and abilities?

I've now watched the final four kilometres from Stage 14 of this year's Tour five times, and as far as I'm concerned, saw nothing to suggest Valverde's issues were anything other than physical.

Here's how I saw it - which is how the cameras saw it, and how the television audience saw it.

Four kilometres from the summit of Risoul: race leader Vincenzo Nibali attacks; AG2R La Mondiale's Jean-Christophe Péraud is the only one who can go with the Astana leader. Rafal Majka of Tinkoff-Saxo, the last surviving member of the early break, is alone, 400 metres up the road, with a 1'10 advantage to Nibali and Péraud.

Valverde, on the wheel of Pinot, and in the small front chainwheel, is in the group behind, with Bardet, Frank Schleck and Haimar Zubeldia (Trek Factory Racing), Laurens Ten Dam (Belkin), Leopold Konig (Team Netapp-Endura) and Pierre Rolland (Team Europcar).

Three-and-a-half kilometres from the line.

Valverde, now in the outer chainwheel, attacks his group. It's a strong move, and importantly in context of this argument, there appears to be nothing wrong with his bike - why would he attack if Pinot had just run into his rear derailleur and he was suffering mechanical problems?

After some initial hesitation, van Garderen, lying mid-pack, goes after Valverde, and roughly 200 metres before the three-kilometre-to-go banner catches him. The Spaniard is now in the small chainring, and latches onto the young American, with Pinot and Bardet in tow. The quartet, who have now dropped their erstwhile companions, ride under the banner in aforementioned formation.

From Km 4 to Km 3, not once in do I catch any sight of Valverde looking down at his front or rear mech or see him pedalling unevenly, as you assume one would do if there was a serious problem with your gears.

Pinot's front wheel may have hit Valverde's derailleur, but it doesn't appear to cause him any issues, contrary to the statement released by his team after the stage.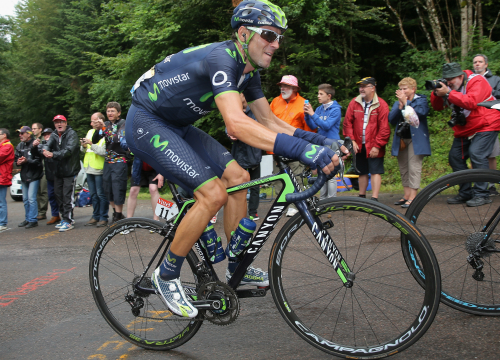 It's not about the bike... (Getty)


Majka's lead has reduced to exactly one minute but the Pole still pedals well. Péraud, eight years Nibali's senior, can do little except hang onto the wheel of the maillot jaune.

Two-and-a-half kilometres from the finish and the gradient hits 8.5 percent; Risoul saves its steepest slopes for last. Which is when van Garderen attacks. Valverde - in the small chainring - quickly responds, followed by Pinot and Bardet. But the Movistar rider is grimacing from the effort; the toll is clearly a physical one, not mechanical.

Under the two-kilometre kite van Garderen leads, followed by Pinot, Bardet, and Frank Schleck. Valverde - now labouring in the big chainring - has run out puff and been dropped. He looks down briefly but not in a 'What's wrong with my bike?' manner, more a 'Where the hell are my legs?' kind of way.

1,500 metres remaining.

With the slope still 8.5 percent and the Gen Y trio of van Garderen, Pinot and Bardet pedalling with the suppleness of youth, Schleck the elder is dropped. An overgeared Valverde has no chance of getting back on, but must nevertheless stay in the gear he's in because he doesn't have the legs to turn the pedals like his more youthful counterparts.

Under the kilometre kite Majka's advantage is down to half a minute to the group containing Nibali, 53 seconds to van Garderen, Pinot and Bardet, and 1'14 to Valverde et al. It should be enough.

It is enough. Majka has enough in the tank to win the stage with a 24-second advantage over Nibali, who accelerates around the final corner to gap the wheel-sucking Péraud by two seconds.

Fifty seconds after Majka come Pinot and Bardet, with van Garderen a further four seconds in arrears. Then Schleck, then Ten Dam, then Konig, then finally, 1 minute 24 seconds behind the stage winner, Valverde arrives, who glances down twice shortly before crossing the line - though not at his rear mech.

Should we be surprised that Valverde brought out the Book of Excuses and not simply said there were nine men better than he Saturday?

No. It's not the first time he's been disingenuous about his motives or actions, is it?

This what clean racing looks like, señor Valverde...

I'll make a bet with you now: A week from today, Valverde, who holds onto to second overall from Bardet though by the barest of margins, will not stand on the podium in Paris.

"I prefer the kind of climbs that we find in the Pyrenees... It's steeper, and I hope to be in the front and go on the attack in the Pyrenees," Bardet told Cycling Central in Risoul.

This year the Pyrenean stages are considerably tougher than the Alps, and unlike some we know, the mountains doth not lie.

SBS will broadcast and stream online all stages of the Tour de France LIVE. Click here to add the schedule times to your calendar.

Follow@anthony_tan