'Did you think, though, that, "This might be an opportunity I might not be in ever again, second position in the Tour de France"?'

"I mean, I there last year, too, but...

"Every Tour's as unpredictable as the next one, so... I'm sure there will be another time, if I can come in, in good form, I can ride for the general classification (at the Tour de France) again. It's not over. Every Tour's different, and we'll just see what happens."

Monday in Carcassonne, my Cycling Central colleague Mike Tomalaris sat down with a sombre Richie Porte on the second and final rest day of this year's Tour de France. After enquiring about his health, or more specifically the lack of it the past half-week, he wondered what was going through the mind of the Tasmanian as he faltered on Stage 13, the first Alpine leg of this year's race, just a third of the way into the 18.2 kilometre ascent of Chamrousse.

"The last three days have been some of the worst I've had on the bike," says Porte.

"To be totally honest with you, by the time I popped, there wasn't really much feeling or emotion. When you have a day like that, then there's not much that you can do, other than try and pedal on."




In so many ways, professional cycling is mercilessly unforgiving.

Relentless training. Relentless pressure. Relentless expectations. Relentless questions.

Just relentless.

Especially when Porte was reportedly matching his erstwhile Tour leader Chris Froome in training leading up to La Grande Boucle, his 'numbers' said to be close to or equal that of his training partner in Monaco. Especially when Froome crashed out on Stage 5, a victim of his fall the previous day and subsequent nerves before the pavé, leading to Porte becoming de facto leader on one of the world's biggest teams - the team of the defending champions of 2012 and 2013, no less.

And especially after being best of the rest on Stage 10, when he towed the group behind race leader Vincenzo Nibali to the summit of La Planche des Belle Filles, only to have those he towed go past him before the line.

But if he was to continue in that vein through the Alps and Pyrenees, a podium looked assured, for he was one of the world's best time triallists, and Porte knew a 54 kilometre time test was a sitting duck, there on the penultimate day, waiting for him to take it full-throttle.

On July 10, following the cobblestoned stage to Arenberg where Nibali finished third and streets ahead of all other general classification - not to mention Spring Classics - favourites, Cycling Central online managing editor Phil Gomes penned a blog titled: 'The Shark bites but can an Aussie bite back?'

"Vincenzo Nibali has always had a nose for chance, they don't call him the Shark of Messina for nothing, and he used that to sniff out a winning ride.

"Already in yellow, Nibali rode like the Grand Tour winner he is, in front and marshalling his Astana troops with him. It was the kind of performance that wins Grand Tours," wrote Gomes.

"Still, there remains opportunity ahead for his challengers, among them Australia's Richie Porte, now wearing the mantle of team leader for Sky after Chris Froome came a cropper before even hitting the first of the cobbled sections.

"With 2011 champion Cadel Evans (BMC) absent, Australian fans had little to cheer for on the general classification, suddenly that has changed.

"Now with Porte in the driver's seat at Sky, with the team that was designed to deliver a second Tour victory to Froome, his chance at a podium place is alive."

Phil finished his piece by asking: "This may be his only chance at fortune of his own, can he bite back?"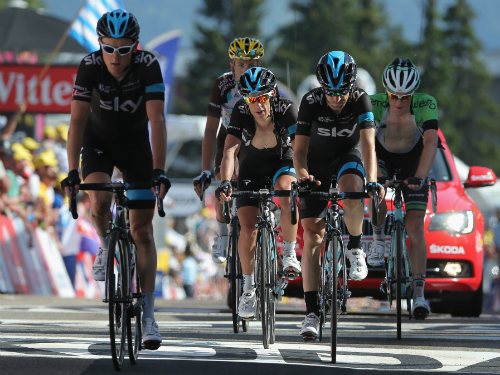 Chamrousse... A tough day at the office. (Getty)


And that's the thing.

Porte is a relative latecomer into cycling. Aged 24, he turned pro for Saxo Bank (now Tinkoff-Saxo) in 2010, making a grand entrance in his first three-week race by finishing seventh overall and best young rider at that year's Giro d'Italia.

Since then, as far as Grand Tours go, he has ridden at the service of Alberto Contador, Bradley Wiggins and now Froome, his training partner and best friend. It's been excellent preparation for him to work for three different Grand Tour champions, but as he entered his best years, many were wondering, 'When will Richie's time come?'

That time was supposed to be this year's Giro d'Italia, though illness (not the same thing he has now, he says) forced him to eschew a rare leadership opportunity.

Again, we asked the question: 'When will Richie's time come?'

Astoundingly, to the detriment of Froome, it came on Stage 5 of this year's Tour.

"Richie, physically, he's certainly got the capabilities to do a great three weeks, as he's shown in years gone by," Evans, our only Tour champ to date, said on July 17, the day before the stage to Chamrousse.

There was a cautionary footnote to Cadel's optimistic portent, however.

"His history has shown that his one (bad) day that can cost him a lot of time. That would be the first thing. But he's in a different position now. He's a year older, a year more experienced, a year more mature and maybe, if he can avoid that day, he's going to be well positioned, at least for the podium."

How right Evans was. After all, he should know.

We also know that, in this age of cleaner cycling, one is prone to having at least one bad day over 21 race days; the trick, if one is to finish on the podium or best of all win, is to mitigate your losses on that off day. As Garmin-Sharp's Daniel Martin said to me after he won Stage 9 of last year's Tour, "The person who has the least bad day wins."

Aside from Nibali, almost everyone in the top ten on the classement général has experienced a 'bad day' in this race. Maybe even Nibali, too, although he's done a brilliant job disguising it.

Illness, crashes, injury, punctures, whatever - there's a story of at least one bad day among the current top ten.

But it's how they've ridden on that bad day, or those not so good days, arguably more so than how they've ridden on the days they've been flying, that has defined their Tour campaign thus far and has earned them the position they're in.

I also suspect Porte's bad day en route to Chamrousse affected his mentality going into the next stage to Risoul, which proved to be another day to forget.

Porte, at 29 years and six months, is four months older than Froome, who could conceivably ride at this level for another five seasons.

There is also a succession plan in place at Team Sky.

Geraint Thomas comes from a similar cycling background to Wiggins and is considered a future Grand Tour talent. So is Peter Kennaugh. That's just the Brits: there is also Dario Cataldo, Sergio and Sebastian Henao, and Mikel Nieve. All reside Grand Tour ambitions of one kind or another.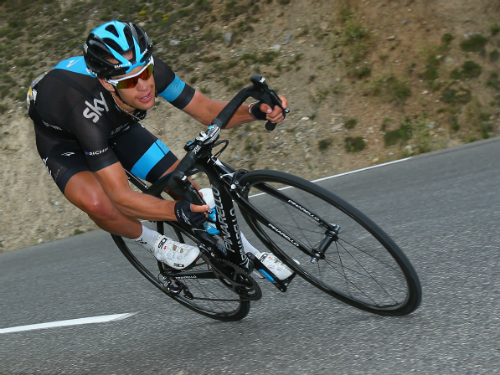 Brailsford: "I truly believe he's going to win a Grand Tour." (Getty)


Nevertheless, management still believe in him, or so they say. "We shouldn't forget that Richie Porte is a fantastic rider and I truly believe he's going to win a Grand Tour," Sky principal Dave Brailsford told Cycling Central on July 11.

Note Brailsford didn't say which Grand Tour - but said 'a' Grand Tour.

For now, though, it's about survival; after the torrid time he's had do not expect him to stomp through the Pyrenees like Nibali or Romain Bardet or Jean-Christophe Péraud.

"I think I'm going to make it to Paris. I'm going to do my best, anyway," he said.

"It's the Tour - I'm going to fight to make it there."

See you in Paris, then, Richie.

SBS will broadcast and stream online all stages of the Tour de France LIVE. Click here to add the schedule times to your calendar.

Follow@anthony_tan