It was an emotionally-charged moment for the 34 year old. The last year of his cycling career has been nothing short of tumultuous; a positive result for clenbuterol, a career in limbo... a successful appeal.

"Sometimes it takes the difficult times to see the silver lining when it comes," Rogers said after his Stage 16 win. And indeed while it could have been disastrous, a forced retirement, a shattered reputation, the turnaround, has been remarkable.

Rogers trained through the European winter and spring as if he'd be called back to the sport at a moment's notice. He continued to live like a professional, training just as hard, remaining just as disciplined so that when justice was done, he wouldn't miss a beat.

In May, he raced Liege-Bastogne-Liege then rolled straight into the Giro d'Italia. He needed to get race days in the legs before the Tour de France. It was a race against time. Even with sub-optimal condition, and indeed preparation Rogers took two stage wins. The first, a clever display that oozed experience. The final, on the penultimate mountain stage to Monte Zoncolan, the result of raw horsepower.

Both, Rogers had in ample amounts before his ban, but somehow his fortunes had changed. Wins weren't eluding him. He was riding a wave.

His biggest objective however remained in July, the Tour de France. He wanted to be there for Alberto Contador. A friend, a team-mate, the leader.

Alas. It wasn't to be. A bump on the road, a skid, and down he went.

Rogers couldn't have been more cut up by the Spaniard's withdrawal in the Vosges. The Australian had huge confidence in the seven-time Grand Tour winner to deliver the goods. His departure, so sudden, and so random, it left Rogers and the team shattered.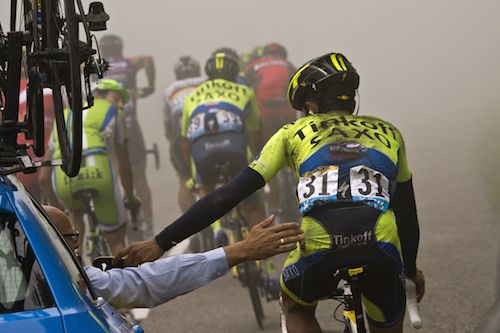 But they rebuilt. Just as Rogers had in April and May. Rafal Majka's maiden Tour win in the Alpes injected the team with much-needed morale. On the second rest day in Carcassonne when we visited them, they were buzzing. You could sense something else was in the offing.

The longest stage of the Tour, Carcassonne to Bagnerres de Luchon had break written all over it and Michael Rogers wasn't going to miss out. The Australian was part of a move almost from the gun with five other riders that nearly went clear, but was brought back.

As the counters began Rogers braced himself for one more big effort to make the break. It came off. The move was big. Astana weren't interested in the chase. Rogers had a lottery ticket. But would his number come up?

For so long the Tour has denied Michael Rogers. Always close, but never close enough.

The agony of the 2007 Tour de France, when he was in touch of yellow. The stages that had slipped from his grasp.

"Normally I'm not a risk taker, but today, it was all or nothing. I was either going to crash, or win the stage. I wasn't going to be disappointed again," Rogers said.

Over the Port de Balles Rogers had only two to beat. Jose Serpa and Thomas Voeckler. Both are handy in a fast finish and he had to lose them. One final effort, that's all it needed.

"You're not going to beat me here, no way."

When it came nobody could follow. Seven, eight, nine seconds. One kilometre, the lactic up to his eyeballs. 500 metres, the legs seizing. 100 to go, a look behind, a sigh, and a bow.

Disbelief. Tears. Victory.

It's been a long time coming. Bravo.

Follow @al_hinds