It's not a frustration or a complaint, just something that should be a sort of disclaimer to those watching on from afar that have a slightly romanticised vision of what covering the Tour de France amounts to. Behind the curtain if you will.

Let me take you to the top of the Col du Tourmalet, Stage 18, the final day in the Pyrenees. My cousin, Anna, had messaged to say she was going to be in the Pyrenees, and that if she'd make it to any Tour stage, she'd be making it to the 18th. She wanted to be on the Tourmalet.

Who wouldn't? A spot in the clouds with a view, perhaps unparalleled anywhere in France, down toward the ski-town of La Mongie. More than 2000 metres above sea level, mountain air, and throngs of people, ready, waiting.

She's been living in France, but never been roadside at the Tour. She's also taken a liking to riding. And with a tourer, a tent, and a duffel bag of clothes she'd made her way south, to make it to the Pyrenees. She'd ridden, or so she told me, some 400km in four days - quite awesome considering her cargo to arrive in time.

A few texts in the morning, no promises, but we hoped to meet. Somewhere near the top.

Just as we were packing up, she spotted us, Dom and I. We'd just finished recording a link and a few shots of the mountainside. She was beaming. She looked sunned, but healthy. Fit, most of all happy. She was at the Tour de France.

After the briefest of catchups, she told me something I've heard a lot from people I meet on this Tour.

You have such an amazing job. What an experience it must be! You must be having the best time. I'm very jealous.

Which is true; yes; it is; I am; I'm sure you are.

But it's not quite the same experience that one might imagine.

Because, as I countered, appearances can be deceiving. I envied her experience equally. She was living, breathing the Tour de France, while Dom, my fearless cameraman, car companion, and friend, and I, perched on the Tourmalet's slopes were there for a blink. 30 seconds of vision. We were just travelling through. Taunted, if you like, by its beauty.

This is the caveat of which I speak. Like Gabriel Gate, we Taste le Tour. Just as we get to know a town, a city, a river, a restaurant, we're moved on. Our work carries us forth. We're constantly tasting, this, that, the other, scratching the surface of one of the most beautiful countries in the world, but never lingering.

I love riding, and yet I've not ridden a bike the whole time I've been here. Not once. In nearly a month. I'm constantly taunted by the terrain unparalleled, and the riders, with grins on their faces, salted faces, bad tan lines. We drive on. We cannot stop.

I love food and wine, and while we've travelled through some of the most fabulous winemaking regions in the world, I've not indulged. We've not had the time. It's largely been hotel restaurants, and late nights. Beers and frites. We've stopped by barbecues and stalls along course and been offered food and drink, and been invited to stay. We drive on.

I love the sport of cycling, but I think I've seen less of the 2014 Tour than any other in recent memory. Ask me details of what's happened before the last 10 or so kilometres of any stage and I'll be stumped. Even the finishes I've rarely seen because I've been readying to get post-race soundbites.

Which is not to complain, but to add context to what you see and what we see. We're given a perspective that is potentially unfettered, we can go and see, and do anything Le Tour. But we're constrained by what time and manpower we have. We're not everywhere, we can't be. Which means we rush from here to there. Between Tomo, Macca and myself, between Catherine, Mark, Dom and Ryan, combined, we've probably seen less of the race than you do. The task of bringing the Tour means seeing, experiencing less to relay more. A rather counter-intuitive observation, but the reality of what we do.

We Taste le Tour. To live and breathe it, well come take a holiday over here in July and bring your bike ;), as my cousin did.

That all said. Having had the best part of a month to reflect, on what we've done. Having had the last week that I've had. It's pretty bloody good.

Speaking of that last week: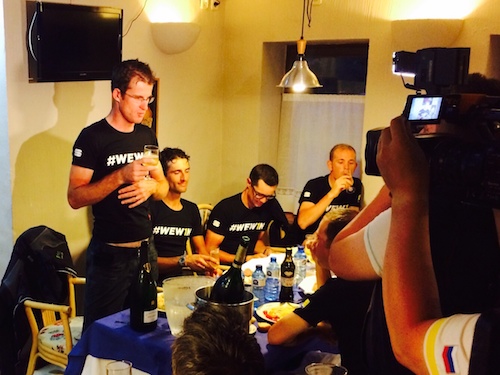 I was infinitely fortunate to speak to Michael Rogers after his first Tour de France stage win, in Bagnerres de Luchon. Sweat still dripping, from his face, the thoughts still half-formed in his head, the emotion unmetered, we talked.

And that was followed by a trip to the team hotel, where we filmed the clink of glasses, and cheers, and some abhorrently expensive magnum of champagne supplied by Oleg Tinkov, going down Saxo gullets. The toast, memorably, involved Thomas Voeckler.

Mountains. We've had a few in the last three days, and while they produce spectacles like no other, getting off them is rather tiresome. I'm not sure which was worse; the drive off Plat d'Adet or Hautacam, but both took forever. Even after waiting a good three hours to depart from the summit carpark, took an age to descend. The traffic simply does not move. We could've watched Breaking Bad Seasons 1-6 before we even had to turn the engine on. We didn't. A wasted opportunity.

And the absolute highlight of the week: Matthew Keenan skipping. For those that don't know (basically everybody), #keeno brings a skipping rope with him for the duration of the Tour de France, and fancies the odd skip when he gets a moment. It's actually pretty clever, and not something I'd think of, but it does look pretty funny in the middle of the media compound.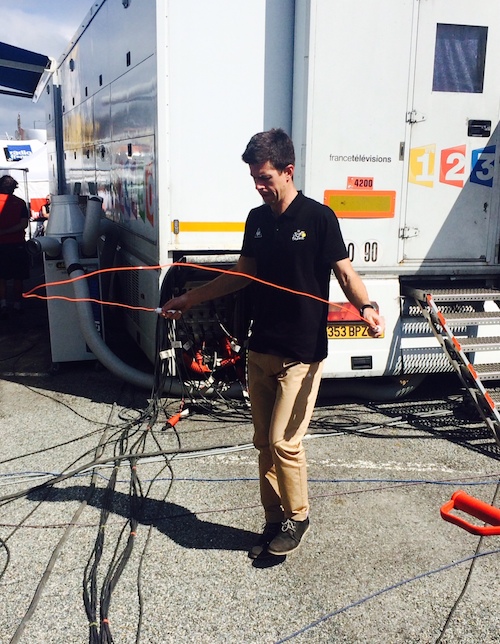 Only a couple of days to Paris!

Follow @al_hinds