Correct me if I'm wrong, but there seems to be a tangible sense of ambivalence about the Commonwealth Games - at least as far as cycling is concerned, anyway.

It shouldn't be this way.

For many athletes, reaching the Comm Games is the high-point of their careers; not quite good enough to go to the Olympics, perhaps, but nevertheless good enough to compete on an international stage. For others, it provides a stepping stone to the Olympic Games; a barometer by which to gauge oneself two years before the main event, a way to experience the pressure-cooker milieu only world-class competition can provide.

Of course, it didn't help that the start of the track cycling events at Sir Chris Hoy Velodrome in Glasgow coincided with Stage 18 of the Tour de France from Pau to Hautacam, and the final day on the track fell on the final day of Le Tour, and the inaugural running of La Course.

The only track event I saw was the men's team pursuit, mostly due to work commitments rather than want, where Australia trounced Team GB, even with Sir Bradley Wiggins in their coterie. (As Lance Armstrong famously tweeted, there is no 'I' in team.) I also watched the final laps of the men's cross country mountain bike race, where the Kiwi duo of Anton Cooper and Samuel Gaze - just 19 and 18 years young, respectively - worked over Australia's Daniel McConnell and Canadian Max Plaxton, before Cooper launched a Cavendish-esque sprint to take gold ahead of his compatriot.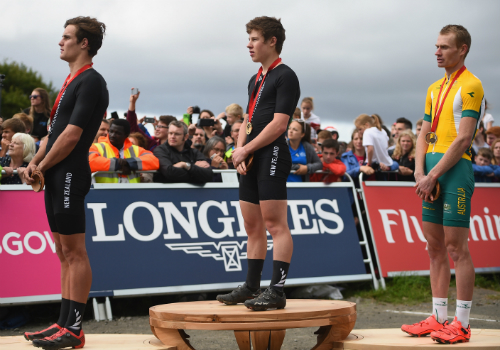 All Black-wash... The podium of the men's MTB cross country. (Getty)



Held on the last day of the Tour the men's marathon finished a timely few hours before, and for me was a highlight. Who would've thought Michael Shelley - who prior to the Delhi Games four years previous had run just one marathon, only to finish second - would trump Kenyan Stephen Chemlany and Ugandan Abraham Kiplimo to take gold?

Shelley's motto? "What doesn't kill you makes you stronger." (He probably would've made a good Tour de France cyclist.)

Speaking of the Commonwealth Games in Delhi, a number of contractors are still waiting to be paid for their work on all the stadiums and facilities constructed post-haste prior to the event. We need only be reminded of the Athletes' Village that was more reminiscent of a slum to bring back memories of a shambolically erected facility that was not world-class, rather world's arse, since from what I saw and heard, the bathroom and its respective accoutrements left a lot to be desired.

Other than the track worlds, the Comm Games is the only time we get to see cyclists from different nations compete in events like the individual pursuit, 500-metre time trial and Kilo, scratch race and points race. The IP, for me, is one of the defining bastions of this discipline, and ever since Cameron Meyer won the worlds in Melbourne, the points race is forever etched in my noggin.

But if the Comm Games and the Olympics are supposed to be held in the
spirit of fair play, isn't it a touch ironic that 64 out of 71 nations in Glasgow
are from Second and Third World nations yet are asked to compete on a
level-playing field?

Shouldn't those well-heeled nations be awarded some sort of handicap so the dichotomy between rich and poor is not so polarised? Otherwise, it seems, the majority of athletes come across as nothing more than laughing stock or cannon fodder to make their more moneyed counterparts feel better about themselves. (Okay, occasionally an athlete from a Third World country gets up and onto the podium, and in rarer circumstances, wins, but just take a look at the medal tally to see how often that happens...)

Still, no-one's forcing anyone to be there. And, at the end of the day, Australia, like the other 70 competing nations, is part of the Commonwealth, and has every right to field the best possible line-up, using the best possible resources.

The Comm Games also provides a welcome distraction to all the bad news stories out there, and there's more than enough of that: Ukraine, Gaza, Afghanistan, etcetera, etcetera...

In case you cared, the road time trial is on tonight (Thursday) and the road races Sunday, for both men and women.

Again, in case you cared, after a 12-year hiatus the next Commonwealth Games returns to our own backyard, on the glitzy, glamourous, kitschy, tacky Gold Coast, in 2018.

My question to you, then, is twofold: Have you been watching, or is the Comm Games a smack-bang-in-your-face anachronism for you, one of growing number of today's global citizens?

And will you be watching four years from now - and, dare I say it, be prepared to take time off work or plan a short getaway to 'the Goldie' to cheer on the Green and Gold?

Follow@anthony_tan