I'd expected a press release from Orica-GreenEDGE by now.

As of last Friday, 1 August, teams were permitted to announce their new signings for the 2015 season, and we've seen a slew of transfers since.

One of those should have been Wilco Kelderman. "We would be foolish not to have a list, and he (Kelderman) would have to be on that list," Gerry Ryan, OGE's primary benefactor, told the Sydney Morning Herald's Rupert Guinness on June 11 this year.

Two-and-a-half months ago, on 21 May, my Cycling Central colleague Al Hinds penned a blog, 'Finding the right fit', where he opined on the subtle change of direction for OGE, and its intention to move from a Classics and stage-hunting oriented set-up to a GC-focused team that would continue to prosecute their current objectives.

"So then, if Orica-GreenEDGE is to bring in a Grand Tour rider, it's going to have to be someone post-30 with experience, allowing them to act mentor, seriously challenge for Grand Tours immediately, while also creating a natural void when they retire in the years that follow," he wrote.

"The rider would have to meld into the existing team's setup; Orica isn't exactly flush with climbing stock, so they'd have to be able to carry themselves in the high mountains if called upon.

"And English speaking should be the preference, more in line with team's Anglo-image, more accessible, more marketable."

Alex was quite sure it was one of three riders: Bradley Wiggins, Richie Porte, or Cadel Evans.

Wiggins, following his Tour de France snub and his decision to finish his career on the boards at the Rio Olympic Games, was a rider of interest, but has indicated he no longer has the desire to ride Grand Tours with the aim of victory. "My time as a Grand Tour rider is over. Of course I'll ride some more, but not to win them," he said on 15 July.

That day, he also said: "I'm going to stay at Sky." Then, a week-and-a-half later, the mercurial Wiggo decided he couldn't be bothered with Grand Tours, period. "That will probably be it for the Grand Tours. I can't imagine doing that now.

"Over the next two years (riding the team pursuit in) Rio is the goal and we're going to work back from that target."

Porte, for mine, would be the perfect signing, however those in the know accept his relationship with the old-school cycling establishment at OGE isn't exactly matey-matey.

He's not from Australian Institute of Sport stock; he's not a product of the system Ryan also underwrites. In fact, I'd be surprised if Richie ever went there, at all, unless he found himself in dire straits.

The reality is, Porte, despite being courted by OGE, BMC and Omega Pharma-Quick Step at various stages the past 12 to 18 months still has a contract with Team Sky till the end of 2015. He had an opportunity to lead the team at the Giro (even though he didn't take it owing to illness); he had an opportunity to lead at the Tour; he's besties with Chris Froome, the guy who will conceivably lead the team at the Tour for at least three years more; he's with one of the best Grand Tour teams in the business and, presumably, being paid handsomely - why would he leave?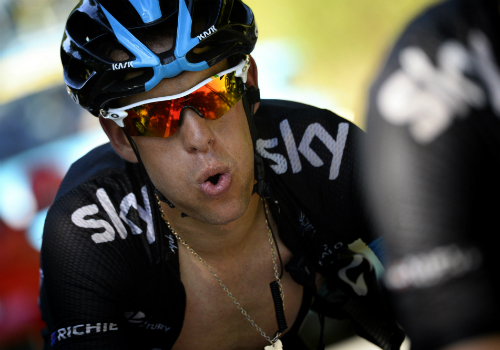 The perfect candidate, but not ready to leave... Yet. (Getty)



Said Porte on 8 May last year, when his contract extension was announced: "There was interest from other teams but Team Sky are the best in the world, with the best staff and riders. Guys like Tim Kerrison have helped me become a better rider and I know I can improve further working with the performance team we have here."

Still, the door's not completely shut. In an interview with the Herald Sun last December, he said that, "As much as I love being there (at Team Sky) and being the wingman, it's not what I always want to do."

Porte added: "I think the next move for me is two more years at Sky, but then I really think I need to get out and ride in a team where I'll be the leader.

"To be honest, it's going to be hard to beat Chris, but in another team, who knows?

"Me personally, I think I do have the qualities to be a contender. I mean, I can climb and time trial and hold my own in the descents, too. The ultimate GC rider has to be good at everything."

It's undeniable the 29-year-old exhibits the qualities to be a Grand Tour contender; I think the jury's still out whether he can be a Grand Tour winner - particularly in light of the current crop of talent coming through (think Nairo Quintana, Rigoberto Uran, Rafal Majka, Romain Bardet), if he can find another team that will grant him a position of outright leadership at the Tour, and, when he has an off day, whether he can mitigate his losses more effectively, or eliminate his bad days altogether.

"He (Porte) has obviously a lot of chances, but consistency is always going to be his problem, I think," Garmin-Sharp head sports director Charly Wegelius told the Sydney Morning Herald on 26 July.

Three-time Tour de France winner Greg LeMond warned against Porte's proclivity to leave Sky by 2016, saying that "going to another team doesn't always work". As the American demonstrated in the 1986 Tour when his greatest rival was own team-mate, Bernard 'the Badger' Hinault, if you're strong enough, you'll win anyway.

As for Evans, well, he too has another year left on his contract at BMC - and depending on his mindset, 1 February next year, the day of the inaugural Cadel Evans Great Ocean Road Race, may be his swansong.

I personally think Cadel's got at least one more good season left in him. But it's not riding GC in Grand Tours. He needs to switch focus post-haste to the Classics - not just the Ardennes and autumn races like the Tour of Lombardy - Flanders and Roubaix are not beyond him, either - and the world road championships, and be a captain, rather than a leader, at the Giro or Tour.

Two months ago, OGE general manager Shayne Bannan refuted any possibility of Evans joining: "We haven't had discussions with Cadel," he told CyclingTips on 5 June.

"Cadel has been a great ambassador and still is a great ambassador for Australian cycling and world cycling. But he has been really successful in his current team, BMC, and they obviously have a fantastic relationship.

"I would imagine it would be very difficult to get Cadel away from BMC, if that was our intention," said Bannan.

Which then left Kelderman, the one I believed was the man most likely - not to mention best suited - to lead OGE in the Grand Tours, while they continue to groom and experiment with guys like Cameron Meyer, Esteban Chaves and the Yates twins, Adam and Simon.

Quite possibly, a verbal agreement had been made between Kelderman, who finished seventh in this year's Giro and fourth at the Critérium du Dauphiné, and OGE prior to the Tour de France. 'If Belkin don't announce a new sponsor by the end of July, let's do it,' the conversation between his agent Rick van Dongen and OGE might've gone.

But three days after La Grande Boucle completed its 101st loop, and a day before month's end, in dropped an email into my inbox with the headline: "Team Belkin and Team BrandLoyalty sign declaration of intent with Lotto and BrandLoyalty".

A two-year collaboration with the Dutch national lottery as title sponsor, with an option to renew for another two years more.

Bugger.

With Belkin duo Laurens ten Dam and Bauke Mollema reiterating their worth as no more than TdF podium wannabes (aside from the fact Mollema is now off to Trek Factory Racing), team leadership at Le Tour is effectively in young Kelderman's hands.

"It is very hard to put a time on it – are we going to be a Grand Tour team next year, in two years' time, in three years' time? I think it is really important that we are developing, that we continue to develop our younger guys coming through," said Bannan to CyclingTips.

"It is certainly the plan in the future to be a competitive Grand Tour team, but I would say it will be later rather than sooner."

It would now be a monumental get if OGE managed to steal Kelderman, for Gerry Ryan's pockets are only so deep, apart from being an inexplicably absurd move for the 23 years young Dutchman to bail at a time of great opportunity. "I don't know if a foreign team would be better for me or not. I'm in a good place now. I cannot say much about the foreign teams because I've not ridden for one before," Kelderman told VeloNews on 13 June.

Said his agent van Dongen: "Talks are going on with Belkin, that's the first option because we really want to stay with that team. And money-wise, it's all the same."

As far as GC in Grand Tours goes, fans of Orica-GreenEDGE will have to wait just that little bit longer, it seems.

Follow@anthony_tan