24 Hour season is about to begin. The Scott Australian 24 Hour Mountain Bike Championships begin in two Saturday's time at Stromlo Forest Park in Canberra. On October 25-26 the Mont 24 (Kowen Forest, also in the ACT) and the Thule B24 in Bright, Victoria, offer riders two more chances to surrender a good night's sleep.

A good 24 is an annual pilgrimage for some riders and a great way to get more involved in the sport for many more. The basic idea is that teams send riders off in a relay style format from midday Saturday until midday Sunday, a mountain bike event format that first hit Australia in 1999.

Back then completing as many laps as possible, in the time available, was the goal of most teams. These days, 24s are about much more than just the riding. They're a celebration of extravagance, decadence, and having a great weekend in the bush with your mates.

While the first Aussie edition took place in Canberra, there's a popular 24 in many other riding communities now too. We won't detail them all here, but what we will do is list a few simple pointers: Tips for enjoying a teams 24, excesses and all.

1. Pack lots of stuff.
Cold stuff, warm stuff, sleeping stuff, wet weather stuff. A memorable 24 throws one of everything at you. Pack multiples of your riding essentials so you don't have to reuse smelly kit on consecutive laps.

2. Try to eat all your favourite foods in one weekend.
Managing hour-long laps around basic dietary requirements is no easy feat. This is why it's important to eat high calorie sugary snacks all weekend long.


Try to limit your pre-race Woolies shop to the junk food isles and BBQable meats. Other food groups can be ordered hot and fresh from the pizza van, dutch pancake stand and the coffee cart.

3. Enjoy night riding for what it is.
If you're on a team that is motivated to ride between 11pm and 5am, harden up, get out there, and enjoy the quirkiness of singletrack at night.


Night riding forces you to hold your head high and ignore every small detail of the track. This will absolutely make you a smoother, faster rider in the daylight too.


In the spirit of decadence, buy, borrow or beg for the best lights you can get your gloves on.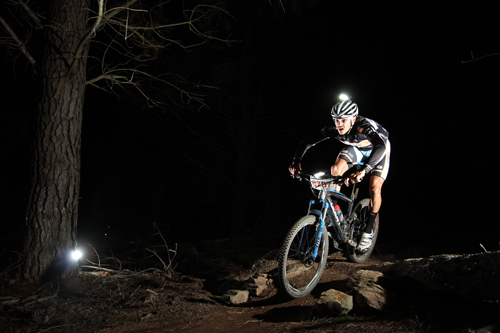 (The trail looks different at night - Aurora Images)

4. Chase your mates.
You have two options for mate chasing during your lap. Option one: your mate leaves transition a little ahead of you in a rival team. Chase. If roles are reversed, be chased.


Option two: Stuff a quick transition. Stall near the start line and commence your lap at the same time as a mate in a rival team. Heckle each other the whole lap long. Remember to be respectful of slower and faster riders. It's their event too.

5. Admire all the bike bling.
A big 24 attracts pop-up marquees filled with products, demos and people who work in the bike industry. Wander around the event centre, chat, ogle, take it all in. Book a demo bike for a lap and enjoy discovering how different technologies translate to the trails.


When you're done with the event centre, take the time to admire the bikes of your competitors too. The Cairns World Cup has been and gone (and will come again in 2016), but a surprising number of weekend warriors will have bikes rivaling those of the pro-XC field. Feel satisfied by trying to beat their lap times too.

6. Zen out every now and then and soak up the bigness.
With up to 3000-odd competitors, events like the Mont offer riders a lot to absorb. Take a moment every now and then to let it sink in. Bands playing in the forest at night, banter between team-mates in the small hours, a sprawling village that appears and disappears on the hillside, those moments when you're riding through sweet singletrack and don't see a soul.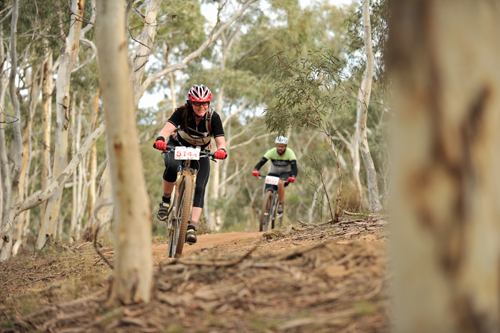 (The twisty trails of the Mont 24 Hour course always make an extra lap seem like a good idea - Aurora Images)


If you find yourself getting stressed out about lap times and fast transitions once the racing begins, give yourself a shake and remember there's far more to a good 24 than being out of breath at the finish line.


If you're thinking about entering one of these events, but the perceived 'racey-ness' of it is holding you back, consider this article a gentle prod for locking one in one anyway and enjoying the 'event-ness' of it instead.

Follow @bicksnpieces