A couple of months ago I was invited to the Specialized 2015 product launch up on the Gold Coast. I was there to cover the developments in the women's range for Flow Mountain Bike.

While I was at the launch I did something I wouldn't recommend without a caution. I jumped on a road bike that was worth almost three times as much as my own. In the same way that you should never try on an expensive pair of running shoes unless you intend to buy them (they always feels so much better than your scuffed up, more affordable pair), this bike was always going to make my own road bike, a bike I rate highly, feel somehow inferior.

I tried not to concentrate on the ride experiences provided by shiny, blinged out parts. But that wasn't as hard as I expected. What blew me away about this particular bike was the women's specific fit.

While my regular bike has been carefully set up by an excellent physio, there were things that were different about this one. Most notably, it was the first time in 16 years of riding that I've found myself wanting to reach for the drops. Then once I was riding in the drops, I felt so comfortable I didn't feel any need to get out of them.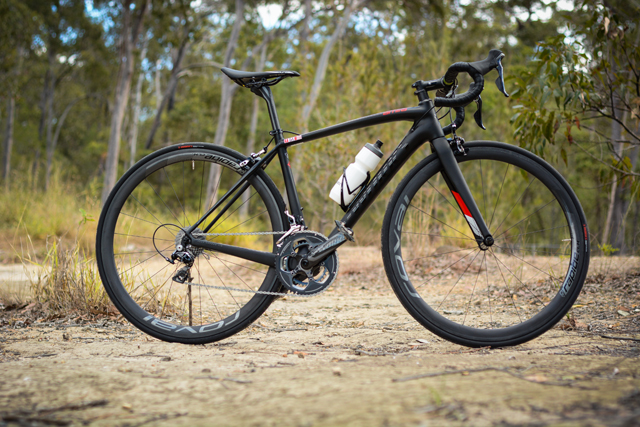 (What do your drops look like? - Bicknell)

I've always thought riders had to be really confident to ride in this position. The first time I gave it a go, I was following a mate down a hill. He was in the drops so I thought I should be too. It was a few seconds later I realised that I couldn't reach the brakes. My fingers just aren't as long as your average bloke.

Fast forward to a new set of handlebars, some shims and a careful set up, but I still don't have the same sensation of control as I do when riding on the hoods. Yet on this test bike, not only could I bunny hop comfortably in the drops, I could corner, descend and climb. I felt far more in control and didn't have any sensations of pressure on my hands.

So what was different? Was it angles? Materials? Position over the bottom bracket? My centre of gravity? Different bars? $8000 of higher performing gear?

The bigger question I walked away with was: Do I even need to know the answer? In my role as a product tester for other cycling publications, absolutely. But as a consumer, I'm not so sure.

If my subjective experience of riding this different bike tells me that the fit, control and comfort are improved, do I need to know the concrete combination of reasons for this? Most people buying a bike for the first time don't know this stuff. It's up to bike manufacturers and tweaks from shop staff or fit professionals to help people get set up right.

In reality, most cyclists learn about fit due to pain, injuries, elite performance goals or comparing the experience of one bike with another (after spending a lot of time on their own). The latter scenario is what happened to me riding in those drops. I'd argue that in the near future, more people will book time with a professional fitter in the same way that they regularly update their saddles, shoes or knicks.

Rethinking research and design

I want to be careful to position these comments as a reflection on changes in bike products more broadly, rather than hype about one particular brand. Specialized make an interesting case study for a few reasons: As a brand they not only take an approach to the fit of bikes and products informed by medical science, but they patent the resulting innovations (a smart move in today's economy) and make their research into fit and product development far more visible than many of their competitors. If you're interested in this side of the story I recommend these articles by Chris Southwood and David Rome.

Specialized also have comprehensive in-store fitting systems, the results of which channel right back into bike and product design. If you think about the amount of data they must be collecting from worldwide sales, that's a lot of information.

As a result, the brand's equipment for women doesn't just feature small tweaks or changes in componentry compared to unisex ranges. The length, angles and materials of a bike frame, alongside all the components (bars, cranks, stem, gear ratios, saddles) are assembled in a way that's aimed at providing the best fit for most women, straight out of the box. I'd like to assume that the expanding numbers of other companies pushing into the women's market are thinking in similarly innovative ways.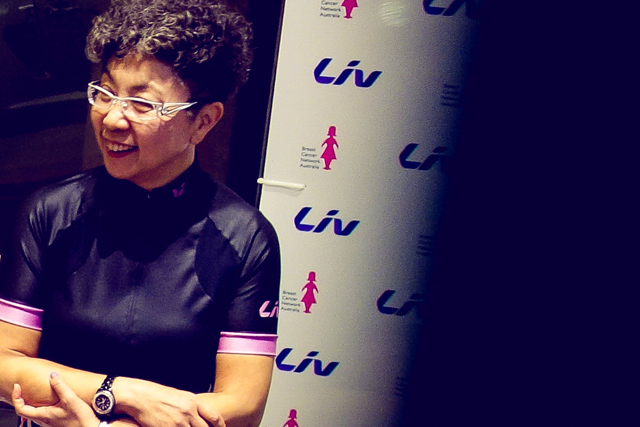 (Bonnie Tu is the driving force behind Liv, another brand aiming to radically shift the experiences of women in cycling - Bicknell)

While my short ride on the Gold Coast was my first time on any road bike designed for women, I'm curious to learn how other women's bikes stack up. I'm also curious to see if the growing women's segment of the market means we'll soon see more longer travel mountain bikes better addressing the needs of female riders, and whether some unisex bikes man up.

Back to the future

As bike designs continue to evolve will tweaks to designs for men reveal they're no longer catering to a mixed sex user group? Or will we see no big changes here revealing that the different body characteristics of female riders were never a big consideration in creating a best fit unisex design?

If the cycling industry is serious about getting more people having great experiences on bikes, will we see more high-performance bikes designed around the power and weight of riders who are over 90 kilos? These riders, who break more spokes than any other type of rider I know, typically have to make a lot of changes to bikes too.

A lot of the overuse injuries people get from cycling are because our bodies are not designed to sit on a saddle, reach forwards and spin revolutions for hours on end. As bike and product design reflects a more detailed understanding of control, comfort and ergonomics, our bodies have to compensate less. For first time riders, this level of comfort and control is a big factor in whether they continue with cycling, or try something else to keep fit.

I'm normally pretty careful in these opinion pieces to work my thoughts toward a clear argument or point. On this occasion, it's the broad number of possibilities that design can head in that make me excited about this aspect of our sport.

On one hand, I find myself wondering what innovations we'd see if sales figures weren't a consideration in whether or not a product is developed. On the flip side, as cycling becomes increasingly popular the number of products and fitting refinements available reflect a more diverse user base. The experiences we have on board will not only keep improving, they will become far more personalised as a result.

Follow @bicksnpieces