"Australians are getting fatter, more quickly, than just about any other country in the world."

That's what ABC Four Corners reporter Geoff Thomson told the audience in last week's episode, 'Fat Chance', which focused on the Victorian town of Ararat - once one of the "fattest" towns in Australia - to see the effects of an ongoing community intervention to promote weight loss and improved health.

One of the main takeouts we got from the program was that exercise, unsurprisingly, can be effective in reducing weight - but its impact is limited without significant emphasis on diet.

The program then explored the role Government should play in determining the kind of food we are encouraged to eat, and how it is labelled and marketed. Naturally, the processed food industry defended its 'fox guarding the hen house' regime, arguing intervention at local, state or federal level is unnecessary, because it submits itself to a strict self-regulatory system.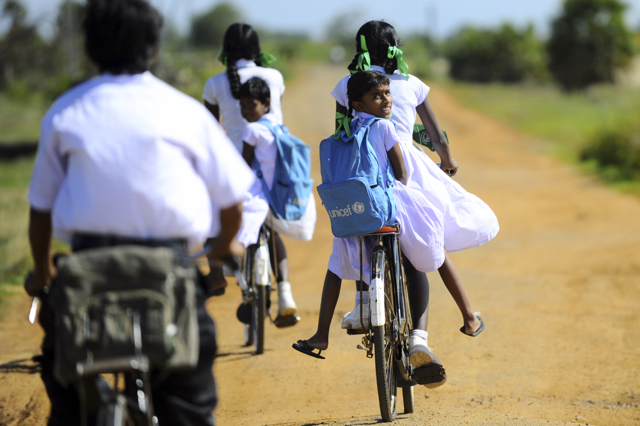 Tamil school children ride bicycles in Jaffna, Sri Lanka. (Getty)

In a perverse sort of way, I tend to agree with the McDonalds and KFCs of this world - though only to the extent that Government intervention is unnecessary, as I'm a firm believer in the mantra that prevention is better than cure.

My belief is that intervention should begin at home, starting with parents setting the right example to their kids, since the ability to kick one's habit diminishes with age. You can't wait for programs like 'The Biggest Loser' to ID your town as a 'Fat Spot' before you or your local council decides to do something about it; it's like a smoker trying to break his nicotine addiction after 30 years' sucking on cancer sticks, or an assassin giving up his métier following 200 hits.

Dr Rosemary Stanton, who has been practicing nutrition for more than 40 years, says that "humans are genetically hard-wired to eat when there's food available"... "What we're doing is eating as if there's a famine coming all the time... And if it's palatable and easy to eat, we'll eat more of it."

Thirty years ago, one-third of Australians was classified as "overweight or obese"; that figure has now doubled. "It's been said that our genes might load the gun, but it's our lifestyles and the environment that pull the trigger," said Thomson.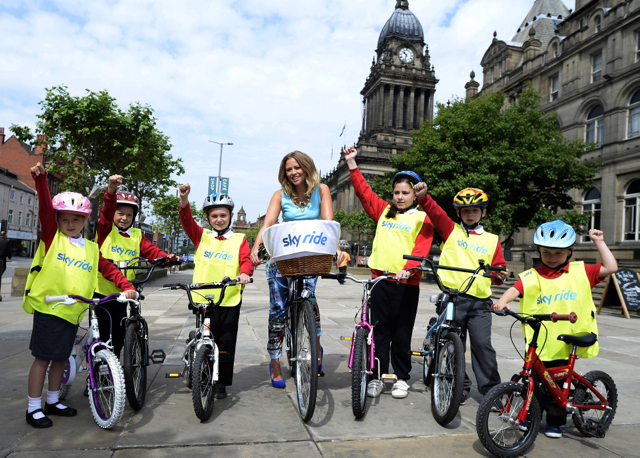 Singer Kimberley Walsh with pupils of Victoria Primary School in Leeds, England last year to promote 'Sky Ride', a national campaign from British Cycling and Sky to get more people cycling regularly. (Getty)

So, if we're eating more food than before and less active than we used to be, however nutritious our diet is, it's obvious we're destined to get fatter, or at least bigger. Yet today, only one-quarter of parents allow their kids to play near their homes without adult supervision - versus 83 percent in the 1960s - and only a quarter of kids walk or ride a bike to school - versus 70 percent 40 years ago.

In the UK, research by British sustainable transport charity Sustrans showed children spend 45 percent longer travelling in cars to school than their parents' generation - seemingly, making the "get more kids on bikes" argument a no-brainer.

Of course, in order for that to happen, what is clearly needed in our metropolises is better cycling infrastructure, so parents feel comfortable letting their children ride to school or just for kicks, and kids feel safe doing so - and are safe doing so. "While it is not possible for everyone to walk or cycle to school, many families would prefer to not take the car but feel threatened by speeding traffic and dangerous roads," Malcolm Shepherd, chief executive of Sustrans, told the UK Telegraph.

"We urgently need the government to make dedicated funding available, commit to lower traffic speeds, and transform local walking and cycling routes," he said.

A few weeks back, I asked for your responses on Twitter...
In building proper cycling infrastructure, governmentscan prevent weight issues and obesity rather than belatedly trying to cure it, when the processed food manufacturers already have their way with those kids who are now adults and often have children of their own, teaching them all the wrong things...

Old habits die hard.

In a number of states including New South Wales, Victoria, South Australia and Western Australia, if the child is under the age of 12 the safety issue is mitigated somewhat, in that it is permissible to ride on the footpath unless signed otherwise. In Queensland, Tasmania, ACT and the Northern Territory, riders of all ages are permitted to ride on footpaths unless signed otherwise.

As Sydney Morning Herald journalist Michael O'Reilly observed in April in his 'On Your Bike' blog, titled 'Why do some cyclists ride on the footpath?', despite being a highly vexed issue, "Danger is often cited as a concern but it should be noted that the average ambulating Australian has significantly more chance of being killed by lightning than by a cyclist – to the best of my knowledge, the last time the latter happened was in 2006."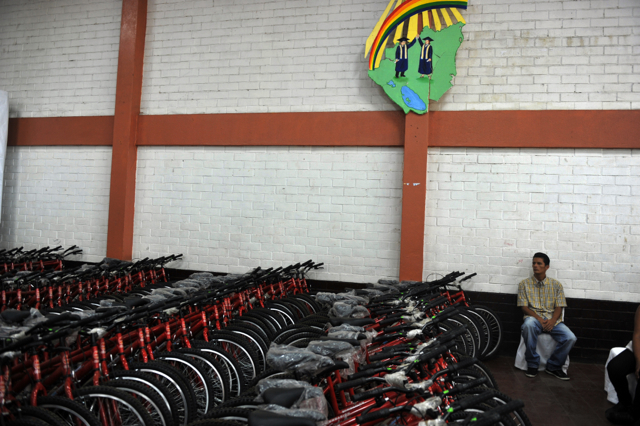 April, 2013: In Chinandega and Leon, northwestern Nicaragua, a total of 5000 bicycles had been planned for delivery as part of the 'Help me to get there' (Ayudame a llegar) program, which aims to prevent school desertion by children having to walk long distances to go to schools and to provide the teachers working in rural areas with a means of transportation that is fast and comfortable. (Getty)

It's also up to the parents to teach their kids not to ride like maniacs when using footpaths, because as O'Reilly states, "The sad truth is that it's impossible to legislate courtesy and good behaviour", and it's often the sense of danger that can overwhelm and annoy, particularly among the elderly.

Taught well, you'd like to think that if a child started riding a bike at 4, 5 or 6 years old, once he or she made it to 12 they'd be mostly comfortable to handle the vagaries of the road, or a combination of roads and separated cycleways.

And if you say some schools don't provide adequate facilities, the last few times I chained my steed it was to a pole or fence... Not too difficult to find one of those inside the school grounds, is it?

Plus, the benefits of cycling early on last well into adulthood. After all, isn't that partly why we've seen the 'Mamilisation' of our urban peloton - big boys and bike bling symbolic of a desire to feel young again, or at least young at heart, tapping into memories of a misspent youth?

Follow@anthony_tan