Located one and a half hour's drive from Cairns, the success of these trails is not just due to the terrain they're located on, but the backing of the surrounding community, and the increasingly refined skills of multiple trail building teams. The impact they're having means new trail developments in other areas of Tropical North Queensland too.

"I think there's 80km to be built all up," Glen Jacobs, director of World Trail and one of a few key figures in the development of the Atherton trail network, told Cycling Central. Several new trails have been opened in the last few months.

"There are a lot of great people in Atherton. A lot of motivated, proactive people, and they're getting more events there. The Croc Trophy linking though towns is a great asset too."

The Atherton trails have been mathematically designed so the ascents almost feel like descents. In order to give riders of multiple skill levels the experience they're after, the green circle and blue square level trails, which is most if not all of them, still offer playful lines and technical challenges more advanced riders will spot.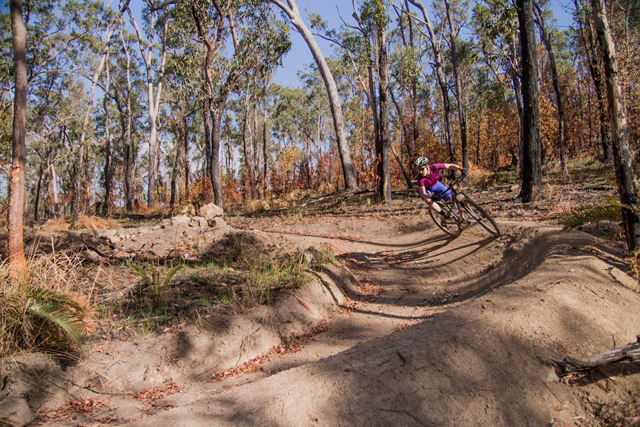 Big corners are fun for riders of all skill levels. (Wade Lewis)

"As trail builders," said Jacobs, "What we want to do is show you what we feel. There's a Hunters & Collectors song, 'Do You See What I See?' and we sort of live on that, you know? We want you to experience what we experience."

Jacobs sees wilderness trails as the next type of riding experience people will want to seek out. "Things like in Canada where you've got these trails that go for days on end.

"They exist here in North Queensland, they're everywhere, but they haven't been formalised yet for mountain biking; signage, links, going from one mountain top, to a waterfall to another valley to a mountain top, and days and days on end. I see it as a major destination.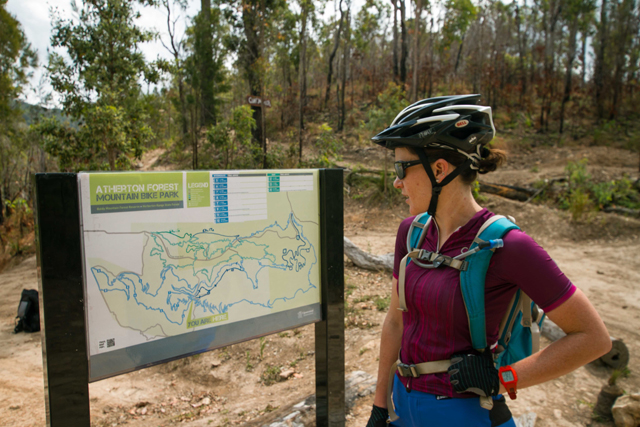 The trails are well signed making them easy to navigate for visitors (Wade Lewis)

"Once the trailhead is finished and all the links are put in, people will drive to the town and unload their bikes, or they'll drive to their accommodation and unload their bikes.

"The township will start seeing people riding around on bikes and go wow, this is working. They'll see the dollar value.

"There are a lot more trails that will go in there and radiate out further. It's a huge success story." Ongoing trail development and wilderness trails are part of the new master plan Jacobs is currently developing for Smithfield too, home of the 2016 UCI Mountain Bike World Cup and 2017 UCI Mountain Bike and Trials World Championships.

Increased trail access on the Cassowary Coast

Further south of Cairns, on the Cassowary Coast, mountain bike trails are expanding too. This has come about largely in response to the success of the Smithfield and Atherton trail networks and the increasing value of mountain bike tourism.

The Cassowary Coast Multisport Club was formed as a result of more people wanting to work together to grow the opportunities for mountain biking alongside other sports in the region.

"The Cassowary Coast Multisport Club has been really proactive in coming to council to work with us and talking to National Parks about new trails," said Richard Blanchette, Tourism Coordinator with Cassowary Coast Regional Council. An agreement was finalised two weeks ago for the club to manage and create some trails and a skills park on a piece of land near Mission Beach.

Several walking trails in the area have recently been opened up to mountain bikers as well. Riders now have the opportunity to choose from a growing number of rides in the area, many of which cater well to families and beginners, or fit cross-country rides interested in longer journeys through world heritage terrain.

A maze of trails can be found in the Cardwell Range. "You can grind up a hill, walk a couple of hundred metres and then plunge in a lagoon at the bottom of a waterfall," said Blanchette. "Then higher up the range you look back over the ocean."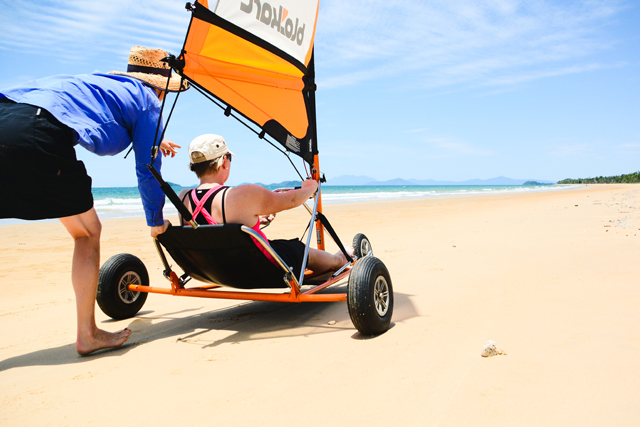 Enjoy a post-ride Blokart or swim on Mission Beach (Kath Bicknell)

While Mission Beach itself is popular among recreational riders due to the firm sand when the tide is out, other off-road rides also take in the stunning coastal terrain. "The Musgravia Trail is probably the best opportunity to see a wild cassowary," said Blanchette.

Other options in the area include the Gorrell Track, a 55km loop from Innisfail, or heading into the Misty Mountains from Tully Gorge.

"Those are the base kilometres of trails we have at the moment but we're still discovering them, still opening them up," said Blanchette.

"They're not designed, they're just raw cross-country trails. They're not manicured and made trails. So I guess that's a point of difference. They're all world heritage area there. And you've got a good chance of seeing wildlife. Most of them have fresh water that you cross multiple times." But not crocs, due to the higher, inland location.

"Crocs are normally down in the low murky water. They don't like clear flowing water. Too hard to get food," said Blanchette.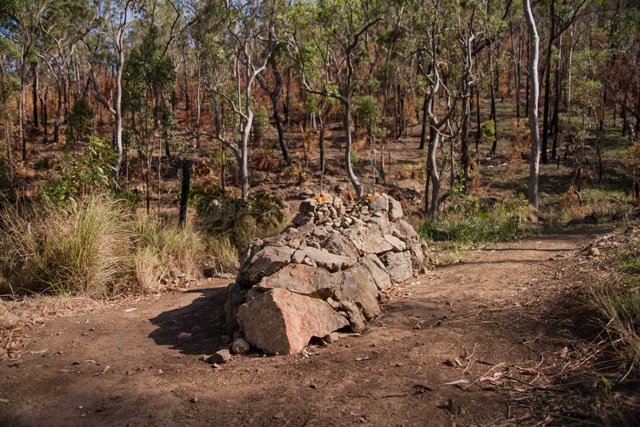 Riders should also watch out for the crocodile in Atherton. (Wade Lewis)

The family friendly graded roads on the Cassowary Coast, the green and blue level singletrails in Atherton, and the (often) more technical trails at Smithfield only make up a portion of the expanding trail networks in Tropical North Queensland. They offer health, fitness and lifestyle experiences for locals, but are also a critical boost to the economy due to the number of mountain bike tourists and events passing through the region as well.

The RideCairns website (www.ridecairns.com) provides a wealth of information on the trails, the region, the clubs and events.

"You've got trails here," said Jacobs, "But you can also come with your family and go to the reef and go swim in the dormant volcanos. You can go rafting, you can go bungee jumping, you can go and do anything. It's nice! It's a major tourism destination, and you've got mountain bikes."

Follow @bicksnpieces