How do you define a successful athlete?

It was a topic that created a rather, well, shall we say, 'robust' discussion, in last week's Cycling Central podcast (go to the 34:33 mark to listen).




Is it one that wins a lot?

Categorically, you'd have to say no, since there can be only one winner, and only so many races; to not win at all in a season should not maketh a failure out of you.

Plus, when it comes to professional cyclists, only a small percentage (maybe five percent or less) get the chance to fulfil the role of a leader; the rest must accept and fulfil the role of a worker, or domestique.

In that way, it's no different to normal life, making the pro cycling bubble a microcosm of the wider world.

Yet at the same time, and particularly when it comes to professional athletes, leader or domestique, they are paid to perform, because winning means exposure for the sponsors, entry into next year's WorldTour, a contract renewal, or all of the aforementioned.

The modern-day professional cyclist, especially at WorldTour level, is all too aware: Their job is their life, and vice versa. If they do not invest adequately - no, make that completely - from training, to tactics, to diet, to mind, to recovery, and back to racing - then they transmogrify from asset to liability, both to the team and themselves.

The curious case of Lachlan Morton and his time at Garmin-Sharp is an example of how even the most precocious talents can fall off the rails. His body was willing; his head not.

"I don't see it as a backward step," he says of his move to Jelly Belly in 2015, where his brother Gus will join him.

"I'm sure a lot of people will but I think that (but) for my development as a bike rider, purely from a physical point, it's going to be a good thing - getting back into races and racing for the win, not just fulfilling a job and rolling to the finish line."

I think Lachlan is telling himself it's not "a backward step" more than he's telling us.

Psychologically, he may be moving forward, but with respect to Jelly Belly, professionally, going from WorldTour to a US-based Continental team, the reality is that it's two steps back.

Granted, the rigidity and omnipresent pressure of the WorldTour is not for everyone. Though equally, it is what it is, and if you want to be a professional cyclist, and you have the talent to be in the WorldTour, you're better off working with, rather than against, the system.

Yes, he won't have the pressure cooker environment. Yes, he won't have to race as much, or as hard. Yes, he will get more opportunities to win. And yes, he will get to live and race with his brother, and probably have a blast doing so.

But Lachlan can't get away from the fact that he will still be a professional cyclist. Just like at Garmin-Sharp he will be paid to perform; he will need to perform. And maybe, after next season's done, or the one after, or the one after that, he might just realise what's bothering him most: that despite his obvious talent to race his bike, he doesn't really care for it.

In 2006, tennis champion Andre Agassi, on the eve of his last tournament at the US Open and after 21 years as a professional, woke up one morning in a New York hotel room and came across a shocking revelation, detailed in his warts-and-all autobiography, Open.

"I play tennis for a living even though I hate tennis, hate it with a dark and secret passion and always have."

It begs the question: Why did he keep doing it for so long, then?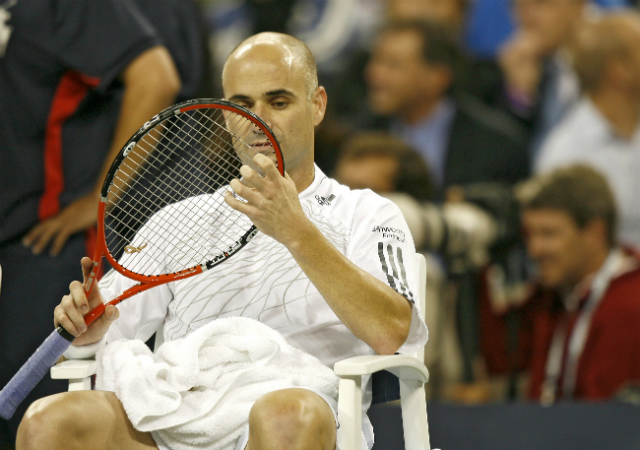 Andre Agassi: tennis a dark and secret hatred. (Getty)


"It becomes more than a job, it takes over your life," former British tennis professional Barry Cowan told The Guardian's Stuart Jeffries in 2009 when Open was first published.

"If you're at the top of tennis, you're on tour 30-plus weeks of the year - and when you're doing that, everything revolves around tennis. Every decision you make, tennis is at the back of your mind. That's the main reason for burnout among tennis players in their 20s.

Many will have trouble empathising with Agassi or Morton, since most of us mere mortals use sport as a release to get away from the everyday. But what about if tennis or cycling was your everyday, in every way?

"I know this for myself - it's something you've done since you were six years old," said Cowan, "and there's a sense that if you stop giving 100 percent you are doomed to failure, and that is unacceptable. No wonder so many players hate their sport - the surprise is that so few admit it."

Victoria Pendleton was another who came to despise - both herself and her sport - for what she did. Winning simply provided relief, and it was fleeting.

"I was an emotional wreck beforehand," she said of her Olympic experience in Beijing, where she beat long-time archrival Anna Meares 2-0 to win gold in the match sprint.

"I worried that I would be the one person who let down the team. So winning was just a relief. And even that felt like a complete anti-climax. It was very surreal on the podium and as soon as I stepped off it I was, like, 'What on earth am I going to do now?' I found it quite hard to deal with. It was, like, I've got no purpose any more."

Her solution? "I soon worked out that the only thing I could do was to get another gold medal. I need one."

Little wonder Pendleton was delighted to leave it all behind after London where she became Olympic keirin champion on home turf. (She also took silver behind Meares in the sprint, after being controversially relegated in the first round and losing in the second.)

Surmised Jeffries, "The mental and physical pain of playing sport and being at the top of your game may be bad enough, but the existential horror of realising at the end of your career that you are no longer part of that world is surely worse. Perhaps, unlike Agassi, these players didn't hate their chosen sport. More likely, they loved it too much.

If you've seen Thereabouts it's not difficult to see that Lachlan Morton loves his bike; question is, then, does he love it too much?

Let's hope not, for the bicycle is a wondrous thing.

Follow@anthony_tan