When we travel to ride, each moment that happens off the bike is an important ingredient in the adventure too. They make us see things from a fresh perspective and learn a little more about the landscapes that we enjoy whizzing through.

This is the experience I had recently in Tropical North Queensland. I was there to cover recent mountain bike events and trail developments. Back home, the lasting impact of time spent in the region extends much deeper.

Below are three rides and three experiences had nearby. Bikes were part of the equation, but time away from them made the riding even richer.

Like Smithfield..
Smithfield is a place rich in mountain bike history. It was the home of the World Mountain Bike and Trials Championships in 1996 (and will be again in 2017). In the 90s, the courses used changed the sport across the globe with the new sense of fun riders had on the twisty jungle trails.

While there are a lot of well used recreational level trails at Smithfield, the chance to ride the trails used in this year's downhill and cross country world cup is too good for most people to pass up.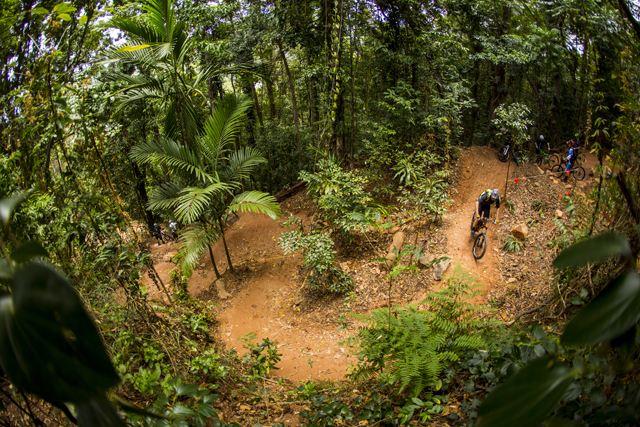 The Smithfield trails wind their way through the rainforest (Tourism Tropical North Queensland)

Personally, I love riding trails that are challenging, but riding trails that are full of stories takes the experience to another level. If only the stinging trees and wait-a-while could talk. (If you Google these, you'll be glad you did.)

A lot of steep descents at Smithfield mean a lot of climbing too. Once you've completely blown up and can't imagine turning another pedal stroke, give the bike a rest for a day and book a boat to the reef.

Floating in the warm water, surrounded by the colours, movement and the life of the reef is one of those moments you want to pause in your mind forever. The more you watch, the more you see, the more you'll think twice about things like throwing paper in the bin when the recycling's more of an effort to get to.

Tips: Take more water than you think when riding Smithfield, and add extra sunscreen to your sock line during your day on the reef.

Then there's Port Douglas..
Hartley's Crocodile Adventures is located part way along the sixty-minute drive from Cairns to Port Douglas. One entry pass lets you come and go three times, which is good as there's a lot to see and you might find it hard to fit everything in if bike tourism is your aim as well.


Spot crocs…and be glad you're not lunch! (Bicknell)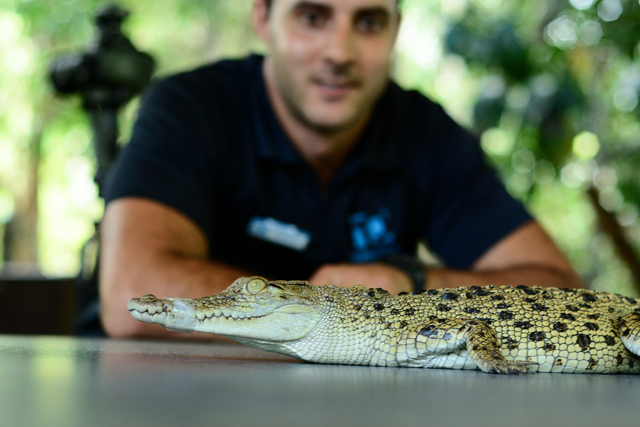 From little things big things grow.. (Bicknell)

Sit on a boat and watch as crocodiles compete for lunch. Watch a snake swallow a whole rodent. Meet a cassowary from the behind the safety of a fence. Listen to experts as they perform entertaining and fact filled talks about these incredible creatures, talks that turn your fear into respect.

Key to the success of this place is it's about more than just crocodiles. There is more Australian wildlife there than many people would know exists.

For me, on this trip, the wildlife adventures continued into the evening, but this time on a bike. Johnny from Bike N Hike is like the Steve Irwin of mountain bike tour guiding. He leads several tours in the area, with nightly rides down the historic Bump Track being the most popular. Johnny's tours kit people up with a good quality mountain bike, great lights, helmets, gloves, everything you need.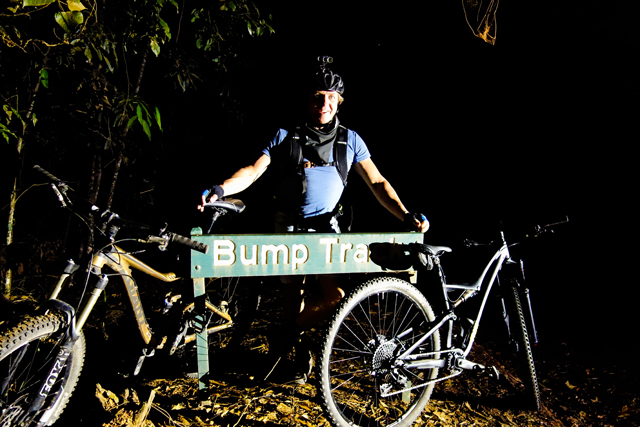 Let's go! (Bicknell)

The Bump Track was originally used by settlers and miners for access between Port Douglas and the hinterland above. Nowadays, it's mostly cyclists and hikers who pass along the 6km track. It had a cameo appearance in the final stage of the 2014 Crocodile Trophy stage race.

On a mountain bike, it is a fun, fast fire road that runs mostly down hill. Looking ahead through the dark your eyes zero in on the trail ahead, which is framed by tall trees that come together at the top of your vision.

While you're busy looking at the trail, Johnny somehow spots frogs about six metres off to the side. Further along; a cane toad. At the creek crossing, you can lay down the bikes and keep your eyes peeled for an eel. Pause elsewhere and watch furry marsupials go about their evenings. Then, on the way back to Port Douglas, you'll have a couple of chances to spot a local croc.

For the seasoned rider this is a chance to see the trails in the quiet of a warm, coastal night, alongside several creatures that call them home. For first time riders, families and road riders, these tours are a way of introducing people to mountain biking in a way that will have them hooked for a long time after.

Tips: If you try to do either of these activities in a rush, you'll miss what they're about. Take your time, open your eyes and ears.

And Atherton
The Atherton Tablelands are a one and a half hour drive from Cairns. If there are a few of you sharing a car, see if someone can meet you in Kuranda while you catch the Skyrail to the top. If not, just take the Skyrail one day anyway, it shows you world heritage rainforest from a completely different perspective.

The Skyrail is a family owned business that was set up simply to show people the landscape from up high. Everything that happens under the Skyrail banner is heavily monitored to reduce any chance of altering the ecosystem they value so highly.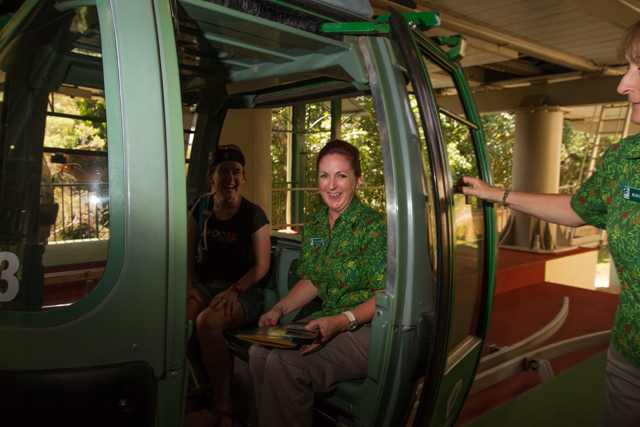 Getting on the Skyrail. (Lewis)

If you've already ridden in Smithfield, the gondola ride will give you a completely different appreciation of this world heritage rainforest. Each tree is like an apartment block, hosting many opportunistic tenants. Two stops on the way up allow you to learn more about the environment in its stillness, and to see the wide Barron Falls in their bigness. I'd love to come back in the wet season just to hear the noise.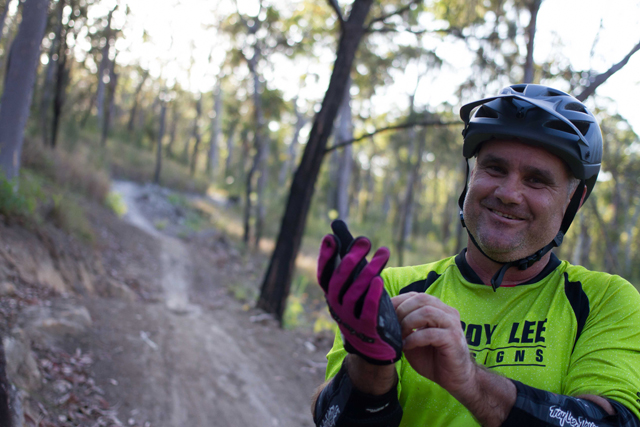 Turning the lens on the photographer, Wade Lewis. (Bicknell)

The Atherton trails are one of mountain biking's big success stories, the background to which I wrote about last week. If you ride off-road regularly and enjoy discovering new purpose built trails, you'll feel the continuing evolution in trail building straight away.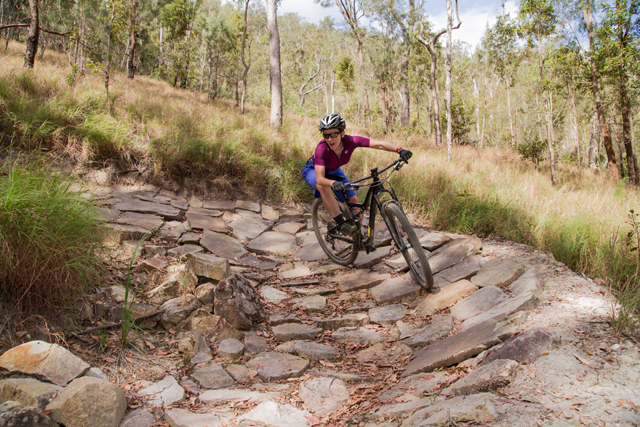 The park is so big, the landscape and trail types change repeatedly throughout the ride (Lewis)

The singletracks at Atherton Mountain Bike Park have been crafted by several different people, all pushing each other with fresh ideas on what it means to build a trail and what it means ride.

Piles of rocks on the side of some trails can be adjusted throughout the year to help riders sight the ideal line. Even a beginner rider in Atherton will experience an addictive sensation of flow.

Tips: The Atherton trails ideally need more than a day to be enjoyed, but that's OK because a Big 4 camping park has opened up near by and is completely decked out for people travelling with their bikes.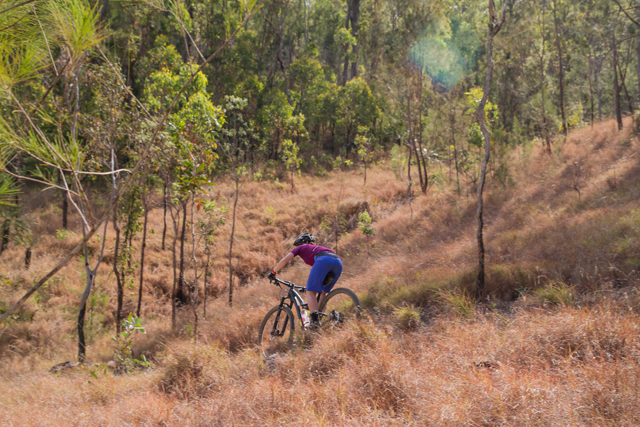 Whether you travel up north for a riding holiday, or to compete in one of several events, the appeal of riding in Cairns is the long list of activities you can pack in as well. It's not just the trails that offer diversity; it's the landscapes you ride through. This triad of tourism experiences, the reef, the rainforest, the wildlife, is something you won't find anywhere else in the world.

Riding becomes part of the equation, but learning more about the area through countless other activities ups the impact of time here even further. On returning home, I can't help but think that the reasons we ride anywhere extend far beyond the sensation of moving along on two wheels too.

For more information on riding in the region, see RideCairns.

Disclosure: Kath Bicknell travelled as a guest of Tourism Tropical North Queensland.