It's increasingly hard to enjoy sport at the moment, any sport, with many disciplines tainted by on and off-field racism and violence, socially disgraceful behaviour by athletes and fans, and of course doping, match fixing and institutional corruption.

These days the sport news often resembles a police blotter, with too many athletes lining up for fingerprints and mugshots, and officials disgraced.

But it bears repeating, when viewed from a distance, cycling may just be the best of a bad lot.

While our eyes were fixed on the drama surrounding Kazakh cycling and the "will they or won't they" suspense of the Astana licence, another big doping scandal was enveloping the International Association of Athletics Federations (IAAF).

Reading the IAAF media reports is like taking a time machine back to cycling's darker daysâ€Å—â€Åof which the travails of Kazakh cycling and Astana are a reminder.

In summary, the allegations are that Russian athletics is engaged in institutional doping and cover up and that certain well connected members of the IAAF hierarchy are involved in corrupt practices.

Then there is a secret list of over 150 athletes from around the world alleged to have suspicious blood values, including one Australian. This comes shortly after Kenyan marathon winner Rita Jeptoo was busted for EPO use. Jeptoo is this year's winner of the Boston and Chicago marathons. Think of Marianne Vos returning a positive result for doping and you'll realise Jeptoo is a big deal.

The IAAF's current problems are reminiscent of the explosive revelations coming from 2006's Operation Puerto, when not only cyclists were under suspicion but also track and field athletes, football (soccer) players and tennis players. Cyclists were the only athletes to suffer the consequences. Information on the rest was buried.

It's cold comfort watching another sporting body go through what cycling experiencedâ€Å—â€Åthe so called "most sophisticated, professionalised and successful doping programme sport has ever seen" of the US Postal Service team.

However, history tells us that the activities of Lance Armstrong were amateurish compared to what occurred in the East German state prior to unification, and as is likely, with Russia and the IAAF.

Cycling too had its version of a secret list, the International Cycling Union's (UCI) so-called 'index of suspicion'. The world governing body may hold an updated dossier on the worst of the worst but the 2010 version still makes for interesting reading.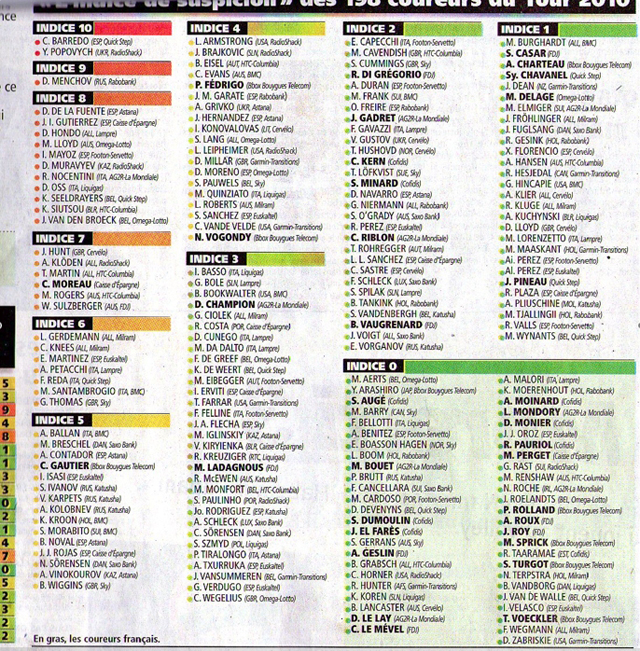 (UCI Index of Suspicion)


On the list were a number of riders who have since tested positive after it was first leaked. I can't imagine the IAAF's would be any different if acted on today.

What we're seeing with Russia, the IAAF, Astana and the impotence of the UCI points to the lack of strong governance in sport, now corrupted by a river of money and/or craven self interest allowed to run riot.

While stressing that he has to abide by the processes in place, UCI President Brian Cookson is clearly frustrated by the legacy he has inherited.

"I think that you would be surprised if I was happy and I'm certainly not happy," he told Cyclingnews. "It is a very frustrating time for all of us but we have to abide by the procedures that are laid down."

Cycling has always had an ugly underbelly but unlike many sports it engaged with it and however imperfectly, acted on it earlier than most.

The UCI has been on the cutting edge for several years, it was an early adopter of comprehensive and targeted testing, the whereabouts system and adoption of the bio-passport program. The system can still be gamed but it's more difficult to do. The intent is clearly there, a cleaner more ethical sport the long term result.

Today, armed with precedent, cycling fans watch the sport with cynical vigilance and journalists feel freer to call out performances they deem suspect.

While uncomfortable with it, riders accept the suspicion and interrogation. Some handle it better than others but all see it as coming with the territory.

And there are those riders who are openly contemptuous of dopers. In combination the code of 'Omerta' has been fractured if not completely blown apart.

We're not there yet, not by a long way, but today cycling is the sport best placed to emerge with an invigorated ethical center. The IAAF on the other hand has only just begun to repair itself.

Follow @Philip_Gomes