He's a week short of his 21st birthday and has the world at his feet, though understandably for one still so young, is not sure where he'll go.

Saturday at the Cycling Australia
Road National Championships, he completed a feat that was last achieved in 2012 by Rohan Dennis (and before him, Jack Bobridge and Jonathan Davis, in 2009 and 2003), whose current trajectory suggests he could be Australia's next Grand Tour podium place-getter (so long as Richie Porte doesn't beat him to it), especially since he's on the same team as Australia's first - and still, only - Grand Tour podium place-getter, not to mention our first Grand Tour winner.


Looking at the way he won Thursday's Under-23 men's time trial - a no holds barred display of unadulterated power - and Saturday's road race - making the move, driving it, then, on the second-to-last time up Mount Buninyong, breaking it, so that only he remained in front - it became apparent that Miles Scotson displays the traits of an Australian 14 years his senior who not just rides like him, but, in uncanny fashion, happens to look - and even sound - like him, too...

Michael Rogers.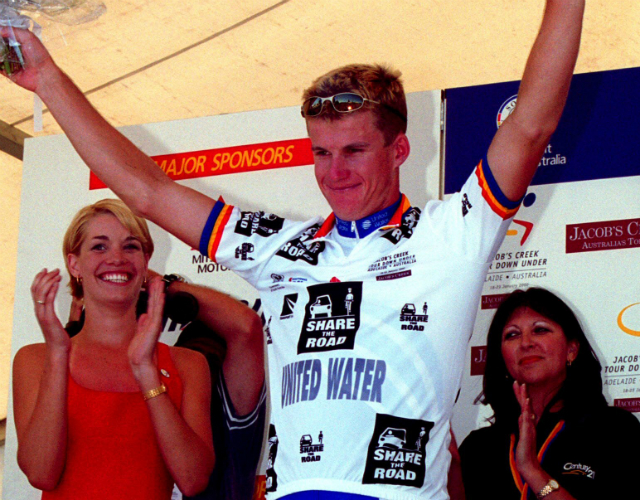 January 19, 2000: A 20-year-old Michael Rogers salutes the crowd in Goolwa after winning Stage 2 of The Tour Down Under. (Getty)

Scotson, like Rogers, is a team pursuit world champion. And, like Rogers at the same age (who won his first national title, the junior time trial, aged 16), his focus now turns towards securing a medal in the time trial at the Under-23 road world championships, this year in Richmond, Virginia, USA.

Rogers finished second in the U-23 time trial at the 1999 Worlds in Verona - the first Australian to medal in this category, in this discipline - then placed third the following year in Plouay, where he was offered a stagiaire role at Mapei-Quick Step, turning professional for them in 2001.

The rest, as they say, is history.

With Bobridge having won the U-23 TT worlds in Mendrisio in 2009, however, and Luke Durbridge repeating the feat two years later in Copenhagen - followed by Damien Howson and Campbell Flakemore doing likewise in Florence and Ponferrada, respectively, in 2013 and 2014 - the bar has been raised to rainbow jersey heights.

"A big goal for me would be to try and earn selection for the world time trial (championship) this year. There's a lot of good time triallists (in contention)... I know when Harry's (Carpenter) in top form like he was last year, he's very strong," he said Thursday.

Can he learn anything from Flakemore, the current U-23 world TT champ, who this season begins his neo-pro year with BMC Racing?

"I spent a bit of time with Campbell over in Europe this year, and we actually got along really well," Scotson told me. "He's really laidback, he doesn't put too much pressure on himself, and I think he peaked perfectly last year for the world's TT; he really started flying by the end of the season.

"When I looked at what he was doing compared to the others, the important thing is that it's a long season. If I am to go away again to Europe this season, it's (all about) working towards the world time trial (championship). And maybe follow the footsteps of Campbell Flakemore."

Like Flakemore did in Ponferrada on September 22 last year, Scotson did this Thursday in Ballarat, albeit on a far less grander scale: "I didn't get too nervous. I just had to let it all happen, and went for it."

And, like Rogers did last season at the Giro d'Italia and Tour de France, taking two of his three Grand Tour stage wins courtesy of being the best out of day-long breakaway, Scotson did Saturday in Ballarat. "I just laid it all out there, really," he said.

"That's what suited me - trying to win from the breakaway. A long day out on the bike suits my strengths, and I made the most of it.

"I rode with the break all day, but at the same time, I wasn't doing any Superman turns. There was only one thing on my mind - and that was to win a bike race. It went down to two of us, me and Daniel Fitter, and right at the top (of Mount Buninyong, on the second-last lap) I gave it everything, and didn't really look back from there."

Sounds like our next U-23 world time trial medallist; it now appears to be a simple though important question of colour.

After the Rio Games (he's aiming to be part of the team pursuit quartet), where he goes, nobody knows.

Yet if Rogers' career is anything to go by, and he does indeed emulate his lookalike, then The Flying Scotson, not to mention the Australian cycling public, will be in for one hell of a ride.

Follow@anthony_tan