Have you ever been, or heard of someone, who's in a job not because they want to do it but because someone's told them they'd be good at doing it, or worse still, told them to do it regardless of their ability or wont? Or maybe they were good at it and wanted to do it at first, but as time has progressed, no longer exemplify the characteristics, or possess the capability or desire to fulfil the position to their previous potential?

"I never was a bunch sprinter - and I kind of said that when I was going there," Matthew Goss told me at the Herald Sun Tour, reflecting on his decision to join Orica-GreenEDGE for the 2012 season after the closure of HTC-High Road, the team he rode for previous.

Then all of 24 years young, in 2011 Goss realised his best season to date: two rounds of the Bay Crits; second in the national road race (to Jack Bobridge); a stage and second overall (to Cameron Meyer) at the Tour Down Under; and a stage win at Paris-Nice, before his crowning glory two months later at Milan-San Remo - later bookending his annus mirabilis in the bike utopia that is Copenhagen, Denmark, where he finished a narrow second to Mark Cavendish at the road worlds. That year, most of Goss' success revolved around beating some the world's best sprinters in bunch sprint situations; one of the few exceptions being the nationals, where Bobridge had already flown the coup en route to victory, and out of a group of five chasers including Simon Gerrans, Bernard Sulzberger, Lachlan Norris and Meyer, he took the sprint for second.

Little wonder, then, this precocious lad from Launceston thought he could become someone like Cavendish, who for the two years prior to joining OGE was his team-mate, not to mention grabbing the majority of the attention in the English-speaking cycling world, as teams circled like vultures for his signature when it became news High Road may no longer be around in 2012. The big difference, being, however, that the Manxman would notch 26 UCI wins between 2010-11 and Goss just 10, but as the latter points out, they weren't your run-of-the-mill events (and, to be fair, neither were Cavendish's).

"I'm not a guy that wins 20 races year; I'm a guy that wins, four, five, six races, but good races. But I kind of wanted to take that step to go to the Tour de France and have a crack at the green jersey, and have a crack at the bunch sprints. It didn't work, but then it stuck with me - and that's what I kept doing throughout my time (at Orica-GreenEDGE)." After two lacklustre years, Goss says that the move to MTN-Qhubeka "gives me the opportunity to go back to what I was doing, and focus on the handful of days, handful of races that I know I can be really, really good, and really win". "This year's a different approach," he says. "Earlier in my career, I'd always win races in the latter part of the season. And, over the years, that kind of changed to the earlier part, because you'd start (off) racing so hard. It is going back to what I was doing before."

After seven years with Slipstream Sports (now Cannondale-Garmin), Tyler Farrar - now Goss' 2015 teammate - found himself in a not dissimilar situation.

Like Goss, Farrar, now 30, was never prolific as a sprinter. But, like Goss, Farrar displayed versatility beyond that of a speed purist. For Goss, it was tough days in the saddle and slightly uphill finishes; for Farrar, it was the Classics, of which he won Vattenfall (previously known as Hamburg World Cup) and Scheldeprijs, and reached the podium in races including GP Plouay, Het Nieuwsblad, Dwars door Vlaanderen, and Gent-Wevelgem.

The problem for Farrar was not so much his form in the Spring Classics was substandard, but Slipstream Sports owner Jonathan Vaughters' change of direction in the team to one more oriented towards GC at Grand Tours (the Ardennes and autumn Classics remain a focus, however, as demonstrated by Daniel Martin's success at Liège-Bastogne-Liège and Lombardy, in 2013 and 2014, respectively). "You change as a rider during the course of your career, and realistically, I'm not as fast as I was five or six years ago on the top end. Going head-to-head against (Marcel) Kittel is a bit… daunting at this point," he says with a laugh.

"I think their (Slipstream Sports) priorites have shifted over the years, as they do with any team. There's some really talented GC riders there. After the last couple of years, I could kind of see the direction it was moving in, and was continuing to move in. I prefer to be on a team where, the races that I'm good at, are a higher priority.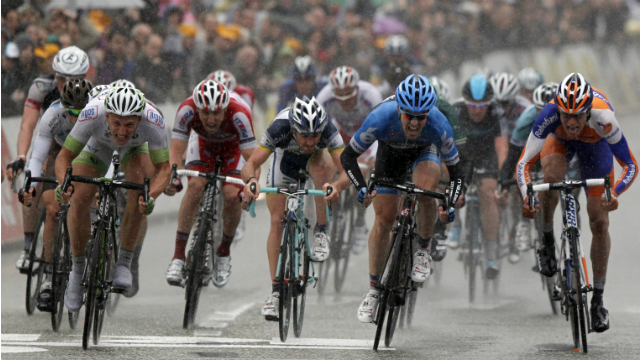 Farrar (C) sprinting against eventual winner Marcel Kittel (L) at the 2012 Scheldeprijs. "Going head-to-head against Kittel is a bit… daunting at this point." (AFP)


"It's not a negative against Garmin in any way. It's just that, as a sprinter and Classics rider, there's only so much I could do to contribute to that (at Slipstream Sports). Coming across to MTN-Qhubeka, it's a team where the Classics are a huge priority," says the Flemish-speaking American, who bases himself in the cycling mecca of Ghent. "And it's an opportunity for me where, maybe for the first time in my career, to focus 100 percent through the winter and into the spring on the Classics. That was part of the deal of me coming here: that I could give it everything for the Classics and just see (how far I can go). I showed last year in the Classics that I can survive in one of those groups of 30 guys and win the sprint."

How do Goss and Farrar feel about the idea of five sprinters (or, perhaps more correctly, fast finishers) on MTN-Qhubeka? Will it be a massive free-for-all, where internecine rivlary leads to no-one winning anything?

"I see it quite the opposite," says Goss.

"I don't see any real egos in the team. It seems like really legitimate kind of people; they don't have to be the 'headline' act. Everyone seems happy, if someone's going better, to work for them and help them out. If there's a real premadonna on the team that has to be the centre of attention, I think there can be problems. There's enough mutual respect with the guys that, if someone says they're good, then we work for that person, (on) that day."

Explains Farrar, "Part of the deal coming to the team was, while you would get to sprint for yourself, you would also have to work (for others), sometimes. We all knew that coming onto the team; sometimes it will be Goss, sometimes it will be (Gerald) Ciolek, sometimes (Edvald) Boasson Hagen… And the thought is, instead of bopping around, trying the sprint for yourself with minimal support, okay, you're going to have less total opportunities, but when you do get your chance, you're going to have a pretty amazing team backing you up, with the guys we have. And that's pretty huge.

"I think they did a really good job, when they were putting our team together this year, of looking not just at results but also personalities. And that's really important. They put together a pretty good group of guys, and I see it working really smoothly this year. I'm sure they'll be a time or two throughout the year where, two guys wanted to go for the win and one guy had to work for the other, and it might be annoying, but I think we'll strike a good balance. On the whole, I think it's going to be a really successful set-up."

Riders like Farrar and Goss felt they needed to change teams to evolve, or in the latter's case, go back to what he was doing before. "If you stay in one spot too long," Farrar says, "even if it's a great set-up, I think you can get a little too comfortable, and you find your role in the team, and never really push outside your comfort zone." But it doesn't always have to be so: Bradley Wiggins made a successful transition from Grand Tour aspirant-cum-winner to weeklong stage racer-Tour de France domestique (well, that was the plan, anyway...), and now, cobbled Classics rouleur-Hour Record wannabe, all with the same outfit at Sky, and all within a five-year period.


Then there's the curious case of Cameron Meyer.

Touted - prematurely, and unfairly - as a future Grand Tour contender after he won the Tour Down Under in 2011, aged 23 - then again the following year when he joined Orica-GreenEDGE, the 2012 points race world champion says to think he can ride well enough over three weeks when he is yet to podium in a race like Tirreno-Adriatico or Tour de Suisse (where he has finished 10th overall in both but no better) is, well, stupid. "Three years ago, people were saying (that I'm a rider for) Grand Tours, and it's all very well and good," says the recent winner of the Herald Sun Tour, "but, if you actually count how many guys in the world can win Grand Tours, it's probably five; you're talking Alberto Contador, Chris Froome, (Vincenzo) Nibali... they're going to win you Grand Tours.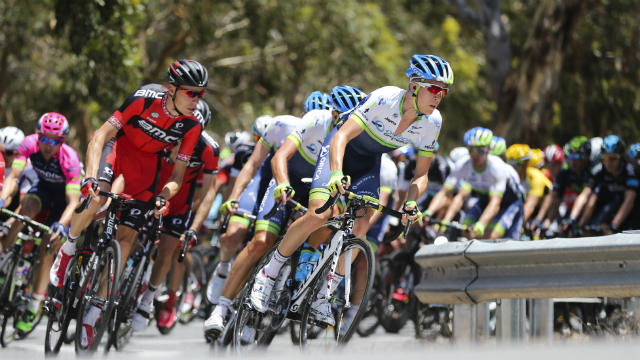 Meyer leading the pack at this year's Tour Down Under. "One week stage races is where I lie this year." (AFP/Mark Gunter)


"Weeklong stage races is where I sit. This one (the Sun Tour) is a great way to start, but I'm going to have to go on (and perform well) in bigger ones in the WorldTour when I get to Europe. One week stage races is where I lie this year. I've been top-10 in Suisse, Tirreno, and fifth in California, and fifth in Turkey… so, I've definitely got that hunger to go (well) in those one week stage races. Things like a win in Tour Down Under, and now here (at the Sun Tour) gives me motivation that I can go over to those one weekers (sic) in Europe and really contest for them, so that's where I think my next couple of years lie."

If Meyer was to never become a Grand Tour contender, would it be so bad? Hardly. He's enjoyed a brilliant career to date, and at 27, it's likely to only get better. Just don't call him the next Cadel Evans or Richie Porte or next-whatever. Rather than a clone of someone else, just like you and I like to be thought of, we should treat all of them as individuals.

As such, in my mind at least, he's the first Cameron Meyer.

Follow@anthony_tan