Apart from seeing how he rode, inconspicuous till the final metres, Michael Matthews should take note of what John Degenkolb, a rider with very similar attributes to he, said after he won Sunday in Sanremo. "Experience is very important. It took me four years to gain the necessary experience. Of course you can talk to people and get their advice, but I believe you have to do it yourself, and also mature because of disappointments, like mine last year."
As he said, this year was Degenkolb's fourth attempt at the race - having previously placed 5th, 18th, 39th between 2012-14, respectively. For Matthews, it was M-SR number three, placing 107th (2011), 78th last year, and third last Sunday. From the way he rode on the Cipressa and Poggio, clearly, the 24-year-old had the physical maturity to go the distance, but lacked the maturity of experience in the race; he was far too visible when he didn't need to be, particularly when Greg Van Avermaet attacked on the Poggio and forced the hand of he and Peter Sagan, then again when Sagan - who, unlike Degenkolb, is utterly hopeless at restraining himself - dangled off the front on the run-in to the finish on the Via Roma. "The most important (thing) is to relax; stay calm, save your legs, save your legs, and save your legs until the Via Aurelia. You have to have a good position: not too far to the front, and not too from at the back. You have to find the balance," Degenkolb said, Yoda-like.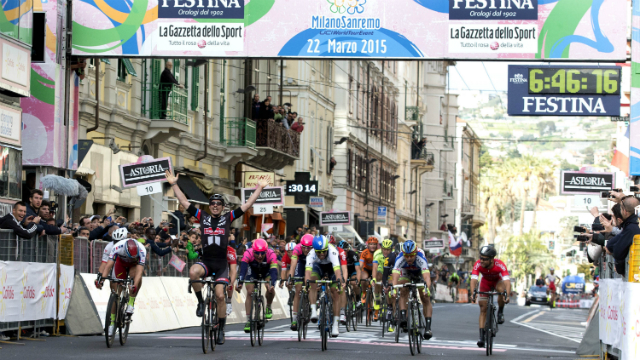 "Stay calm, save your legs, save your legs, and save your legs..." (ANSA/Dal Zennaro)
All three podium placegetters - Degenkolb, defending M-SR champ Alexander Kristoff, and Matthews - rode Paris-Nice rather than Tirreno-Adriatico, the traditional sprinters' build-up to La Classicissima. In the Race to the Sun, Degenkolb fared worst out of the three (Kristoff and Matthews won a stage apiece); his best third place on Stage 2 to Saint-Amand-Montrond, behind André Greipel and Arnaud Démare.
Sagan, with Tinkoff-Saxo owner Oleg Tinkoff breathing down his neck and muttering aberrant musings to the media via Twitter, would likely have shat himself in fear - judging by his reaction in Porto Sant'Elpidio, one saw how much the Slovak needed his Stage 6 victory at Tirreno, for his own peace of mind and that of the billionaire Russian - yet Degenkolb did no such thing: "Absolutely, I really believe that this was not a disadvantage for me," he said on his feelings about not being included in the list of big favourites - based largely on his results leading into the 293 kilometre event. "I prepared really well in the winter and I came into form according to plan. Even though last week was not as successful as a last year in Paris-Nice, we didn't panic or go crazy just because we didn't win a stage. It's still cycling and racing and anything can happen. I felt my shape was good and I kept on preparing one-hundred percent for Milano-Sanremo. We arrived on Thursday and on Friday I did a long ride. I've done the same over the past three years, but this year I was able to finish it off."
As Kristoff's Trojan domestique, Luca Paolini, swung off in the last three hundred metres to allow the powerful Norwegian - who, compared to most of his peers, needs a longer run-up - to hit top gear, and an overly present Bling found himself boxed in as Degenkolb came flying past on his left, yet seemingly too late - the German having already made significant headway to get himself into position - ironically, the only man who seemed not to hit the panic button was the one who had most reason to press it. "Fifty metres before the line I definitely thought I would not be able to beat Alex (Kristoff) in the sprint because he started really fast," said Degenkolb. "But I kept believing in myself. There was still a difference in power and speed, but just before the line he (Kristoff) died and I came across first. It was pure emotion, and I thought about last year, when I had tears in my eyes because I had the biggest disappointment in cycling in my life. This year I had tears in my eyes because I had won. It's cool."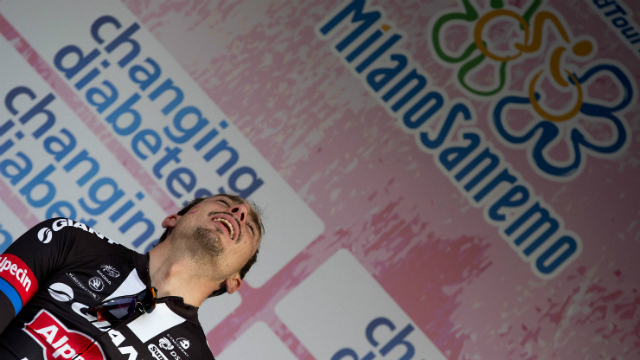 "I thought about last year, when I had tears in my eyes because I had the biggest disappointment in cycling in my life." (ANSA/Dal Zennaro)
To be fair, Sagan and Matthews weren't the only ones who made costly mistakes, for even the defending champion (who wasn't quite in the same form he was this time last year) admitted fault: "I think I started too early; maybe I needed to wait fifty metres later to start my sprint, but I had no other solution because I was in first position. Honestly, in one moment I thought I could win, but John was too fast in the end and I could not answer. I was on the limit. The finish was on a small uphill and in the end I was too tired," Kristoff said.
It's also worth noting that for Matthews - three years and three months Kristoff's junior, and one year and eight months younger than Degenkolb - it was his first time going for the win at M-SR, with the support of an entire team dedicated to said cause, having ridden the first two editions for experience, along a two-year hiatus between his first and second attempts. "I guess I have got to believe that it's Milano-Sanremo and it's my first attempt at going for a result here, so I have to be positive about that," the 24-year-old later acknowledged.
A year wiser, a year stronger, and with 2012 winner Simon Gerrans by his side, granting Orica-GreenEDGE a dual-pronged attack... Before too long, the bells will ring for Bling in Sanremo, I'm certain of it.