"There are generally only a handful of guys in the world that can win this race," Orica-GreenEDGE sport director, Matt Wilson, said on the eve of the 98th Tour of Flanders, announcing their ethnically eclectic eight-man squad.

"They have select attributes that even some of the best guys in the peloton don't have – guys like Cancellara and Boonen, they just have something else. But with those two guys out, the race is wide open this year."

Watch the Tour of Flanders LIVE on SBS from 2230 AEST Sunday 5 April on SBS2.

Perhaps not as wide open as Milano-Sanremo, where you have a one-in-one hundred chance of getting it right. But wide enough to say that, in the absence of Tom Boonen and Fabian Cancellara, who have six wins between them, any one of 10 or 15 guys can win this year.

So far this season, we've already seen how the Northern Classics are races of attrition; a gladiatorial, last-man standing affair. Over the next week with Flanders and Paris-Roubaix, this will be exemplified in caps and bold.

The riders made for these races are now, if their preparation has gone perfectly, in their very best condition. So, while it may not be easy to pick a winner, we can be guaranteed that come Sunday and the Sunday after, you will not see an unworthy winner of De Ronde or l'enfer du nord.

Sep Vanmarcke (LottoNL-Jumbo)

Why he can win: Equal favourite status (along with Alexander Kristoff and Geraint Thomas). Consistently good so far this season: 5th, 4th, 5th, 6th - respectively, Het Nieuwsblad, Strade Bianche, E3 Harelbeke, Gent-Wevelgem. Doesn't mind the cold (weather prediction: 9 degrees C, a mixture of sun and clouds; wind from W, up to 30km/h). 3rd last year's RVV.
Why he can't: Favourite status. Only 26 years old - may need another two or three years to land a cobbled Monument. Could not go/stay with winning moves in Harelbeke or Gent-Wevelgem.
I think there are five, a maximum of ten riders, who can win on Sunday.
What he says: "It's only normal that there is pressure, I put myself under pressure as well. Already since last year, I felt that I can win this race. I have no fear, although some of my rivals seem to be in a very good shape. Tom Boonen and Fabian Cancellara are out, but there are many other contenders left. Geraint Thomas is the first who comes to mind. He is a very dangerous opponent. I think there are five, a maximum of ten riders, who can win on Sunday. The Tour of Flanders is such a heavy race that the favourites will always be up there in the end. If I don't have any bad luck, I can go a long way. (On Gent-Wevelgem) It's never fun if you have to let other riders go, but it happened under exceptional circumstances."

Alexander Kristoff (Katusha)

Why he can win: With 3/4 stages and GC at the Three Days of De Panne, has timed his run to Bruges to perfection. 4th and 5th in 2014/15 editions of De Ronde. If race comes down to small sprint, Norwegian is the fastest (on paper).
Why he can't: The 19 hellingen will take its toll on his 81kg frame; lighter contenders will do their utmost not to arrive in Oudenaarde with him. Missed winning moves in Harelbeke and Gent-Wevelgem. Has De Panne drained him?
What he says: (On overall win at De Panne) "This is a big victory, especially since I have not been this good here in the past. I think I am as strong as last year. Not better, not worse, but my sprint (has) got better. We worked on my sprint train. With Jacopo (Guanieri) in the team many things changed. I've done Flanders the last three years and I've ridden in Belgium a lot so I feel I know the climbs. It's not easy to win the Tour of Flanders but I hope my good legs are still there on Sunday. I feel good. I am not unbeatable - look at Sanremo (he finished second to John Degenkolb - ed.); it can happen in Flanders, too. On the other hand, in that race, I was not yet at my best shape. Now I am."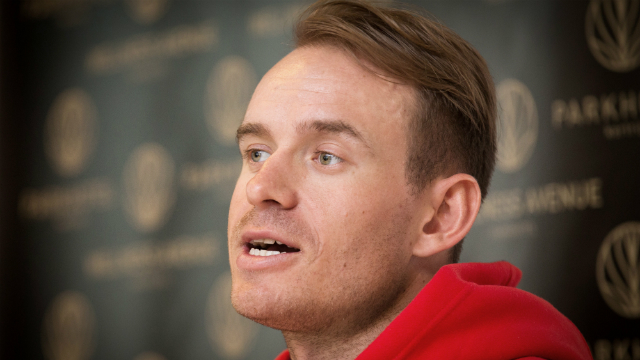 "I am not unbeatable - look at Sanremo; it can happen in Flanders, too." (AFP)

Geraint Thomas (Team Sky)

Why he can win: Coming into spring perfectly prepared and injury-free, the Welshman is riding like never before. Win at E3 Harelbeke a week ago was a game-changer; has nothing to lose in Flanders and Roubaix. Undisputed leader at Sky at De Ronde. Lighter frame (71kg) makes him a natural on the hellingen; used the Oude Kwaremont to win in Harelbeke, which features thrice Sunday, the last 17km from finish. Along with Ian Stannard and Bradley Wiggins, Sky boast a formidable line-up.
Why he can't: No reason; only thing stopping him is a crash/untimely puncture. Or sprinting against Kristoff...
What he says: "Getting stuck into the racing, being able to be in the front in the finals, I've been buzzing off that, really. It definitely feels like there is momentum in the team; we're on a bit of a roll. We're in the best sort of condition we've been really going into the Classics and hopefully, barring any incidents, we can come out with something from Flanders from myself, or, if not, from Roubaix with me, Stannard or Brad (Wiggins). That's the plan." (Read full interview here.)

Zdenek Åtybar (Etixx-Quick Step)

Why he can win: Excellent condition; unlike LottoNL-Jumbo, Katusha and Sky, E-QS has multiple options (think Åtybar, Niki Terpstra, Matteo Trentin, Stijn Vandenbergh).
Why he can't: Spring 2015 has seen more than its share of Quick Step misteps (perhaps a symptom of too many chiefs, not enough Indians). Czech has only ridden De Ronde twice (2013 - 36th; 2014 - 18th). Unable to go with Thomas at Harelbeke and second-last in Gent-Wevelgem (albeit out of 39 finishers). Lacks fast finish, so if there in the finale, will somehow need to jettison Kristoff and Greg Van Avermaet.
I have done well so far, but of course I want more. I want the cherry on the cake.
What he says: "I think at this point my condition is at the best it could possibly be going into De Ronde. I think my condition has been very good for a few weeks now, and I hope now I have really hit the peak. Here we are a week after Gent-Wevelgem, a very hard race, and I am recovered. I have done well so far, but of course I want more. I want the cherry on the cake. So, I am ready for Sunday. Of course, now that people consider me as a favourite, that changes my perspective of this race. Before it was just about racing and see what happens; now, it is about racing to try and win. But it is not just me who can win in this team. We of course have Niki Terpstra and I, but we also have Matteo Trentin, and don't forget he beat Alexander Kristoff in a field sprint at E3 Harelbeke. We also have Stijn Vandenbergh, and if he rides away solo there is a strong chance no one will see him again until the finish line. For sure it is sad Tom won't be with us. He won this race several times and when he is in the team he brings peace and calm with his leadership."

Peter Sagan (Tinkoff-Saxo)

Why he can win: Because he's Peter Sagan.
Why he can't: Because he's Peter Sagan. And has Oleg Tinkov as his boss (that said, Sagan is his own worst enemy). The way he rides, arguably better-suited to pavé of Roubaix than hellingen of Flanders (even though he's had better results in the latter - 5th in 2012, 2nd in '13).
What he says: Has said little since March 16, his only success of the year to date, when he won Stage 6 at Tirreno-Adriatico. Lack of a Classics podium speaks volumes. Everything can change with a win at RVV/Roubaix, though, and it will be drinks on Oleg...

Jürgen Roelandts (Lotto-Soudal)

Why he can win: Because he thinks he can. Sort of. 3rd in 2013.
Why he can't: A thereabouts-but-not-quite-there sort of rider. Like Thomas, needs a game-changing victory.
On the second ascent of the Oude Kwaremont we will see fireworks.
What he says: "I'm happy with my current shape and I'm still growing stronger. In Gent-Wevelgem I gained extra confidence for the next two weeks. I've been quite relaxed in the run-up to the Tour of Flanders. It was a better preparation than the past years. I even feel more fresh compared to the same period last season. I expect an open race on Sunday, with a wide range of favourites. The riders who were active in the final of Gent-Wevelgem, will be there on Sunday, too. I think Geraint Thomas is the main favourite. Alexander Kristoff won't be able to leave me behind on the hills, but I don't want go to the finish with him. Stijn Devolder is also in good shape - he dares to go for an early escape. Etixx–Quick Step is a strong as a team, but we are not less strong; the last races, we were present in each final. I will race certainly more tactically than in Gent-Wevelgem and I won't attack that soon. To determine the right time to attack, you have to watch everyone around you: which riders are in the group, how do they feel, do they have team-mates with them... The Oude Kwaremont is of course one of the most important points on the route, but that climb doesn't have to be decisive. Although on the second ascent of the Oude Kwaremont we will see fireworks. It would be nice to finish on the podium again."

The Tour of Flanders
will be LIVE for Eastern states, South Australia and the Northern
Territory. Western Australia can view the race live online here at Cycling Central.

Follow@anthony_tan