The race was filled with its share of drama, particularly in the earlier phases with repeated calls for assistance to the team cars after a flat or mechanical and two inexplicable incidents with neutral service vehicles. But despite that, none played any part in deciding the outcome.

Even with the presence of two-time champion Stijn Devolder, this year's race was always going to produce a new champion. The Trek Factory Racing rider is still useful as a decoy for his team, but at 35, his monument winning days are behind him. The title would instead go to a man who is now in his undeniable prime.

So what to make of Flanders? It was engrossing as always but not the best of the year. For me that title goes to Gent-Wevelgem where the weather was instrumental in orchestrating the outcome and one of cycling's genuine hard men, Katusha's Luca Paolini, overcame it all to win in outstanding fashion.

The Tour of Flanders was without a similar weather event, though the locals might themselves consider a beautiful clear sunny spring day in Belgium eventful, but the distance, hills and cobbles did what they historically do in creating the environment to decide the winner.

There was effectively nothing between Kristoff (Katusha) and runner-up Niki Terpstra (Etixx-QuickStep) save a few metres - though the former always looked like he was going to win the race once the pair crested the Paterberg before the final 15km open run to Oudenaarde.

"I knew to follow Niki when he went, Kristoff said. "Once we got away we worked well together and I convinced him to work with me to the finish, knowing the worst he would get was second place.

"He tried to drop me on the Kwaremont and I was suffering there, but I'm actually quite good in these cobbled climbs. I felt I had him under control on the Paterberg, but in truth you never know. I didn't let him go because I knew he was strong."

Kristoff is having the kind of year Philippe Gilbert (BMC) did in 2011, with seemingly no race or rider an obstacle to his ambitions. With the Flanders trophy centered on the mantlepiece his season is made, but such is his form that he'd be irresponsible to rest on his laurels.

Paris-Roubaix beckons next Sunday, and so does cycling immortality. There he will be the clear favourite. Can he be the next rider to do the holy week double?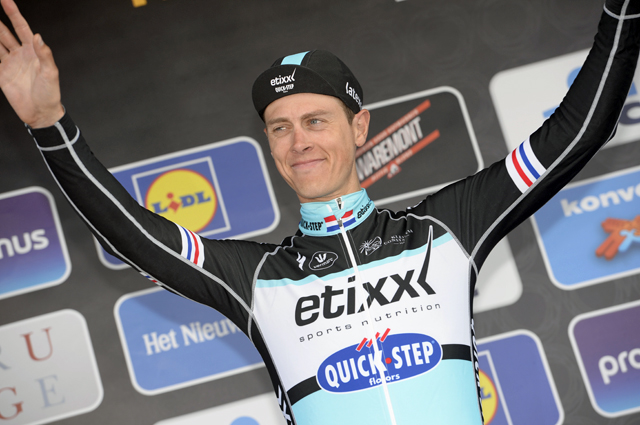 (Niki Terpstra - Sirotti)

Niki Terpstra, 2nd place
Etixx-QuickStep was again strong and again Terpstra was in the mix when it counted. But again the team came up short of a winning finish. This is getting to be a bit of a habit for Patrick Lefevere's men. It can be amusing to many watchers seeing a team as talented as his outsmarted week after week but it probably isn't for him.

Etixx-QuickStep needs a big win to make their classics campaign a success and the Paris-Roubaix champion Terpstra is the man to do it. His strength is obvious and it was he who orchestrated the winning move. But short of finishing speed he would have to be happy with second. Terpstra now appears to be out of the shadows of a fading Tom Boonen. A repeat win next Sunday could make this team his own.

"I thought it was a good breakaway partner," Terpstra said. "He's a fast rider for sure, but when we went away we still had three climbs to do. So I thought it was possible for me. I hoped to attack there and do something. But on the climbs he was super strong. On the Paterberg he set such a good pace that I could hardly even pass him.

"He showed his strength in the last weeks and it was true again today. In the last 10 kilometers when he was still there, there wasn't much left to do. In the last three kilometers I stayed on his wheel because everyone knows how fast he is in the sprint. I hoped he was too tired to have a perfect sprint at that point. But even then, I came next to him when I launched my sprint, he accelerated, and then showed he was the best guy on the roads today. He deserved the victory. I have to be happy with my 2nd place."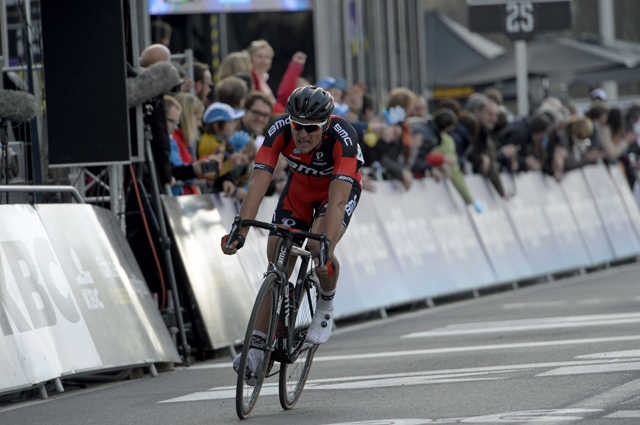 (Greg van Avermaet - Sirotti)

Greg van Avermaet, 3rd place
The BMC rider is currently in a spot of bother with the Belgian anti-doping authorities but he continues to race as he always has, with his head and legs. Last year's second place finisher looked strong and his final race position was more about timing rather than strength. Indeed, he finished well and in many ways looked as good as Kristoff. However he failed to go with the top two finishers when it counted. The pressure on him must be immense but like all good classics men, he shoulders it well.

"In the end, I am happy I am on the podium. I had the legs to win, I think," van Avermaet said. "I was feeling really good the whole day. I tried to make the race hard and when they went, there were were still some teams to control the race, so I didn't have to go. In the end, we didn't see them back anymore.

"I was just hoping they would wait for me a little bit because Kristoff is so much faster than Terpstra in the sprint and last year they didn't want to ride with me when I was with Stijn Vanderdenbergh. So I was hoping today I could come back. But I couldn't make it anymore."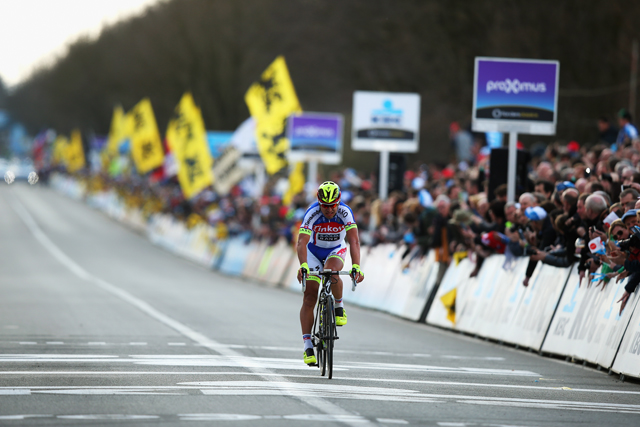 (Peter Sagan - Getty)

Peter Sagan, 4th place
What to make of Sagan? Always there and always not there. This race could have been his, but like van Avermaet, who he paired with in a final desperate chase to catch the two frontrunners, his timing was off. Sagan's problems are usually of his own making but this time he did what he could. For the majority of the race he appeared to be alone. Where were his Tinkoff-Saxo team mates? You can have all of the talent in the world but even a rider of Sagan's stature needs the assistance of a key lieutenant when the race comes to a head.

"The guys did a good job and they sat with Sagan during the majority of the race and kept him well protected," team director Tristan Hoffman said. "Going into the absolute finale, Peter was on his own and he put in the effort at the right moments and rode a clever race".

Nice words. Hoffman may be satisfied but was Sagan? Imagine if he was flying the Etixx-QuickStep colours? On second thought, maybe he's better off where he is. Tinkoff-Saxo needs to recruit a good road captain for Sagan or there will be more of the same.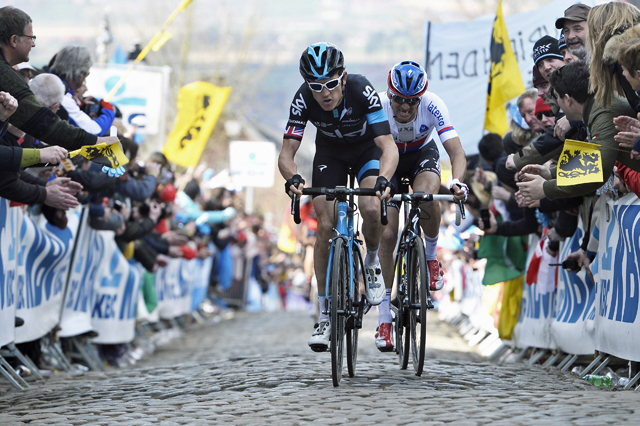 (Geraint Thomas - Getty)

Team Sky, nowhere
With well celebrated earlier wins by Ian Stannard and Geraint Thomas, Team Sky has had a very good classics season and much was expected of them at Flanders, particularly Thomas. He was there for the majority of the race and the team was always present, but was unable to detach himself from the riders around him in the finale. Sky will be disappointed and so will he.

Thomas turned himself inside out on several occasions but was closely marked by those around him - such is the fate of favoritism. The outcome may have been different if only for one or two more thoughtful rivals around him. His efforts cost him in the end and he could only watch as Terpstra and Kristoff rode away to collect the silverware.

"It's Flanders and it's obviously a hard race. I just lacked that punch which I had last week on the Kwaremont," Thomas said. "I had to have a go as the boys road so well all day for me.

"I just didn't quite have the legs at the end. When you're feeling a bit average it feels like everyone is following you. Once I was in that group behind nobody would work together. Everyone was a leader in there and it was just attack after attack."

Sky will also be disappointed with Bradley Wiggins, who seemed incapable
of overcoming an early but ultimately meaningless crash. Frankly, Wiggins looked
like baggage for Sky, a distraction to the main game with Thomas.
Classics are always about overcoming personal difficulty, Wiggins
instead appeared to sulk instead of contribute. His Flanders performance
does not bode well for Paris- Roubaix, his final race for Sky, and one he says
he'd like to win.

SBS will broadcast Paris-Roubaix live on Sunday 12 April.

Follow @Philip_Gomes