Feast Greece is a nine-part journey into an ancient land with a gloriously rich past. With its dramatic mountains, magical islands and deep blue seas, Greece is a country which seduces its travellers back time after time. Following the success of Feast India and Feast Bazaar, chef Barry Véra embarks on the journey of a lifetime, experiencing first-hand the culture, traditions, cuisine and people of Greece.   


Episode 1 – Lesvos – 'The Garden of the Aegean"
6pm Sunday, 20 September 2009

Barry's journey around this unspoilt North Aegean island takes him to a fishing port where some of the world's healthiest sardines are caught, to a seaside town where he tries his hand at octopus fishing, and to a storybook village where times seems to have stood still.  And along the way, he meets the people that make this island so culturally rich, from a traditional wooden boat builder and unique organic winemaker, to the village baker who's been serving his neighbours for generations.


Episode 2 – Lesvos – 'The Virgin Mary Festival"
6pm Sunday, 27 September 2009

In the Greek Orthodox Religion, no saint is more celebrated than the Virgin Mary.  Home to a precious icon and religious relics, the village of Agiassos welcomes thousands of pilgrims from all over the island of Lesvos and the rest of Greece to celebrate the Assumption of the Virgin Mary.  Over two days, Barry joins the pilgrims as they celebrate the Virgin Mary, the icon, the food and the constant flurry of activity that takes over this small mountain village.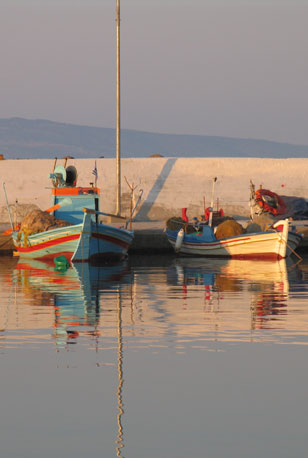 Episode 3 – Chios – 'The Weeping Isle"
6pm Sunday, 4 October 2009

The North Aegean island of Chios is home to one of the most treasured and rare natural products in the world.  Barry travels to the south of the island to witness the miracle of the weeping mastic tree, a phenomenon known only to this part of the world. Barry visits two of the unique and stunning fortified mastic villages, and gets lost in the labyrinth of streets designed to confuse invaders.  In the north of the island, he visits the abandoned and haunting hilltop village of Anavatos.


Episode 4 – Athens – 'Athena"
6pm Sunday, 11 October 2009

The bustling metropolis of Athens is Europe's oldest city, and a centre of great antiquity.  But alongside ancient ruins is a modern community where chaos and calm co-exist.  Barry explores this vibrant city at street level, discovering the real Athens as lived by its locals, in its marketplaces and working-class eateries.  Barry gets a taste of more than food, discovering many of Athens' institutions including its oldest distillery, learning the art of worry beads, the barracks of the Presidential Guard and meeting a world-famous poet & sandal maker to the stars!


Episode 5 – Crete – 'Milia"
6pm Sunday, 18 October 2009

Greece's largest island Crete is so large and diverse, it's like a country in itself.  Barry visits the charming seaside city of Chania where Venetian buildings dominate the skyline.  There he discovers first-hand the art of making filo pastry and traditional Cretan daggers, and explores the fresh Cretan produce at the city's central market.  In contrast, Barry visits the mountain retreat of Milia, a restored traditional Cretan settlement where sustainable living, organic farming and home-style cooking are paramount in their preservation and protection of a natural way of life.  In a neighbouring village, Barry attends a traditional Cretan wedding and joins in the celebrations of an entire community.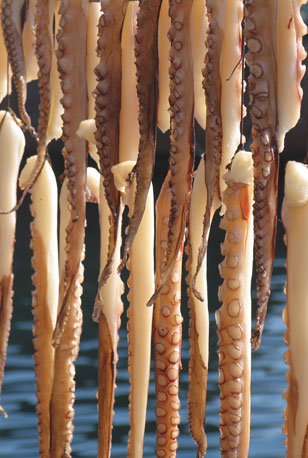 Episode 6 – Crete – 'A Taste of Honey"
6pm Sunday, 25 October 2009

Crete is Greece's largest, most diverse and arguably most beautiful island. Although it could not be more Greek, Crete has its own history, folklore and traditions. Barry learns more about these traditions by visiting artisans, craftsmen & food lovers who are all committed to maintaining a link to their extraordinary past.  From organic beekeeping in the mountains of Western Crete, to cooking traditional pies well matched to their rugged mountain environment, Barry also discovers the craft of olive wood carving and the age-old art of pottery. 
   
Episode 7 – Zagoria & Ioannina – 'Behind the Mountains"
6pm Sunday, 1 November 2009

The isolated stone villages of Zagoria in Central Greece are reminiscent of another time and place. Steeped in history and tradition, the area is known for its amazing stone architecture, its iconic bridges and some of the most breathtaking natural scenery in Europe.  Whilst exploring the region, Barry discovers a local delicacy growing in the hillside forests and embarks on a mushroom hunt!  In the nearby city of Ioannina, Barry visits two craftsmen who carry on the traditions of making brass and silver.

Episode 8 – 'Meteora"
6pm Sunday, 8 November 2009

The stone forest of Meteora is one of the most awe-inspiring places on Earth.  The monasteries perched atop these inaccessible rock peaks are amongst the most religiously significant places in the world, and have been recognized by UNESCO as a World Heritage Site. Barry explores this amazing location and learns of a saint after his own heart.  He then meets with a Monk who is not only a cook but a published author! 

Episode 9 – 'Greek Offerings"
6pm Sunday, 15 November 2009

In celebration of the wonderful culture and cuisine of Greece, Barry is back in the kitchen creating some Greek classics, adding his own imaginative twist.  Barry is also joined by traditional Greek cooks, including acclaimed author and chef, Evie Voutsina who specializes in traditional village cooking.  Some of Barry's own recipes include the classic grilled octopus, white bean dip and rusks with tomatoes & soft feta.