Mangoes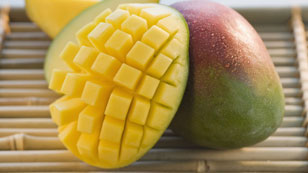 Is there a more exotic fruit than the mango? Probably not when you consider the sheer eating pleasure they provide. Anyone who has experienced a ripe mango on a hot summer's day will know exactly what we mean. There is nothing quite like enjoying every scrap of the luscious, orange mango flesh right down to the centre stone and having your face and hands covered with its sweet sticky juices.
Apart from their pleasure they provide when eaten raw, they can be pickled or pureed, included in chutney, fruit tarts, ice-creams and other desserts. A bowl of ripe mangos will also perfume an entire room with their musky-alluring scent.
Buying
Choose ripe fruit with a little 'give' near the stem. Look for unblemished fruit. Different varieties come in different sizes, so size is little indication of flavour.
Storing
Mangoes can be stored at room temperature for 3–4 days. Overripe fruit should be stored in the refrigerator and eaten as soon as possible to prevent to prevent spoiling.
Preparing
To prepare a mango to eat, stand fruit upright with the narrowest side facing you. Using a sharp knife cut down on each side of the stone, slicing off the mango cheek. Each cheek can be criss-crossed with a sharp knife, and then simply push the skin up to access the diamonds of flesh. Don't forget to remove the small slices of flesh from the remaining stone.
Serving
Mangoes need to peeled and the stone removed to prepare them for recipes. Stand mango upright and, using a sharp knife, remove skin following the natural shape of the mango using a sharp knife. Remove cheeks of flesh and cut according to recipe. Eat fresh mango at any time, but particularly for breakfast or dessert. Puree mango and use as a sweet sauce, or dice flesh finely and toss with seasoning and use as a salsa.

Strawberries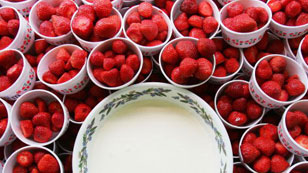 Nobody needs to be told how good strawberries are. One of the quintessential fruits of the warmer weather, they make a delicious addition wherever they are used.
Berry desserts are particularly good, as they require so little effort. A gentle rinse if needed, and a dollop of the best cream and there you have it.
The real season starts with strawberries in spring and goes right through until early autumn with other varieties. Expect strawberries to be plentiful when the summer is hot and more expensive after heavy rain. The only downside with strawberries is they are grown all year round, unfortunately and can be bland and watery until the Queensland crop kicks in in winter. These berries are plump, a rich red colour and full of flavour. A multitude of varieties are grown through out the warmer months ensuring a consistent season, and you will find some variation in size and flavour.
Buying
If you can't pick them yourself, all berries are best bought in punnets, the shallow trays minimise bruising, ensuring you receive your berries in tiptop condition. Ensure there is no excess juice in the bottom and no visible mould.
Storing
All berries are best used on the day of purchase. Refrigerating berries dulls their flavour and they will need time at room temperature before serving.
Preparing
Berries require little preparation. Strawberries may need a small rinse to remove residual dirt, and then dry on paper towel. If strawberries are to be washed remove the green calyces (stems) afterwards, as otherwise water can lodge inside them. 

Artichoke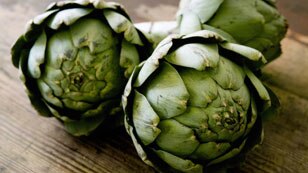 Fresh artichokes, often called globe artichokes, split people into two groups. One group go crazy each spring when they come into season, often hosting 'The Artichoke Dinner', where they gather with other like-minded people. Then they boil whole artichokes until tender, pull off each leaf, dip it into a sauce and surrender tot he taste sensation. The other group cannot see what all the fuss is about and barely give them a second look.
Besides preparing them a described above they can also be stuffed and baked in the oven, cut into wedges and sauteed quickly in a pan or even thinly sliced to use in salads. One of the most popular ways with artichokes is to boil the hearts until tender then marinate them in olive oil for use in the months ahead.
Buying
Look for firm, even coloured artichoke stems, which can feel heavy for their size. Choose small or medium sized ones, as large artichokes are sometimes woody. Due to their size, it is best get on and prepare them as soon as possible after purchasing. Artichokes take up a lot of room and will only keep at room temperature for 2–3 days.
Storing
No matter how you plan to cook your artichokes you need to rub the cut surfaces with lemon juice and keep them in a big bowl of acidulated water to prevent them discolouring once you cut the flesh, which they do with amazing speed.
Preparing
To prepare artichokes for boiling whole, chop off the top 2cm of the sharp leaves, and trim the stem to a useable size. Rub with lemon juice and drop into the acidulated water. The prepared artichokes are then placed into a large pot of simmering stock, or water flavoured with aromatics such as bay leaves, herbs or spices, and cooked for 15 minutes. Serve hot or cold. Break leaves away, working from the outside in, dip the fleshy leaf into a sauce and scrape flesh away using your teeth. Discard the remaining leaf.
To prepare artichoke hearts for eating, cut off the stalk at the bottom of the vegetable, leaving 1–2cm for decoration if desired. Peel off the outside leaves until you get to the heart. Rub with lemon juice and drop into the acidulated water. If the artichokes are large and, therefore, older you will need to cut the hearts in half and remove the bitter choke. This can be done easily with a small knife or melon baller.

Spinach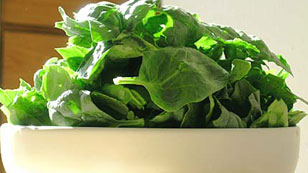 Spinach seemed to be waning in popularity some years ago, the fact that it needed plenty of washing to get rid of grit put it in the 'takes too long' bracket at dinner time. Luckily baby spinach leaves made an appearance and were quickly accepted as an easy to cook ingredient, and rescued spinach from oblivion. 
Buying
Look for fresh green leaves with little damage. The smaller the leaves the more tender they are. The abundance of baby spinach on the market, targeted as a salad ingredient, is a great substitute for larger bunches of leaf spinach. Already washed, it has more sweetness and tenderness. Take care, however, that it is showing no sign of decay and that it has been handled with care, as baby spinach can be easily bruised.
Storing
Store washed spinach in a plastic bag in the crisper section of the refrigerator for 2–3 days. Spinach should be washed before storing.
Preparing
If using leaf spinach pull leaves away from stems, discarding older leaves. Wash well in two changes of water taking care to remove fine grit. Baby spinach usually requires just one wash and stems can be removed if preferred, but it's not essential as they are quite tender.
Serving
Spinach has a delicate flavour and appeals to those who find cabbage and brussels sprouts too strong. It can be quickly cooked in a pan to produce a tasty green accompaniment other foods. Spinach can also be shredded and used in soups, added to potato mash, used in salads, mixed with cheese for filo parcels, added to quiches "¦ just about anything in fact.