Broccoli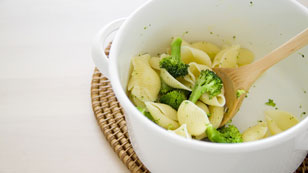 Certain ingredients are commonly believed to be very child unfriendly, and broccoli definitely falls into this category. How did we get to a situation like this? We feel this has more to do with how broccoli is cooked rather than the vegetable itself. When carefully cooked, broccoli should be enjoyed by family members of all ages.
Growers have been working hard in recent years to successfully produce new versions of broccoli. They are often easier to handle and taste terrific too. Products such as thin broccoli stems known as broccolini fir instance. These are sweeter and more tender than regular broccoli and we think they are fantastic.
Buying
When buying broccoli look for tight compact heads with a deep green colour, avoid any with a yellowish tinge.
Storing
Broccoli will keep for up 4–5 days in the crisper section of the refrigerator.
Preparing
The stem of broccoli is very sweet and can also be eaten, though most of us choose the prettier florets. Cut broccoli into even sized pieces for even cooking. Take care not to overcook broccoli as it easily become waterlogged and bitter. It requires only a brief cooking time, boiling or steaming is ideal.
Serving
Steam broccoli florets lightly and serve sprinkled with toasted flaked almonds. Stir-frying works really well for broccoli too. Its also excellent when added to broth style soups during the last few minutes of preparation. Stir-fry broccoli with peanut oil, sliced oyster mushrooms, pine nuts and a splash of soy sauce. Broccoli is also much loved in Italian cooking. It is delicious added to frittatas and can be prepared as part of an antipasto selection. There is also the delicious Sicilian speciality of broccoli tossed with chopped anchovy, pine nuts and cooked pasta. Add a sprinkle of Parmigiano reggiano and you have pasta perfection!
Sweet Corn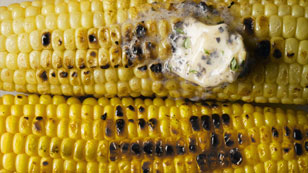 Sweet corn, corn on the cob or just plain corn, whatever you call it, it's one of the real tastes of summer. Whether you grow it yourself or buy it fresh from the greengrocers, eating fresh sweet corn cobs with a spread of salty butter is simply delicious.
Years ago corn was all too often dry and starchy as the natural sugars start to convert to starch once picked. New varieties of corn are delaying this process, though corn more than 3–4 days old will still convert sugar to starch.
Buying
If possible buy your corn from a reputable source the day you want to eat it. Sweet corn's natural sweetness means it is a vegetable that appeals to children, so make full use of it all through the warmer months.
Sweet corn is at its absolute best during summer, so ensure it's on the shopping list each week. When buying sweet corn look for firm, even coloured cobs with green husks free from decay. Fine, white, silky tassels extending out of the top are another sign of freshness.
Storing
Store sweet corn in the crisper section of the refrigerator. To prepare sweet corn roll back and remove the green husks, taking the silky tassels as well. Wash briefly to ensure all tassels have been removed. Cut into half or smaller pieces as required.
Preparing
To remove kernels stand corncob upright and, using a large sharp knife, run down the cob separating the kernels from the core. Take care not to cut too far into the woody core.
Serving
Cook sweet corn in boiling water for 5 minutes. Alternatively rub with olive oil, salt and pepper and barbecue for 5–10 minutes, turning 3–4 times. Sprinkle with a little smokey paprika for added spice. 
Peas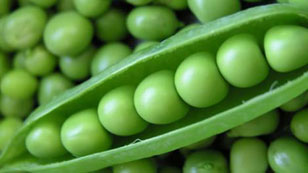 Fresh garden peas have declined in popularity. Even that sentence brings a tear to the eye. How can this be? Why have we stopped podding peas and reverted to packets of frozen peas. Not that there is anything wrong with frozen peas, they have their place. But please make the effort, every now and then, to sit down and pod a bag of peas, even if just to ensure our kids know that they do not grow in supermarket freezers.
Buying
Snow peas and sugar snap peas are a more popular choices in recent times, no doubt due to the fact they are easy to prepare and always sweet to eat. No matter which type you prefer, peas of all types are an excellent accompaniment to pan-fried steak, chicken or lamb chops.
Part of the problem is that peas, like corn, start to lose their natural sweetness once picked. New seed varieties have changed this, but it is always worth while to try before you buy. A good sign is a delicious sweet taste. A kilo of peas will yield about 500g of podded ones.
Preparing
To pod peas, snap ends off and open the pod by running your finger up the seam. Simply remove peas and discard pod. Snow peas are eaten whole, as their pod is thin and very sweet. Top and tail before cooking to remove tough stringy fibres. Treat sugar snap peas the same way. Using your hands (not a knife) snap one end and pull the top away from the pod bring the stringy bit with you. Repeat from the other end.
Serving
All peas are best boiled briefly, drained and served hot. Fresh peas can have a mint leaf or two added during cooking to add a fresh flavour. Once drained add a little butter for an indulgent treat.
Zucchini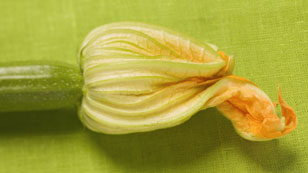 Zucchini, known as courgette to many, is one of the classic summer vegetables. Overcooking has put many people off this delightful vegetable, yet they are very easy to prepare correctly. 
Pan-fry a few slices briefly in butter to taste just how good they can be. The flowers that appear on the ends of baby zucchini are also highly sought after. They are excellent stuffed and then deep-fried.
In the height of season, yellow zucchinis join green zucchinis. These make a striking change to any dish where green zucchinis are used. Baby squash can be substituted in any recipe that calls for zucchini.
The trio of zucchini, eggplant and tomato are ingredients we're never without in summer. Flavour- and texture-wise they complement each other beautifully. Think of classic dishes like ratatouille to consider how beautifully they blend together.
The best season is late spring and early summer for zucchini flowers. Summer and autumn for zucchini and squash.
Buying
Choose firm bright green or yellow zucchini with no markings. For preference choose small- or medium-sized vegetables. If choosing zucchini flowers look for freshness in the leaves and no signs of withering.
Storing
Store all zucchinis, squash and flowers in a plastic bag in the crisper section of the refrigerator for 2–3 days. Prepare zucchini and squash by washing briefly and cutting according to recipe instructions. Remove stamen from zucchini flowers and they are ready to fill. 
Serving
Zucchinis can be eaten raw in salads, cooked briefly in butter with a splash of water or added to vegetable stews. Sauté thin slices of zucchini in olive oil, add chopped basil and serve as a beautiful vegetable. Zucchini flowers are usually stuffed and deep-fried, but can be chopped and added to risottos or other pasta dishes.