Capsicum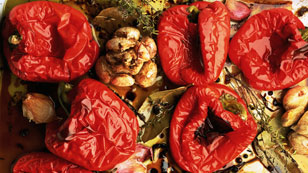 The red capsicum is much more versatile, sweeter and downright more lovable than its green friend, which has seen much less time in the sun. There are yellow, black, purple and orange capsicums and probably a few other less seen shades in between to choose from. Red, and to some extent yellow and orange are so popular because they turn even sweeter when roasted which makes them all the more adorable.
Buying
When buying one of the first things to look for is price. In season during summer the price will fluctuate considerably. This could mean the difference between buying 1 or 2, or 4 or 5 to cook with. Look for brightly coloured specimens and if possible 'square-sided' capsicums, as these as are easier to cut and peel.
Storing
Store at room temperature provided it's not too hot for 1–2 days or in the crisper section of the refrigerator for 4–5 days.
Preparing
Preparing capsicums depends on what the recipe calls for, but generally speaking cut each capsicum lengthways into quarters and remove the white seeds, pith and stalk. Take care when cutting capsicum, the white seeds are tough and can easily 'throw' your knife blade off course and you may end up with a cut finger.
Serving
To roast a capsicum, preheat oven to 200°C (390°F), rub capsicum all over with olive oil and place in a baking tray. Cook for 20–30 minutes, turning occasionally until blistered. The colour is not important, what you want is the skin to lift from the flesh. Remove and place capsicums in a plastic bag and seal. The steam created lifts the skin away from the flesh. Allow to cool then remove all skin and seeds. Reserve any cooking oil as it has a delicious flavour. The oiled capsicums can also be cooked over a gas or barbecue flame.
Tomatoes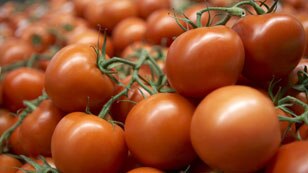 There is nothing like a tomato in its prime "" sun-kissed, fragrant, oozing with flavour and deliciously tasty. Tomatoes are often sold as being 'hydroponic', 'organic', or 'bio-dynamic'. The method of growing is least important. The actual variety of tomato and whether it is sweet or acidic are the key words. The best person to advise you on what tomatoes to purchase is your favourite greengrocer, as they taste-test tomatoes each day to know which are best for eating.
Buying
Recently the arrival of heirloom varieties of tomatoes has done much to improve the tomato's reputation. Green zebras, black Russians and Tigerella are all wonderful varieties that are enjoying a resurgence. Seedlings of these tomatoes are also widely available and virtually anyone can find the space to grow a few plants. Cherry tomatoes are another excellent home tomato. Growing your own tomatoes also puts you in the driver seat in regards to 'vine-ripening'. Vine-ripened tomatoes, of which there has been a lot of interest recently, as the name suggests are allowed to ripen on the vine, with the fruit developing a more 'sunshine' flavour.
Purchase tomatoes from a reputable greengrocer. Colour and uniform-size are no indication of flavour; they are purely aesthetic considerations. Choose tomatoes with a good scent, ones that are firm with a slight give.
Storing
Always store your tomatoes at room temperature. Putting them in the refrigerator is like freezing the flesh; it turns it soft and squishy. Tomatoes should have the core removed using a small knife.
Herbs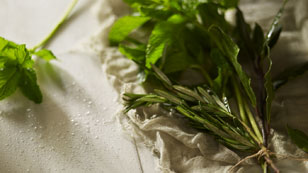 It's difficult to generalise about herbs; each variety has its own individual flavour and attributes. Whilst fresh herbs are now readily available, you sometimes only want a few leaves in a dish. This is where having a herb patch comes into its own. Even if it is only small you can easily grow basics like parsley, rosemary, mint, oregano, sage and thyme. Then you can use them freely in everyday cooking.
Basil is a worthwhile addition in the summer months. Other herbs such as Vietnamese mint and tarragon are other worthwhile additions to the patch, space permitting. We have tried growing coriander but find it always goes to seed so quickly. A patch of fresh herbs smells and looks good too.
Buying
Always buy herbs that look fresh, bunches with bright green, crisp stems and no brown leaves. Avoid tired, limp leaves, as these will rarely come back to life even if soaked in cold water.
Storing
Wash herbs well when you get them home. Some, particularly parsley and coriander, will require a few rinses to remove the sand from in between the stems. The best way of keeping them fresh is to stand the washed bunch in a jug of cold water, cover with a plastic bag and refrigerate. The plastic bag prevents the herbs from drying out in the refrigerator. Alternatively wrap the herbs in a damp tea towel and store in an airtight container in the refrigerator. If you are using herbs from your garden, just pick what you need, wash and dry them and add to the recipe. Leftover herb stems are excellent added to stock.
If herbs are not used within a few days chop the remaining leaves and freeze in an ice cube tray. Frozen cubes can then be used in casseroles and curries. This is particularly good with coriander.
Pineapple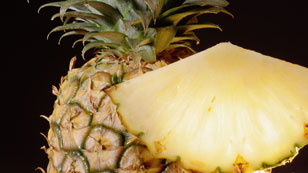 Not so many years ago pineapple brought us a taste of the tropics, and that was just out of a tin. Actually meeting one in its natural state for the first time made us wonder just how on earth how we tackle it. A ripe pineapple, full of juice and tangy flavour, is simply stunning, but occasionally they can be dry and tasteless, having travelled too far and for too long. Pineapples come in two main varieties known as rough and smooth leaved. We prefer the flavour and sweetness of the rough leaf variety.
More recently new varieties, such as Bethonga, have been developed and these are a huge improvement in flavour, sweetness and taste. While they are expensive, usually double the price of the normal pineapples, they are outstanding to eat or cook with. The best time of year to enjoy them is late spring to early summer.
Buying
There are two things you can do when buying a pineapple to ensure it is of good quality. First, use your nose to try and detect a ripe fragrance, and second, choose a fruit that feels heavy for its size. They are sometimes cut in half so you can easily see and smell what you are buying. If a leaf pulled at the top comes out easily, it is a good sign of ripeness.
Storing
Store at room temperature for up to a week. Over ripe fruit should be eaten as soon as possible.
Preparing
Prepare pineapple by cutting off the top and bottom, then stand upright and slice off the spiky skin by cutting downwards. Then cut into quarters from the top down and remove the tough core from each wedge. Pineapple acid is said to dull knife blades so rinse knives well immediately after use.
Serving
Eat fresh pineapple as it is or use in desserts, preserves, cakes or a simple fruit salad. Pineapple has a strong bromelin enzyme that breaks down protein; this can often causes mousses or anything else using gelatine not to set. If pineapple is cooked before use, the enzyme is destroyed and will be okay in desserts that use gelatine. The enzyme is very healthy and said to aid digestion, so eat raw pineapples without worry.