Raspberries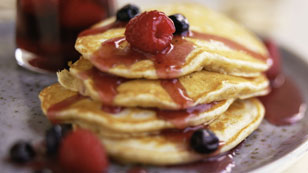 Not so many years ago raspberries were as rare as hens' teeth and rarely seen on market produce stalls or at greengrocers. They were also at a price few could afford. Luckily this has changed as berry growers realise the interest food lovers have in these beautiful fruits.
Buying
Raspberries are highly valued by keen cooks over the summer months. When purchasing ensure the berries are carefully packaged. There should be no signs of moisture in each punnet; fruit should be plump, aromatic and vibrantly coloured.Raspberries come in all colours, from deep red to bright yellow, white and black, the flavour is very similar in each. Youngberries came about by crossbreeding raspberries and dewberries and are big in flavour and size. The boysenberry is a cross between the youngberry and raspberry, tasting similar to the raspberry, but two to three times the size.
Storing
It's best to use raspberries (and al berries for that matter) as soon as possible after purchasing. They are a very delicate fruit and will loose flavour and moisture quite quickly. Also allow them to come to room temperature before serving if time allows.
Preparing
Preparation should be no more than a gentle rinse under cold water and then dried on paper towel. Raspberries uses are incredibly varied. Try them served as they are with muesli and yoghurt for breakfast, scattered over a delicate pannacotta or with thick cream and crunchy meringues.
Serving
Raspberries also cook up well. They are perfect for those who love to make jams and preserves and allow the cook to enjoy their flavour long after the fresh fruit has ceased. Raspberries also make an amazing fruit syrup to serve with ice cream, alongside desserts or on top of French toast for a breakfast treat.
Eggplant
Eggplant to some, aubergine to others, no matter what you call it they're an essential component in dishes the world over, particularly Mediterranean and Middle Eastern countries, India and Thailand. They are also breathtakingly beautiful with their skins ranging from the palest purple through to almost jet black.
Some people have a hesitation about using eggplants because of the effort involved in salting and rinsing, but in fact this is a simple task which takes no time whatsoever. Eggplants are pretty easy to prepare and are the essential ingredient in one of our favourite dips, baba ghanoush.
Buying
Look for medium-sized eggplants with glossy skins that feel heavy for their size. Do not purchase large eggplants, as these can often be excessively bitter and full of seeds. Eggplants are in season over the summer and autumn months and there are several varieties to choose from beside the normal oval-shaped fruit. There are smaller thinner eggplants, also called Lebanese or Japanese eggplants and Thai eggplants which are small, white and round eggplants, these are quite bitter and are required for special recipes.
Storing
Eggplants will keep in the crisper section of the refrigerator for several days.
Preparing
Salting eggplants is essential to draw out bitter juices and excess liquid. This will result in crisper fried eggplant and prevent dishes like ratatouille becoming water logged. Cut eggplants into slices or chunks, sprinkle lightly with salt, leave in a colander until juices bead on the surface, approx 20–30 minutes. Rinse thoroughly and dry well before using.
Serving
Eggplant slices can then be pan-fried in olive oil or brushed with oil and grilled, until golden brown. Pan-fried eggplant slices can be enjoyed on pizza or in vegetable bakes, and in dishes such as ratatouille and caponata. Or just enjoy in a crusty roll with pesto, rocket and goat's curd.
Avocado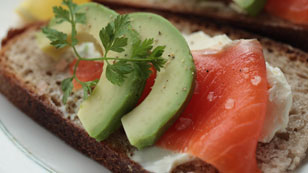 Most of us consider them a summer vegetable, they are in fact a fruit and are available most of the year. Avocados always carried a tag of some description - low in saturated fat, high in calories and low in cholesterol. The trick is to enjoy them, as all things, in moderation.
Buying
Varieties include Reed in the summer months with Fuerte and Shepard arriving in late summer. When choosing an avocado pick it up and squeeze gently near the stem feeling for a slight give.
Storing
Unripe avocados can be left at room temperature to ripen. Check the avocado every day or so to see how it is going, rotating occasionally. If you have a ripe avocado and are not ready to use it just yet, pop it in the refrigerator to prevent it ripening further.
Preparing
To prepare avocados take a small knife and pierce the skin. Using the end of the blade push down until you reach the stone. Follow the knife around the stone until you come back to the initial cut. Take avocado in both hands and simply twist to separate halves.
To remove stone, being careful, hold avocado half in the palm of your hand and taking care, move the knife heel down forcibly into the stone. Twist the knife, and the stone will come out with it. Once avocado is cut it will discolour upon contact with the air.  Avoid preparing them too far in advance, or squeeze lemon juice over cut surfaces to slow down discolouration.
Serving
Avocado needs little to enjoy it. Enjoy an avocado by scooping the flesh out with a spoon and eating as is, or serve with dressing as a simple entree. Also excellent spread onto bread instead of butter. Avoid cooking avocados as it does little to enhance their texture or flavour.
Butter Beans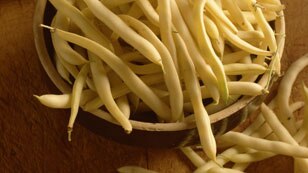 Nowadays, it seems beans are available year round, but they're at their peak of flavour through summer. Beans come in myriad colours, from green beans and broad beans to snake beans, runner beans and pink-spotted borlotti.
One of the most delicious varieties is the butter bean. This bean gets its name from its colour, a vibrant golden yellow, and they're beautifully sweet to boot.
The best season is definitely summer, so get out and enjoy them while they last.
Buying
When purchasing, look for brightly coloured beans that, when bent, snap rather than fold. Avoid bags of beans; plastic makes them sweat. Avoid beans with black or brown patches and flaccid beans.
Storing
Refrigerate for 2-3 days in the crisper. Beans should have the ends trimmed before cooking. If beans are long, you may wish to cut them in half before cooking.
Preparing
All beans should be cooked briefly for 4-5 minutes in boiling water to retain their crispness, possibly tossed with a little butter, if desired. Serve with a sprinkle of toasted almond flakes and lots of freshly ground black pepper.
Serving
They're also excellent with chopped fresh mint and lemon juice, a sprinkle of toasted sesame seeds, or a few dollops of marinated goat's milk feta and chopped roasted almonds.