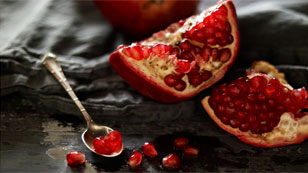 The pomegranate is native to Persia and the Himalayan ranges of India, but has also been cultivated in Iran, Pakistan and the Mediterranean region. The name derives from Latin for seeded apple and this is an adequate description of the fruit. First timers to pomegranates might struggle with the preparation of the fruit, but persist, for a beautifully ripe, juicy pomegranate is one of the best fruits to feast on. That said, be wary of the thin yellow membrane that encases the red fruit, it is extremely bitter and can ruin the sweet tartness of the fruit.


Preparing
To get the fruit from the pomegranate, simply cut into quarters and then taking each quarter push the fruit away from the skin. Some will fall easily away and you may have to remove some of the membrane to access the fruit.

Serving
The fresh seeds can be added to many dishes, in particular food with a Middle Eastern influence. Try scattering the fruit over spiced lamb, adding to salads, particularly good when used in conjunction with pomegranate molasses in a dressing, or simply eat them as a piece of fruit, a slow, but enjoyable situation.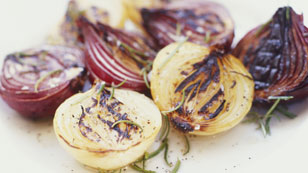 Onions are one of the most crucial ingredients in cooking. Each member of this large family is distinctive and has its own particular use. Choose from brown, white or red (Spanish) onions, as well as spring (green) onions, leeks, shallots and garlic.

The naming of spring onions causes the greatest confusion of, perhaps, any vegetable. With their long, slim green tops and white stems they are also called scallions, shallots or green onions. They can be served raw in salads or cooked, often used in Asian dishes.

Shallots are a small pear shaped onion, with either golden or red skins. The golden shallot is traditionally used in French cooking, where its flavour is a cross between garlic and onion. Red shallots are commonly used in Asian cuisine where they impart a sweet onion flavour. They are often sliced, deep-fried and used as a garnish.

Buying
Purchase onions with skins intact, no green sprouts and no signs of decay or moisture. Spring (green onions) should be crisp and have no withered stems or brown edges.

Storing
Onions can be kept in a cool, dark place for 1–2 weeks. Spring onions can be wrapped in a damp cloth and stored in the crisper section of the refrigerator for up to 1 week.

Preparing
To prepare all onions it is simply matter of removing any dried outer
leaves, then slicing or dicing according to recipe directions. There is
no real way to prevent crying when chopping onions; it's just part of
the joy of onions: you take the good with the bad as they say. All that
can be done is to work quickly and in a well ventilated area to ease
discomfort.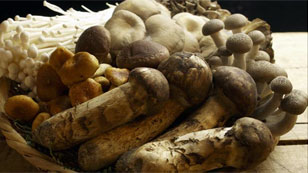 Mushrooms offer a special something to any dish they are added to. Cultivated mushrooms such as button, field and Swiss brown are a common sight at all markets and supermarkets. Mushrooms such as shiitake, enoki and oyster are also cultivated mushrooms, but carry the tag of exotic, fetching a higher price.

In the damp autumn months you may also be lucky enough to find pine (saffron milk cap) and slippery jack mushrooms at market stalls. These mushrooms would have been gathered the day before or early that morning from secret spots dotted around the countryside, usually near pine trees. Morels are the eagerly awaited wild mushroom of spring. Although anyone can collect wild mushrooms from public land, you must be 100% sure that the mushrooms you have picked are edible, and not poisonous. You only get the opportunity to eat a poisonous mushroom once.

Buying
Look for plump, full mushrooms, with little dirt and a fresh earthy, forest floor aroma.  Exotic mushrooms often come in shrink-wrapped packs, so look for plumpness and no signs of decay.

Storing
Where possible purchase mushrooms in paper bags, as plastic will cause them to sweat.
Store in paper bags in the crisper section of the refrigerator for 2–3 days. Mushrooms tend to deteriorate quickly beyond this time and become dry and shrivelled. If you purchase mushrooms on plastic trays remove them from this packaging as soon as possible and place in paper bags.

As mushrooms are porous they should not be washed. If there is any dirt clinging to the caps remove with a damp cloth. If mushrooms soak up water they will not cook well.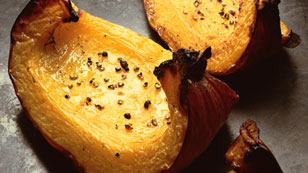 To some people pumpkin is an essential addition to a roast dinner, whilst others rate it as nothing more than cattle fodder. Personally, we love its sweet flesh and use it widely in all sorts of ways. Pumpkin soup is a good winter staple food, try chunks of roasted pumpkin in risotto or pumpkin puree in cakes and muffins where it adds a beautiful richness. There are many different varieties of pumpkins to choose from, but there is little difference in flavour between them.

Buying
Choose whole pumpkin, preferably small 2kg pumpkins rather than huge 8kg pumpkins you'll be lucky to get your knife into. Many shops sell pumpkin already cut. This is very helpful, particularly if you want one of the larger varieties. Check carefully that the pumpkin is freshly cut, looks crisp and shows no signs of mould or decay.

Preparing
Take care when cutting pumpkins due to their uneven shape and tough skin. It is best to chop the top or bottom off and then stand pumpkin upright. When balanced like this it is safe to peel the tough skin away using a sharp knife. Cut in half and discard seeds.