Parsnips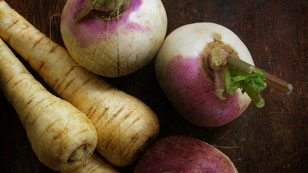 Root vegetables are one of the largest groups of vegetables and perhaps one of the least utilised. It includes swedes, turnips, celeriac, Jerusalem artichokes, kohlrabi, carrots and, of course, parsnips. All are fantastic to serve with hearty, rib-sticking comfort food.
Buying
Parsnips are long pale yellow tapering vegetables and are at their best from mid autumn and all through the winter months. When purchasing avoid any dry looking parsnips and overly large specimens, as these are often woody. Good root vegetables should have a deep, earthy aroma and be firm and appealing to the eye.
Storing
Parsnips can be kept in a cool dark place for 2–3 days or in the crisper section of the refrigerator for 5–6 days.
Preparing
Prepare them by peeling and cutting into even sized pieces.
Serving
Parsnips can be cooked in a myriad of different ways. They can be deep fried to create chips, tossed with olive oil, salt and pepper then roasted to perfection. Or tossed with Worchester sauce and honey before preparing in the same way.
Parsnips can also make a great mash to accompany a warming beef casserole. If you find them too powerful in flavour make a half and half mash of potato and parsnip and add a splash of cream at the end. Parsnips are also excellent used in soups, either diced and added to a vegetable and barley broth or used to make a creamy vegetable soup. Ingredients such as ginger and lemon are great to bring a good balance to the parsnips hearty flavour.
Chestnuts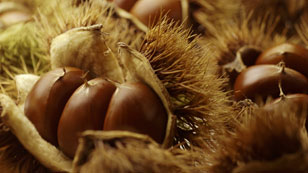 Most nuts are available all year round having been harvested in autumn then stored for use through the year. Chestnuts are at their very best when used from fresh during their short season. Frozen and canned chestnuts will have to suffice if you want to cook with them outside of the usual autumn season.
Buying
When buying chestnuts look for dark glossy skins and fullness in the shell.
Storing
They are best bought in small amounts and used quickly to prevent them going rancid. It is not a bad idea to keep them refrigerated if autumn weather heats up.
Preparing
Chestnuts are time consuming and fiddly to peel, but worthwhile attempting at least once a year.  Then can be cooked in their shells over direct heat. To do this place chestnuts in a thick-bottomed tray and cook in a fire or, easier still, on a barbecue until the skins blacken. The skins will then lift away easily leaving a soft toasty nut.
Serving
They can also be scored on the bottom with an x using a small sharp knife (or make two slits from top to bottom) and then simmered in water for 10 minutes. This helps to lift the skin away from the nut. Chop roughly (if they haven't broken into pieces already) and make a big batch of chestnut stuffing. It can be divided into small amounts and freeze it to use over winter.
Add chunks of roasted chestnut to a hot pan and toss through cooked Brussel sprouts. Or use the chunks in a warm autumn salad of pan fried duck, boiled beetroot and bitter radicchio leaves. Drizzle with a sweet sherry vinegar and fruity olive oil to finish.
Quince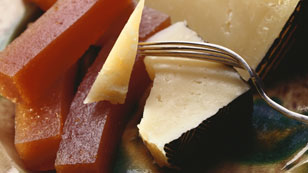 The quince is one of our favourite autumn fruits, it's also one of the most amazing fruits to prepare and cook. Quinces are large yellow fruits with a light furry down and are virtually rock hard when ripe. Generally speaking, they need to be cooked to be eaten, although some like to crunch on raw quince slices. They have excellent keeping qualities and a bowlful will brighten up a room for weeks, and smell good too.
Buying
Look for even-sized, unblemished fruit with a light perfume. Brown spots on the skin can be a sign of discolouring inside. Avoid fruit with too many creases, as these are hard to peel.
Preparing
Good quality quinces will keep at room temperature for many weeks, although as the season progresses this will decrease. Wash the downy fur off the quince skins before preparing. Quinces need to be cooked to transform the hard yellow flesh into soft ruby red delights. Peel, quarter and core fruit. Keep peeled quince in water (with a squeeze of lemon added) as they will discolour quickly upon contact with air.
Serving
Slices of quince can be quickly cooked then used, at which stage they taste like apple. They are more typically poached either whole or in quarters over many hours and it in this way that quince changes colour into deep ruby coloured fruit with an intense, glorious flavour. Further cooking will eventually transform it into quince paste, which is a great served with cheese. 
The cooked fruit is very versatile and can be used in all sorts of autumnal desserts including crumbles, steamed puddings, stewed fruit and tarts. Quince is also an essential ingredient in Middle Eastern casseroles and stews where it is used to sweeten and thicken the dish.
Pears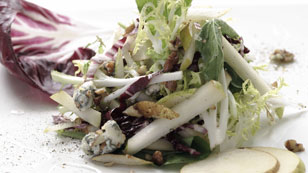 It is said, and this could well be an urban myth, that men prefer soft pears and women prefer firm pears. Try it on your family and see if the theory holds up. Personal preference aside, there is a host of varieties of pears to choose from such as Beurre Bosc, Corella, Howell, Josephine, Packham, Red Sensation and Williams, not forgetting nashi pears.
All pears can be simply eaten as they are or cooked, though Beurre Bosc is the preferred variety for long cooking times. If you plan to cook with pears, or even, for that matter, wish to state a preference for firm or soft pears, check with your greengrocer on which variety is best each week.
Buying
Choose pears that are free from cuts and bruises. Also decide whether you wish to eat them soon and, therefore choose ripe fruit, or choose slightly hard fruit for eating later that week.
Storing
Pears can be stored at room temperature for several days depending on ripeness of the fruit. Do not pile fruit on top of each other for as it ripens the fruit on top will squash the others.
Serving
To simply eat a pear there is no preparation. For cooking, pears require peeling and sometimes cutting, though poached pears are usually left whole. Once peeled use quickly as pears discolour on contact with air, or place them in water with a squeeze of lemon juice.
Eat pears raw or add grated or sliced raw pear to cakes, tarts and muffins. Poach pears over a gentle heat to prevent them breaking up. Pears are famous for being poached in red wine, though dessert wine or spiced orange juice is just as good. Pears can be used successfully in savoury dishes too such as autumn salads.