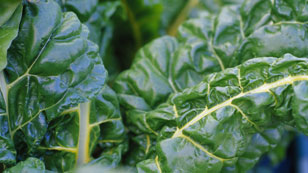 Silverbeet is not one of the most popular of vegetables, yet it is widely available, inexpensive and quite easy to cook. It seems the myriad of Asian greens have taken its place instead. However silverbeet has its own particular attributes and should be on the shopping list soon.


Buying
Typically sold in bunches it has thick white stems and crinkly, dark green leaves. Look for nice crisp leaves with no sign of wilting or damage.

Storing
Store in a plastic bag in the crisper section of the refrigerator for 2-3 days.

Preparing
To prepare silverbeet trim the off the thickest of the white stems. Wash the silverbeet leaves really well as there can be a considerable amount of sand or grit attached.


Serving
Silverbeet has a gentle cabbage flavour and it can be prepared in many ways.
Typically it is thinly sliced to be cooked, sometimes with all of the white stems trimmed away.

It can cope with being pan fried until tender then served as a side dish. It's also very good prepared in this manner then stirred into creamy mashed potato, added to a frittata or a vegetable broth. It can also be prepared in a similar way to Asian greens and stir-fried with ginger, garlic and chilli.

Silverbeet can also be a good substitute for cooked spinach in other recipes.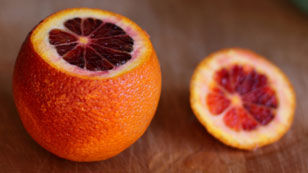 These two specialist ingredients of the citrus family have really come to the fore in recent years with increased cultivation by citrus growers.

Blood oranges are so named because the flesh of the citrus is stained with red blotches that look like blood. These blotches also come through on the fruit's skin. The juice produced from such oranges is often dark burgundy in colour and sought after for its deep and intense flavour and appearance.

Cumquats are the smallest of the citrus family and the fruits are only
a few centimetres across. Two main varieties are available, one round
and one oval.
They are much sought after for making jams and jellies due to their intense flavour and setting ability. They can also be candied or preserved in syrup for later use. Their extremely tart flavour means they are not usually eaten raw.

Blood oranges use in the kitchen is incredibly varied in both sweet and savoury dishes, everything from tarts and sorbets to jellies, salads and sauces. 

Recipes that use citrus can usually cope with substituting one fruit for another as long as the quantity of juice is the same. Try swapping blood oranges for lemons, or tangelos for mandarins. One blood orange will produce nearly 100ml of liquid and it makes the most amazing breakfast juice.

Blood oranges and cumquats are only available in winter and early spring.

Buying
Choose blood oranges that are heavy for their size, firm and with an intense and deep citrusy aroma. Avoid fruit with brown or mouldy patches or that looks dry and shrivelled.
Look for cumquats that have a zesty aroma and with no signs of brown spots.

Storing
Blood oranges will keep in a cool place for 1-2 weeks.