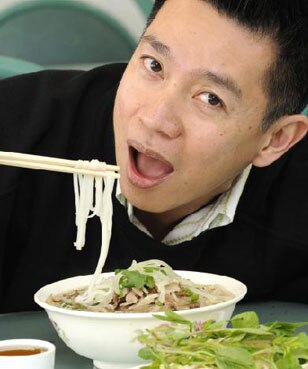 SBS chats to Thang about his serious love of noodles, life as a foodie in Sydney's south west, and why he prefers eating out most nights of the week.

What inspired you to start your blog, Noodlies?

I live in Cabramatta in Sydney's south-west, but I work hours away in the North Shore. By the time I'm home, it's late – way too late to cook. In Cabramatta, there's heaps of fantastic, authentic food, mostly from south-east Asia, so we eat out just about every night.

Soon, friends started asking for recommendations on where to eat in Cabramatta. I found I was sending out the same email to different friends all the time. So I decided to put together a food blog that focused on the food in Sydney's south-west. Now I just tell them to go to www.noodlies.com!

What kinds of opportunities have arisen as a result of your blog?

I've always had an extensive network of family, friends and work colleagues. Through Noodlies, I'm now part of another network of wonderful, active food bloggers that stretches all across Australia. They're genuine, sweet people, and a lot of fun, too.

Also, I now interact with avid foodies who regularly comment on my blog as well as the almost 300 subscribers to Noodlies' monthly e-newsletter. I find a huge amount of satisfaction in knowing that Noodlies food blog has been able to showcase my neighbourhood's wonderful diversity.

You rarely eat at home. When you do, what are you likely to cook?

I've just tried a recipe in Super Food Ideas: a BLT salad with poached eggs. So now I can actually poach an egg. When we don't want to go out, or for a quick breakfast, it's poached egg on multigrain toast – there's always an egg in the fridge, and some bread around, right?

In your opinion, what is it that makes Vietnamese cuisine special?

The amazing amount of fresh, healthy ingredients that's used in any Vietnamese dish. For example, when we eat cha gio (spring rolls), it's not just the rolls dipped in fish sauce, but we wrap it with lettuce, cucumber, pickles, sprouts, and at least three different types of mint.

Same with a bowl of pho noodles, we add sprouts, heaps of mint, including ngo gay, sometimes called cilantro or described as thorny coriander. And then we add hoisin sauce and chilli. You can imagine the fresh, rich and complex flavours! Even with the humble banh mi thit (Vietnamese pork rolls), there are a couple of different types of meat, plus pate, mayo, pickles, shallot, coriander"¦ I think you get the idea.

What does Vietnamese food reveal about Vietnamese culture?

In Vietnam, we shop daily at the local markets that sell only fresh produce – with no refrigerator in sight. This means we can be impulsive about what we cook each day, as well as take advantage of the freshest available produce.

Because the markets are all about haggling, it's also an amazing social space. And because there's so much preparation and so many ingredients, you know Vietnamese people appreciate their food. To me, that sums up the Vietnamese people: fun, impulsive, social, optimistic – we love our food and we love it fresh and tasty.

What's your ultimate food indulgence?

Sometimes, when I'm really naughty, I have two banh mi thit (Vietnamese pork roll) in one sitting – so delicious, but it always sends me on an uncontrollable high. 

What's one ingredient you couldn't live without?

Fish sauce! The first thing Mum asked the Australian official when we were accepted to come to this country was, 'Do you have fish sauce in Sydney?". Fish sauce is used in marinades, to flavour dishes, as a condiment – I actually use it to make any plain food taste good, including fried eggs.

For those who've never visited Sydney's western suburb of Cabramatta, explain the food scene and culture.

Some call it Vietnamatta and locals call it Cabra. It really is a little Saigon. Again, fresh produce, low prices, great restaurants, dress material shops and, of course, jewellery shops which sell wonderful gold and jade marvels.

Mornings are about the old men sitting around the mall reading the paper, sunning themselves, chatting and laughing very loudly. On weekends, everyone descends on Cabra for shopping, both Vietnamese and the 'tourists".  By noon, the old women set up make-shift stalls to sell home-grown mint and vegetables, or homemade xoi (Vietnamese coloured sticky rice), and by the afternoon they can be seen fleeing, goods in tow, from zealous council officers.

What have you learnt about food from your family?

Food is, of course, about satisfaction, but also about friends and family. We rarely eat a meal on our own. Sharing a meal is sharing love, because we know so much effort and preparation has gone into it.

Have you recently been inspired by any chefs?

I don't cook so it's not that sort of inspiration, but respect to Luke Nguyen for taking Vietnamese food to the mainstream; Heston Blumenthal for making food an event; and, of course, David Chang, of Momofuku for opening a restaurant in Sydney [Chang's new eatery is part of a Star City casino development that's scheduled for completion in late 2011].

Seeing as you're mad about noodles, what's your favourite noodle dish"¦

-When you want to impress a friend?
You can't go wrong with mi ga don (crispy chicken egg noodle) at Tan Viet in Cabramatta. I'm not alone in rating it the best crispy chicken in Sydney, and the egg noodle is perfectly cooked. It's sure to have them coming back for seconds.

-When you're craving comfort food?
Bun bo Hue is literally translated as beef noodles from the central region of Vietnam. It's much spicier, more pungent. The predominant flavours are chilli, prawn paste and lemongrass. There are several types of meat, including quite a fatty cut of pork, beef and even a pig trotter or two.

-When you want an easy weeknight dinner?
Pho of course – it's familiar, no fuss and available just about anywhere. I ran an online Best Pho in Sydney poll in September this year, and over 50 restaurants were nominated across 29 suburbs in Sydney. You should find one nearby!

Cabramatta hosts numerous food events throughout the year. Which one do you most look forward to?

I love Moon Festival around August/September each year, depending on the moon cycle. It's still relatively unknown compared to, say, Lunar New Year, but we still get over 60,000 in Cabramatta for our humble little celebration. I also love the look on friends' faces when they bite into a moon cake for the first time.

What's your advice for readers who're planning to visit Cabramatta?

1. Try a Vietnamese dish that is not Pho; there are heaps of other soups, like bun bo hue (spicy round rice noodles with pork), hu tieu, or other non soup dishes like banh xeo (Vietnamese pancake). 2. Try other foods. The local area has great Cambodian, Laos-Thai and Chinese. 3. Buy a vegetable or mint you're not familiar with and experiment"¦ bitter melon, Vietnamese spearmint, okra – give it a go!