Chilli sauces from Byron Bay Chilli Co.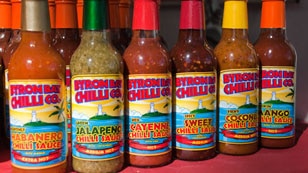 Byron Bay Chilli Co. bottles six awesome chilli sauces: Green Jalapeno Chilli Sauce with Coriander; Red Cayenne Chilli Sauce with Lime; Heavenly Habanero Chilli Sauce with Mango; Fiery Coconut Chilli Sauce with Curry and Ginger; Spicy Sweet Chilli Sauce with Lemongrass; and Smokin' Mango Chilli Sauce with Chipotle Chillies.

I tried all six of them and my personal favourite has to be the Heavenly Habanero Chilli Sauce with Mango. What makes this special is its addition of mango. Most grilled seafood will go very well with this hot sauce. The touch of sweetness certainly heightened the spiciness of the sauce.

A close second is the best selling Fiery Coconut Chilli Sauce with Curry and Ginger. It reminded me of Thai sweet curry sauce. This ingenious concoction beat 750 chilli sauces and nabbed the grand prize in the 2007 American Scovie Award in New Mexico.



Native herbs and spices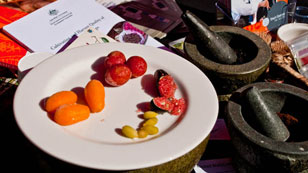 Bush tomatoes or Solanum centrale are originally found in very dry areas of Australia, and have a very strong flavour and scent. Greg Hampton of William Angliss made me rub some crushed bush tomatoes in my palms and then smell it. The scent was intense, quite like tamarillo, actually. Most bush tomatoes are sold dried. To use this, pound the dried product into a fine powder. Add it to stews or soup to enhance flavour.

The sunrise lime is pear shaped and a bright orange colour. It is a cross between a calamondin (mandarin crossed with cumquat) and a native finger lime. I can definitely taste the cumquat and the flavour is intense – sweet, sour and finished off with a hint of bitterness. This delicious lime can be made into marmalade or even syrup to drizzle over fruit cake. Delicious!



Mövenpick Ice-Cream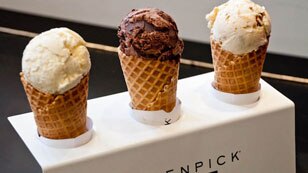 Mövenpick is a Swiss brand ice-cream that I remember back in Singapore. It is a rather popular brand in Singapore and the two flavours that I had when I was younger were Swiss Chocolate and Vanilla. The Swiss Chocolate was very creamy, chocolatey, and had loads of chocolate shavings. And I love how the vanilla beans dotted the vanilla ice cream.

I had to try the Maple Walnut flavour, which is one of the Top 3 best sellers in Australia. I could see ripples of Canadian maple syrup across the creamy Swiss ice-cream, plus a generous scattering of sweet caramelised Californian walnuts. It's creamy, sweet, sticky, crunchy and nutty. I henceforth declare this my new favourite flavour from Mövenpick.

It's good to note that only natural ingredients are used in Mövenpick ice-cream. The company has nine parlours in Australia and a flagship store will open at Doncaster Shopping Centre, Melbourne, around May 2011.



Cheeky Rascal from Rebello Wines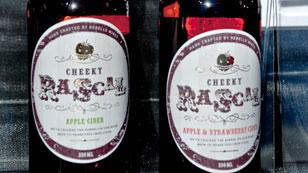 The Rebellos are well known for their two-fruit wines – Charlotte Sparkling and Strawbellini Moscato. The strawberries used are from the infamous Sunny Ridge, Victoria. It turns out making cider was a natural progression.

The apple cider has a nice apple aroma and the taste is crisp, clean with a slightly dry but refreshing finish. The strawberry-and-apple cider is very lively and fruity in aroma. It had a darker colour and I love the taste. So what is the rebellious nature of this cider? Yes, it's the addition of strawberries, but also the use of Pink Lady over traditional apples.

Cider can also be used as an ingredient in cooking. Instead of using wine in tomato-based pasta sauce, I use apple cider. I even use it in pork stews. It's a lovely ingredient to play with.



Cocolo Fairtrade Chocolate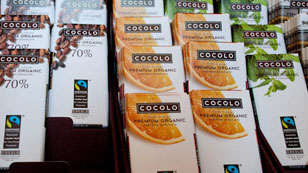 Cocolo Chocolate is Swiss brand which makes chocolate using organic Fairtrade cocoa. It contains no refined sugar and the 70 per cent dark chocolate is its top selling variety. I bet it makes great brownies and chocolate fudge cakes! The key to a good chocolate dessert is the chocolate, so use the best stuff you can afford.

Of the eight flavours I tried, the dark mint chocolate was an absolute stand-out. I was told that the mint oil was made into peppermint crisp, which is then encased in smooth chocolate, hence the rather different but luxurious texture. It seems like the perfect after-dinner indulgence.



Daisy Cow Soap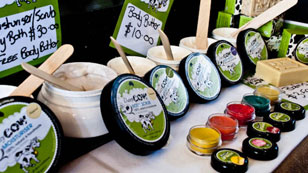 Daisy Cow doesn't produce food products, but uses local produce to develop an all-natural skin care range, and is now part of Murray River's Farm Gate Trail. The trail showcases producers that produce their products from its local sources.

The range of products uses local ingredients, like Rich Glen olive oil, local beeswax, cows' milk from Boosey Creek Cheese, and pure honey. Sue Mosdall, the owner of Daisy Cow, has also started experimenting with local grape seed oil and working with wineries like Monichino wines to come up with ideas and methods of using grape seed extraction as preservatives in their products.

Visit Penny's blog, Jeroxie.