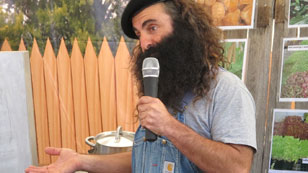 The gods have smiled on this festival, with perfect weather and patrons have the opportunity to sample a great variety of products.

Rather than a journey, it is a series of vignettes and cameo performances by celebrity chefs, foodies and entertainers. Tetsuya Wakuda, Greg Malouf and Sydney's king of cakes Adriano Zumbo, as well as TV personalities such as Costa Giorgiadis, who brought his garden with him, were among about a dozen luminaries giving presentations.

We saw Tony Chiodo, chef and author of Feel Good Food. Celebrities were easily approachable and freely spoke of their personal food journeys. Between these venues, there were heaps of stands offering tastes, especially of sauces, cheeses, olives, spreads, and sweets – nougat, chocolates, biscuits and ice-cream!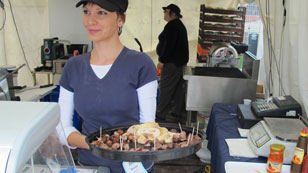 Sponsors such as Clive Peeters, Tupperware, William Angliss and Chisholm Institute were also well represented with stands and demonstrations. It is dangerous to taste the irresistible homemade slightly soft almond nougat made by Larder Fresh.

There were some unusual displays such as the barbecue table from BBQnique – yes, you cook on the table!

Then there was the silicon competitor to Glad Wrap, a dishwasher-proof stretchable cover that can seal pots, tins or jars and works in the microwave.

Dan Murphy was well represented with over 40 wines, more than half from France.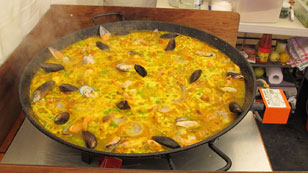 Several ethnic restaurants were represented offering tastes of their menus and selling food at very reasonable prices. In the undercover outdoor areas, attendees could eat and drink while watching presentations.

There was an emphasis on homemade and organic products and both alcoholic and non-alcoholic beverages.

Here are some pictures of a tiny selection of things that caught our fancy. SBS invited us to blog this event and I have to say we did it with the greatest of pleasure. It was an exhibition with something for everyone.

Visit Elliot and Sandra's blog, 1001 Dinners.