We chat to Reem about truffled eggs, sustainable eating, and her food resolutions for this year.

Your blog is called I Am Obsessed With Food. What started your obsession?
I think I've always liked food, but I didn't start getting obsessive about it until a few years ago when I was booked in for my first degustation dinner at Bécasse. I was so blown away that I wanted to pursue more exceptional dining experiences.

What is your most unexpected food experience?
I think the best unexpected food experiences usually happen while you're travelling. I've had awesome hot chocolate and Polish food in New York; amazing coffee and cocktails in Wellington, New Zealand; and been surprised and delighted by friends' previously unknown cooking skills.

Your bookshelf must be under stress from the weight of all your cookbooks. If you could only save one in a fire, which one would it be?
Claudia Roden's A New Book of Middle Eastern Food. With an Arabic background, I feel like this book is a warm hug from my mum. All kinds of Arab recipes are in there, with commentary and often social and historical and religious context. It truly is one of the great works of food, history and culture.

Your truffled eggs sound fascinating. How do you prepare them?
Get yourself a piece of the freshest truffle you can afford, with the best eggs you can find. Find a glass screw-top jar, pop some rice in the bottom for stability, and pop in the egg and the truffle, and leave for a couple of days. Eggshells are porous, so the scent of the truffles will permeate the egg.

When you're ready, prepare your eggs whichever way you prefer (in this instance, I like to scramble), and then gently shave the truffle over the prepared eggs. You'll have the most decadent breakfast/lunch/dinner ever. I know it's expensive, but it's so worth doing at least once to really experience the smell, taste and texture of a real piece of truffle.

How particular should foodies be about where they source their ingredients?
I think you should find the best you can afford. I know many families can't afford to buy expensive ingredients, so the best thing I think people should do is research what's available to them and make a decision based on what they find. Is it ethical, sustainable? Is the animal treated with care and respect? Is it as free from as many unnecessary chemicals as possible? Is it local? Depending on where you live and your circumstances, even being able to buy goods that only fulfill one or two of these criteria is better than nothing.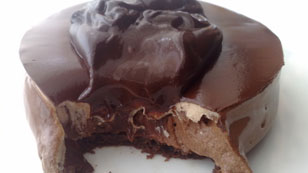 Show us the most impressive photo of food.
It's not my best photo, as I'm not a super photographer, but it's certainly the one I've received the most comments for and had asked about. It's the eight-texture chocolate cake (right), featuring Amedei's Chuao chocolate from Quay.

If you could spend a day in the kitchen with one foodie, who would it be?
Very tough question. There's so much to learn from so many people. I've recently enjoyed spending time with some beef, pork and lamb producers who are really passionate about what they do and how they do it. That was incredibly inspiring and interesting.

What was your greatest dining experience of 2010?
Ooh, that's difficult. Probably being invited to a class with Tetsuya [Wakuda] and being able to experience the degustation. It's an absolutely amazing experience, to be able to watch – up close and personal – how effortlessly Tetsuya cooks.

Do you have any food resolutions for 2011?
As always, to eat at home more and to challenge myself in cooking. I've not cooked all sorts of things at home, so I want to stretch myself. I recently tried Hainanese chicken rice at home. It was wonderful, but time consuming!

Visit Reem's blog, I Am Obsessed With Food