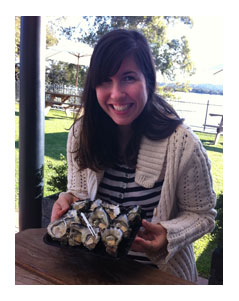 Megan Fizell combines her passions for food and still-life with her blog, Feasting on Art. Drawing inspiration from artworks old and new, her collection of self-devised recipes rival any cookbook's. Megan has a Master's degree from Sotheby's Institute of Art in London and currently manages Brenda May Gallery in Sydney.


We talk to Megan about the relevance of still-life today, her favourite winter warmers, and the process behind her recipe creation.

Your blog combines your love of art and food. In fact, you draw inspiration from artwork to create recipes. What sparked this idea of yours?
It was one of those ideas that I thought about for so long that I can't even remember what caused me to initially come up with the concept. I have always had an interest in the still-life genre (my major undergraduate paper was about a fish still life by [Édouard] Manet) and once I began to pursue cooking, combining the two seemed quite natural. After graduating, I really began to miss learning about art, and the blog gave me an outlet (and excuse) to keep researching and writing.  
 
Food is largely visual. So the connection between the two subjects isn't far-fetched. Do you tend to view meals as art?
I wouldn't go so far as to say that I view meals as art, but I do appreciate the aesthetic beauty of a carefully arranged plate with complimenting colours and textures.
 
Tell us about your art education and experience.
I earned my Bachelor of Arts at the University of Michigan, where I double-majored in English Literature and History of Art. I did part of my degree in a study abroad program in Florence, where I completed courses in Italian Renaissance art among the great paintings of the Western Tradition. After graduation, I moved to London to complete my Master of Arts in Art Business at Sotheby's Institute of Art. While writing my dissertation, I worked as an editorial intern at Sotheby's Preview Magazine and, after graduating, I began my professional career in an urban art gallery in London. Upon moving to Australia, I continued my career in contemporary art and currently hold the Gallery Manager position at Brenda May Gallery.

When did it occur to you to combine your three passions – art, food, photography – with a blog?
I conceptualised Feasting on Art while living in London. I assumed there was already a cookbook that detailed recipes inspired by art and was shocked when I couldn't find one. Connecting food and art seemed so natural and once I fully relocated to Sydney, I decided to test the response to my idea through a blog.

Why do you feel still-life paintings are still very relevant to the modern world?
Still-life paintings are a visual history of the produce and regional dishes of a specific culture. Contemporary artists have taken up the genre to highlight issues ranging from consumerism to food production. The still life is an easy mode of visual communication that gives pride of place to the sustenance we all need to survive.

Your recipes are inspired by art featuring food. Do your ideas come easily, or does it take a few days to decide what you will cook?
Each recipe follows a different path from inception to completion. I have a large archive of still-life images amassed on my computer, and every couple of months I cull the collection and make a shortlist of works I would like to feature on the blog based on the season. From that point, I will either select an artwork and start working on a recipe based on the heritage of the artist (i.e. if it is a painting by a French artist I will try to make a French recipe) or I will search through my folder of recipe ideas and then try to match a painting to the food. For each post, I have a day of planning and research, a day of cooking and photographing, and then another day of writing.

How long have you been blogging and how many recipes have you created during that time?
I have been blogging for just over two years (since April 2009) and, in that time, have created exactly 111 recipes.

Can you recommend some of your recipes that would suit the colder months to come? Say, an appetiser, soup, pasta, meat dish and dessert?
A few of my favourite winter recipes include mushrooms stuffed with feta and parmesan; French onion soup; baked risotto with a walnut parmesan crust; roasted chicken with pumpkin mole; and a chocolate ginger cake with simmered oranges. Mandarins are in season right now and are so delicious, and could be easily substituted for the simmered oranges in the chocolate ginger cake recipe.

Do you visit art galleries as often as you frequent restaurants?
I spend all day in a gallery with my job and the hours are such that it is difficult to visit other galleries because they hold the same opening hours as we do. Because of this, I would say I visit restaurants more often (at least once a week), but I do manage to squeeze in an opening or visit to a public collection at least once a month.

Do you have a food philosophy?
Eat what you love and don't assume meals need to be complicated to be delicious.

What message would you like to share with your fellow food lovers?
The inspiration for your next meal can come from the most unlikely places.